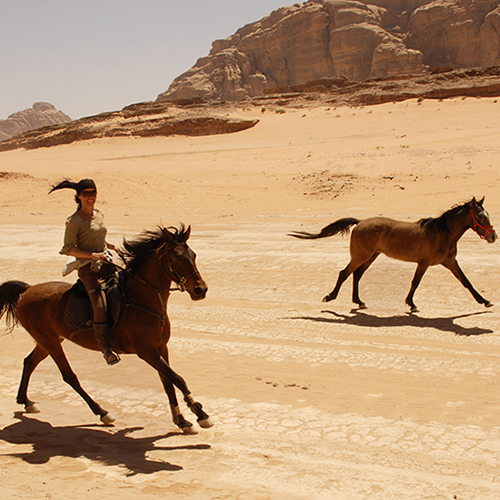 ​Petra is an ancient desert town in the kingdom of Jordan. It is also home to my three cats, three horses and myself.
Although living and working here as a single Dutch woman is challenging sometimes, I feel that I have become part of this community.
Petra has been good to me! I have managed to train my horses and develop as an equine assisted coach. I have been able to paint my magic realistic paintings and show them in galleries. I work with local weaving women to create products inspired by Bedouin tradition. And I have been fortunate enough to share the beauty and serenity of this place during desert yoga retreats.
But lately I have come to realize I need more space for myself and the horses. I am also ready for some new company: more like-minded people to share the horse and community work with.
I can almost literally hear the call of the desert.
So I phoned a befriended stable owner in the Wadi Rum desert to see if he had space for me to use. It turns out that he had some room and was willing to talk. He was on his way to Mecca, but we would meet upon his return.
From that moment on, I started to see many signs steering me in this new​ direction.
Some signs indicated that a new step was needed: The landowner of the paddock that I am renting threatened to ​kick me out because ​he felt insulted over something small and my chains and stable ​door broke.
My gelding Nour became strong and energetic. He was jumping around for joy, impressing everyone. It was beautiful, but with a small paddock, it was becoming unsafe to use him in my coaching ​work with clients.
Other signs had already welcomed me into the desert. Like the day I went to Wadi Rum to discuss things with my desert friend—after 15 minutes in the kitchen talking with his wife about Bedouin handicrafts and other women's empowerment activities that we are both deeply involved in, the deal was done. Her husband, my friend, came in. He kissed his wife and welcomed me, saying: "Consider this your home."
That is practically Jordan speak for: "This feels right and things will turn out as they need to be."
Now, things are really coming together.
My friend has a shaded paddock that I can use. It is exactly the type of place I envisioned for my horses a couple of years ago. He also has a caretaker to help with cleaning and feeding​. This will make me more flexible, timewise. In return, ​I will create a website and answer horse riding requests. While training my horses, I will also learn to become a guide.
My friend's  wife introduced me to the crafts women in their village and we immediately got down to business. ​They showed me their Bedouin-inspired jewelry, which is exactly the form that I love and haven't seen anywhere else.
A friend owns a tourist camp around the corner. She is moving her reception area and spontaneously offered us the old reception space for our handicrafts.
A visiting ambassador liked​ our weaving work. Now together with the camp manager we will deliver our funding plan in order to train and empower women in Wadi Rum. ​
I've had this kind of amazing experience before: whenever I am truly convinced of what I need, it is there. It's like a dream materializes right before my eyes. And this time, it is happening in the dream-like Wadi Rum desert​.
The Valley of the Moon (where the movie The Martian was filmed) will be my back yard.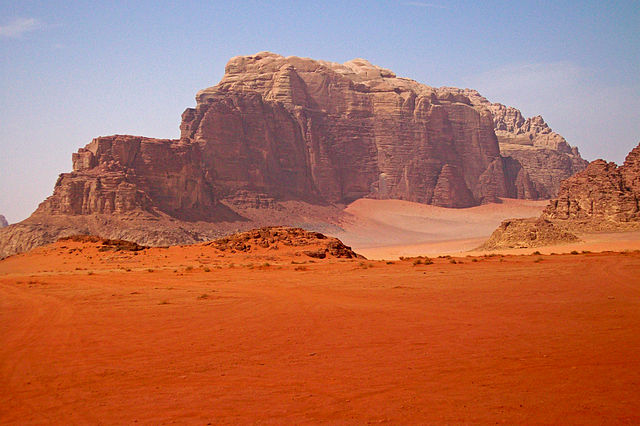 So with my head full of colourful images I explored the new location and met the sister of the stable owner. She was putting on water and invited me to have a cup of tea. I followed her into the goat shed, wondering why we should have our tea in there.
Inside the small building, a fire was burning. There was a big pile of blankets and some wood and plastic rubbish was lying in the corners.
Then the woman shouted at the pile of blankets: "Teta (grandmother), wake up, we have tea!" Nothing happened. The woman then started to take off the blankets, one by one. I could hear some sounds, but still could not see anything remotely resembling a human figure.
Finally, there was only one blanket left. We waited by the fire as she shouted some more.
Slowly, the blanket started to move and a pair of ancient hands came from under it, touching the floor, finding their bearings. Then Teta, over 100 years old, pulled back the blanket and showed her wrinkly, tattooed, soft and shiny face. I was in awe, she had such sweet and pure energy.
The woman told her I was there. I grabbed Teta's hand and shouted good morning!
This blind and hard of hearing women still had a clear head. She immediately asked her granddaughter to get me tea, milk and bread.
I asked the grand daughter why her Teta was living there and not in the house. She answered: "We keep inviting her, but she loves the goats so much, she just wants to be near them." And I felt a deep understanding. I could sleep on hay, knowing my horses are well taken care of.
So this is my future. I will lead a more simple life than I already am. I will live in a mobile home or a Yurt. Then add a Bedouin tent, create a small oasis with permaculture and build a fire pit for performing ceremonies.
That is all I really need.
I am so grateful to have found this little tribe of horse lovers and community builders. I am grateful to my horses, who have taken me on this incredible journey.
And I am grateful to you reading this, for allowing me to share my story with you.
Author: Sandra Jelly
Editor: Renée Picard
Image: via the author / Wiki Commons