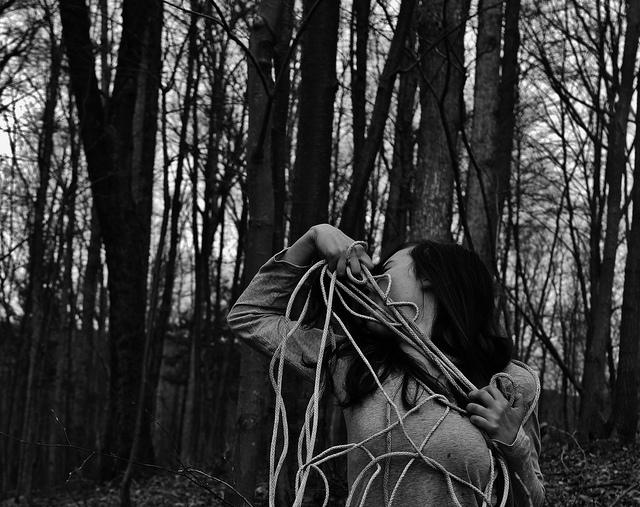 Do you have the slightest idea what you've done to her?
Are you aware of the sleepless nights she suffered because of you?
Never before had a human shed as many tears for another as she did for you.
She stayed with you when she should've left;
and loved you when she should've held a grudge.
She crossed oceans for you while still bleeding from the arrow you shot into her chest.
She kept on giving even when she became empty.
But she transformed that emptiness into a sea of kindness where only love and compassion reside.
And despite all the dismal things you made her go through, she loves you still.
The tears she shed for you are saved in a jar that reads "For Him."
The arrow you shot has been wrapped in a red ribbon because darling, it was the best gift someone had ever offered her.
You are, quite simply, her sweet misery.
Misery never tasted this good. It's a cup she drinks from day and night.
Your arms are her home and your breath, her shelter.
And although she'd like to hide from you, she likes to hide in you just as much.
Sleeping on your lap and feeling your fingers run through her hair is enough to make her forget
half the suffering she has endured with you.
It's ironic how you altered the meaning of suffering in her eyes.
It suddenly became pleasurable, heavenly, passionate.
It became a place she longed to visit more often because it offered both ecstasy and disruption.
You have always been a knife for her—a sharp side that can cut anything to pieces and a soft side
incapable of even scratching skin.
She has experienced both and loves them equally.
Perhaps, this is what love is all about.
It is like an ocean, letting you sail on calm waters today, while abruptly throwing you overboard tomorrow.
It's full of both sharks and goldfish.
And we just don't know when we may sink and never be found again.
But until she drowns and hits the bottom of your ocean, she will still sail within you.
She will enjoy the destructive waves while appreciating the calm waters.
She will dance with your sharks like a ballerina onstage.
And if she ever perishes by your sharp bite, she'll smile and remember that you are her sweet misery.
You always will be.
Author: Elyane Youssef
Editor: Nicole Cameron
Image: martinak15/Flickr