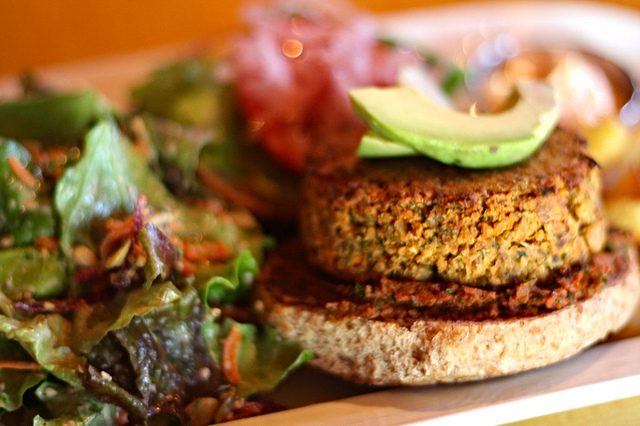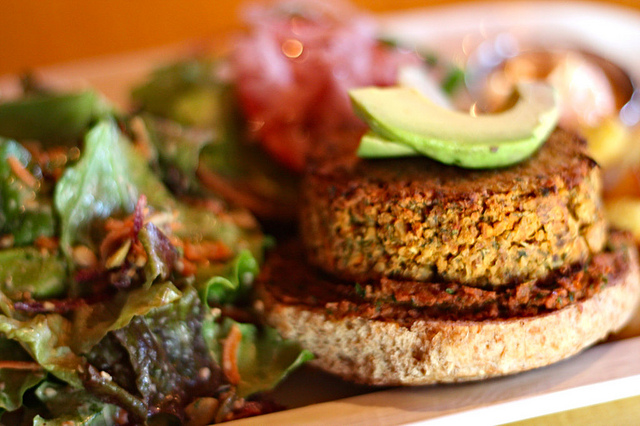 I used to be a barbecue queen.
I enjoyed the art of expertly grilling and smoking various treats to impress my friends and family. You name it, I could grill it to perfection.
I didn't go vegan because I didn't love perfectly grilled and marinated meat. I went vegan because through my evolving consciousness I could no longer consume meat without tasting the energy of pain and fear that is infused in it.
I was living a new practice of compassion, starting with myself, and through this I tapped into a river of love and compassion for all living things. Suddenly I could feel the emotions of the animals I was eating, and I just stopped wanting meat.
Now I endure countless prying questions and remarks about why I am vegan, and how I manage to be healthy. It makes me chuckle, honestly. My food is healthy, exciting, wholesome and filled with endless possibilities! I used to tease my best friend years ago, when she would slap her tofu on the grill next to my Red Stripe marinated steaks, saying, "What the f*ck do you want me to do with that?"
Now I get to explore the fabulous world of vegan-friendly burgers and grill foods. Summer is coming, so the next cookout you attend, wow all the naysayers with these delicious bad boys!
Ingredients:
6 cups shredded zucchini (use food processor and save the juice)
1/4 cup green onions chopped—I go a little extra because I love onion
1 cup sweet corn, frozen or fresh
2 cups chickpea flour
4 cups panko breadcrumbs
2 tsp baking powder
1 tsp baking soda
2 tsp sea salt—I use Himalayan, but any will do
1/2 tsp black pepper
1/2 tsp  paprika
1/2 tsp red pepper flakes—I go light, as I am sensitive to spicy!
2 cups drained zucchini juice (add water or carrot juice if you did not achieve 1 cup of juice)
For an added bonus, sauté some mushrooms and top your burger with mushrooms and melted vegan cheddar cheese (I like Daiya brand).
Let's do it:
Pre-heat oven to 350 and grease baking sheet with coconut oil if you are oven cooking.
If opting to grill, just layer burgers on wax paper upon completion, until ready to grill. Storing them in refrigeration for a few hours helps improve consistency.
Place zucchini in a towel and squeeze all the water out of it until dry, being sure to collect all liquid in separate bowl (you can use paper, plastic or cloth towels, but paper tends to absorb too much of the juice).
In food processor, mix up chickpea flour, breadcrumbs, baking soda, powder, salt, pepper, paprika and any seasoning you want to add. Experiment!
Add zucchini juice and process just until combined.
Transfer this mixture into a separate bowl.
Fold in zucchini, onions and corn. Season to taste if needed. Spice it up to your preference.
Form burgers using a 1/4 cup measuring scoop, packing the mixture into the cup, turning it out into your hand and patting into a more flattened disc. They won't shrink like meat patties, but you want them to be bread sized!
Place on greased cookie sheet and drizzle each burger with coconut oil if oven cooking.
Cook for 25 minutes, or until underside is golden brown.
Flip each burger and cook an additional 5 to 7 minutes until the top is golden brown
If grilling, after refrigerating for a period of time, remove and drizzle with coconut oil.
Place on grill on medium heat, giving each side 5 to 7 minutes depending on your grill. If topping with sautéed mushrooms and cheese do so now, and cover so cheese can melt.
Toast your bread and enjoy!
And to accompany your burger:
Grilled Asparagus by Lindsay.
Ingredients:
Asparagus
Sea salt to taste
Crushed black pepper to taste
Olive oil
Prep it
Place asparagus on a flat tray or dish.
Coat liberally with olive oil—use the good stuff!
Season them up with sea salt and crushed black pepper.
Place on grill directly over medium flame, turning every two minutes or so. Keep an eye on them, as they can burn quickly. If you are using the skinny type, they cook fast—4 or 5 minutes over medium heat will probably do. The larger variety takes 6 to 8 minutes, turning every two for a nice even cook. I like mine a little crispy.
Enjoy with your burgers! Add more salt and pepper to taste.
~
Relephant Read:
~
Author: Lindsay Carricarte
Editor: Toby Israel
Image: Jennifer/Flickr
~