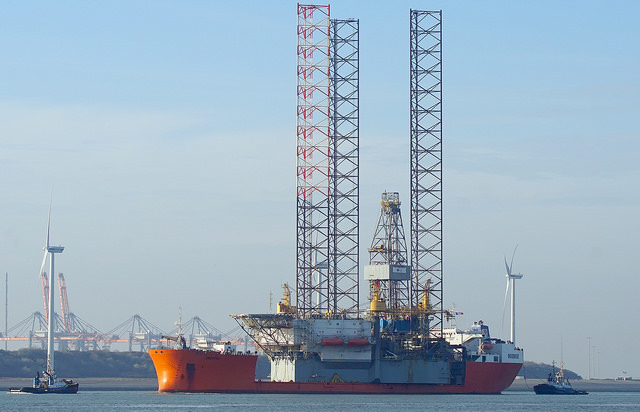 Sure, coconut oil is great. Its health benefits have been touted far and wide. Everyone from yoga teachers to nutritionists, from movie stars to athletes, and even your father-in-law, uses coconut oil for a variety of purposes—but coconut oil is officially on the outs. It's so 2015, people.
Get ready though, because a new Super Oil is taking the wellness community by storm.
Crude Oil. Pure, unrefined petroleum.
A recent study, sponsored by the petroleum industry, has shown that crude oil contains one thousand percent more health-boosting minerals, and one hundred and seventeen percent more negative ions than coconut oil. In addition, crude oil might have twenty-nine thousand previously undiscovered antioxidants.
"Crude oil has very, very good karma. It is good for the incarnation of the divine soul and the balancing of the sacral chakra," says Swami Mahesh Sirdi Baba Shama Shanti Rum (originally Bob Johnson from New Jersey), who is a paid spokesman for BP, but knows what he is talking about because he completed a 200-hour yoga teacher training, has read both The Mastery of Love and The Four Agreements, is a regular viewer of Oprah's SuperSoul Sunday and owns a chain of gas stations across the Midwest.
As a result of this groundbreaking study, an unprecedented partnership between the wellness community and global petroleum has taken place in order to bring the miracles of Crude Oil to the market for public consumption this month!
Look for pure Nutritional Grade Petroleum Crude on the shelves of big chains like Whole Foods, as well as your small, locally owned co-ops (the ones that smell like vitamins) as soon as early next week!
Even better news? Full-sized barrels of Crude will be available at Costco by the weekend. Current price for a barrel of West Texas Intermediate Crude is only $38.72, but Costco plans to offer its customers full barrels for only $16.99. So not only is Crude Oil healthy, it's also completely affordable!
How can Crude Oil help us live our best lives, transcend our early state and live in awakened truth?
1. Forget Bulletproof Coffee—You Need Texas Tea.
Toss the grass-fed butter and coconut oil. All you have to do is add Crude Oil to your morning espresso. In fact, get rid of the coffee and just drink a straight cup of super-viscous, sweet crude. Immediate weight loss is guaranteed.
2. Crude Oil is Compatible with All Nutritional Needs.
It is completely organic, gluten free, pollinator-friendly and the perfect supplement to a rock-based diet. Crude Oil is also categorized as an integral part of the ultra Paleo lifestyle, because it is made from actual dinosaurs, and you can't get more Paleo than eating the million-year-old remains of a triceratops. The Ancient Skeletal Proteins provide uncompromising levels of archaeological energy without the usual crash associated with modern nutrition. Be sure, however, to purchase sustainably harvested Crude Oil, not fracked. Also note that those with shellfish allergies may have slight reactions to Crude Oil, which is harvested through deep water, offshore drilling. Anecdotal reports have suggested that these types of reactions can be completely eradicated by Applied Kinesiology and, like, half a Reiki session.
3. Crude Bowls.
These will be showing up at your favorite juice bars any day now. A bowl of Crude Oil topped with Brazilian Acai and sliced Dragonfruit is the perfect way to start your day. Add hemp and chia seeds for extra crunch, or just go hardcore and top it with sand.
4. Crude Pulling and Crude Cleansing.
Rinse your mouth with it and wash your face with it—you will look younger (and tanner)! It's the Freshly Fracked Fountain of Youth! Crude pulling has even been scientifically proven to raise the frequency of your vibration and cure narcissism within seconds. It's like one second you want to post a selfie to Instagram, and then you rinse with Crude and suddenly that just doesn't even matter anymore.
5. Tantric Lubrication.
Use Crude Oil for a more intimate connection with your soulmate. This is not your grandmother's Vaseline, however. You need the pure, unprocessed black tar Crude—we recommend Black Gold.
6. Crude Oil can also be used as part of the wellness lifestyle.
It is compatible with most essential oil diffusers and makes a great yoga mat cleanser!
More good news: Several global petroleum companies such as Marathon, Chevron and Exxon are sponsoring international yoga retreats!
From April 7-11 you can partake in a memorable, once in a lifetime, first of its kind yoga retreat on an offshore deep sea drilling platform in the beautiful and picturesque Gulf of Mexico. Experience offshore drilling at its finest as you flip your dog on scaffolding hundreds of feet above the formerly crystalline waters of the Gulf. Enjoy 360 degree ocean views, paddle-boarding excursions around the rig, daily environmental meditations, Crude Oil picnic tastings and full body Crude Oil massages, 100 percent Fossil Farmed vegan meals, as well as snorkeling around the drill! The snorkeling is unrivaled due to the magnificent genetic diversity on display as a result of mutations in Gulf sea creatures caused by the Deepwater Horizon spill a few years ago.
Crude Oil is going to change our lives! Be sure to get in on the Fossil to Table trend early and start reaping the amazing benefits.
~
Author: Victoria Fedden
Editor: Toby Israel
Image: kees torn/Flickr // Paulo Rodrigues/Unsplash
~