New to the home-fermenting scene? Curious about how the heck fermenting happens? Ready to dive into home fermenting or enhance your bacteria-growing repertoire?
To help you learn to rot right, we've turned to four makers who stepped outside of their more traditional careers to create fermenting systems called airlocks—perfect for stress-free and safe small-batch fermenting.
We'll talk about what an airlock is, review four airlock systems, and share each maker's story.
Then, we'll leave you with a simple recipe to craft a delicious ferment on your own.
How and Where Does Fermentation Happen?
In a word: bacteria. Friendly bacteria called lactic acid bacteria (LAB) naturally live on fruits and vegetables. All we need to do is create the right environment for LAB, and they get busy doing great things, like preserving our food through fermentation and making it healthier with probiotics.
Lacto-fermentation is an ancient technique for processing and preserving food whereby the starches and sugars within vegetables and fruits are converted to lactic acid by LAB. Lactic acid is a natural preservative that prevents harmful bacteria from spoiling our food. To begin the lacto-fermentation process, all you need is salt, a vessel, and some time.
For thousands of years, the preferred vessel was a clay pot, which served us humans well with very little improvement or innovation. Then at some point a potter, a fermenter, or both created a water-seal crock, which is a ceramic crock with a moat in the rim that holds a bit of water. This water acts as an exit-only doorway for the carbon dioxide, creating the anaerobic (oxygen-free) environment that's essential for fermentation.
More recently, people began using Mason jars for home fermenting. One benefit of Mason jars over clay or ceramic pots is the glass, which provides a literal window into the world of fermentation. Watching your food ferment in real time is not only fascinating, it's informative and allows you to observe and solve any problems that might arise.
So, while many environments are conducive to fermentation—open crocks, crocks with moats, and Mason jars with lids—there are pros and cons to each kind of container. For example, if your vessel of choice is a Mason jar with a lid and it doesn't allow the air to escape on its own, you have to "burp" it by momentarily opening the top to allow the CO2 to escape; otherwise your jar could explode. Or, if you ferment in an open crock, yeast and mold will likely grow on the top layer of food and you'll need to scrape off the scum before you eat the sour goodness below. Large crocks with lids and moats are a great option, but they are costly and big, making them a poor choice for those who want to ferment a little bit at a time or several different recipes at once.
The Lowdown on Airlocks
Fermentation is an ancient, very low-tech, and forgiving process, but it's important to note that LABs (the friendly bacteria we talked about earlier) are happiest and most productive in anaerobic environments (again, ones without oxygen). Enter the airlock systems, which allow carbon dioxide to escape from your container, while keeping oxygen out—creating the anaerobic sweet spot needed to foment your ferment. This takes some of the babysitting out of the process, allowing you to forget about your jar a bit while the good bacteria process the fruits and veggies. While airlocks aren't necessary, they can give newbies the confidence they need to get hands-on fermenting experience. They are also made to fit nicely on any wide-mouth Mason jar, making them a cost-effective solution with a relatively small footprint.
Not that airlocks are foolproof. Though it's unlikely, even with an airlock, scum (mold and yeast) can still make their way into the jar. Scum is nothing to worry about though—you won't kill your family with scummy ferments. If you need help understanding what scum is and what ferments looks like when they've have gone awry, visit the troubleshooting community on The Fermentista's Kitchen.
Meet Four Airlock Systems
As home fermentation has become more popular in the US, a number of new airlock systems have hit the market. It's great to have more options, but more options also mean more decisions. How do you decide which system is best for your needs? To make answering that question easier, we selected four airlock systems and asked Kirsten K. Shockey, fermentation expert and author of Fermented Vegetables, to test and review each one.
Three of the four systems Kirsten reviewed use water to create the one-way exit we talked about with ceramic pots. Kraut Source uses a trough system, similar to the water seal crocks. Its stainless steel lid design has it all: a moat, a press, and a spring to hold the ferment below the brine. FARMcurious adapted the traditional beer brewers' airlock for its system, and while the Ferment'n cap uses basically the same idea, it switched up the design for a lower profile that takes up less real estate on the countertop. The odd man out of this bunch is the Pickle Pipe, which uses a waterless one-way valve or expansion valve that releases carbon dioxide when the pressure has built up enough to push the valve open (imagine the nipple of a baby bottle).
We created the comparison chart below to help you pick which system is best for you. If you're worried about what exactly these airlocks are going to attach to, don't be. Every system we reviewed can be used with a wide-mouth canning jar of any size. If you don't already have one, they're easy to find at grocery markets, hardware stores, and craft stores.
Meet the Makers
One thing we value at Hatch Lab is the stories behind the people who create the things we use and love. If there are people working hard to help us live healthier, more creative, and sustainable lives, we want to know all about them and we want to inspire others with their stories. Let's take a look at the makers of the four airlock systems.
System #1: FARMcurious Fermenting Set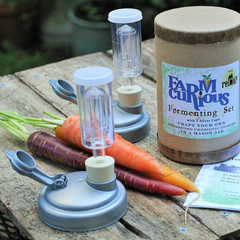 Inventor: Nicole Easterday
Location: Oakland, CA
Funding: Raised $56,519 from 1,240 backers through Kickstarter
Inspiration: Nicole loves inspiring people who are terrified of fermentation to give it a try and she's excited by the fact that, as she says, "Fermentation is on the leading edge of science."
If she were a fermented food or drink, what would she be? "Water kefir. I'm bubbly and effervescent, sometimes sweet, sometimes dry, and entirely a product of what you feed me."
When Nicole was a child, she thought the fermented food she was exposed to—sauerkraut—was gross and smelled terrible. Her grandfather made kraut in the German farming community where she grew up in Bison, Kansas. She moved to New York City in 2002, and then to San Francisco in 2007. In the Bay Area, she encountered a whole new food culture that changed her course. Suddenly she was surrounded by people who cared about things like local produce and farming methods. She became interested in homesteading—starting with a simple little plum tree in her backyard—and realized she loved it! She went from a plum tree to jam making, to pickling, to cheesemaking, to backyard chicken-keeping. And then there was no turning back.
Finally, in 2009, while still working in ad sales and business development, Nicole launched FARMcurious, a company that teaches traditional skills like cheesemaking, fermenting, canning, charcuterie, gardening, and mushroom cultivation to help people reconnect with the sources of their food. A couple of years later, as FARMcurious gained traction, she quit her day job. She now manages a team of four enthusiastic food lovers.
Nicole's first shot at making her grandfather's beloved kraut resulted in 10 to 20 pounds of discarded cabbage. For fear of wasting even more food, Nicole changed her strategy to small-batch fermenting in Mason jars, a process that ultimately led to the FARMcurious Fermenting Set. She experimented with different parts of various sizes until she landed on a combination that did the job. She started selling pieces of the kit in the fall of 2013, and thanks to a successful Kickstarter campaign, the complete set was born, fully equipped to get people fermenting! The entire set, including the packaging, is sourced from North America.
When it comes to FARMcurious, Nicole doesn't just toss her customers a gadget and shove them out the door to fend for themselves. She's positioned her company and fermentation set to focus on educating and supporting her customers. We consider that a major bonus to her products.
System #2: Ferment'n
Inventor: Mikael Kirkman
Location: Berkeley, CA
Funding: Self-funded
Inspiration: "I really do crave fermented foods. When I think about them, my mouth waters."
If he were a fermented food or drink, what would he be? "I really like fermented onions. I think they taste really good, and they're sweet. I just do red onions in salt brine. They ferment quickly; give them just five to seven days."
Mikael, a professional ceramicist and artist, is the creative force behind Ferment'n. Right after high school, he got a job in a tile shop where he learned to make ceramic tiles. Mikael is a self-taught artist, and to this day he still makes things with clay.
Despite growing up with his German grandmother's kraut, 32-year-old Mikael started fermenting only five years ago. His fermenting ancestry was revived when he saw his friends preserving foods. Soon enough, he too was hooked. Those same friends saw his ceramic skills as an asset to their fermenting quest and began requesting large, custom-made ceramic crocks. He was happy to create crocks for his friends, but with the hefty price tag of $150 to $200, the pots ended up being cost-prohibitive for many of his millennial friends.
Mikael's solution to supporting budding fermenters with his pottery skills (sans the high prices) was Ferment'n. He started by making weights in his studio, and the weights were a big hit with his friends. These hand-made weights are used to keep fermenting veggies and fruits below the liquid in which they're fermenting and away for oxygen (in an anaerobic environment). Close to two years ago, he began developing a prototype using wax for the cap that would fit on the mouth of the jar. Funded by his personal savings account, he had his prototype manufactured, and today Ferment'n is sold online and wholesale to grocery stores and other businesses with a penchant for ferment.
Mikael is committed to making "a product you want to use, that's made locally, and that won't make you sick." His weights are made in his personal ceramics studio, and the BPA-free plastic caps are manufactured near Los Angeles.
System #3: Kraut Source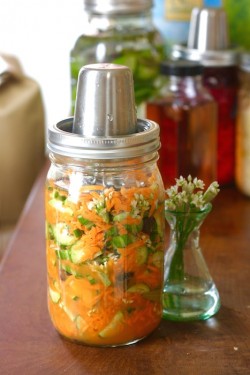 Inventor: Karen Diggs
Location: San Francisco, CA
Funding: Raised $184,133 from 3,355 backers through Kickstarter
Inspiration: Getting as many people fermenting as possible. She's fascinated by the microbiome and how it impacts us all, and she loves the history behind fermentation, the simplicity of the process, and the health benefits of the finished products.
If she were a fermented food or drink, what would she be? "Jun, because I love that it's made from honey and it's gentler than kombucha. It has a mysterious origin and doesn't lend itself to mass production because it grows very slowly, but very well." She likes to make hers with rose petals and hibiscus flowers.
Karen Diggs is a classically trained chef, nutritionist, food writer, and author of the forthcoming book, Happy Food. She studied at the California Culinary Academy (now Le Cordon Bleu San Francisco) and worked in restaurants in Hong Kong for seven years before she was ready to pack her knives and step away from the crazy restaurant world. That's when she returned to the US by way of San Francisco and enrolled in a two-year program at Bauman College, where she became a nutritionist.
While at Bauman, Karen got hooked on fermenting. She loved traditional fermentation crocks, which she saw as simple but elegant, but she wanted to create something that small-batch fermenters could use with greater ease. One day in the shower, she realized she could shrink the large crock moat system and adapt it to fit on top of a wide-mouth Mason jar. Soon after, she created the Kraut Source fermenting system. She maintained the simple elegance of a traditional crock, while making fermenting more accessible for novices.
Karen is a self-proclaimed plastic hater, so naturally her product is created with high-quality stainless steel. Karen's commitment to quality was hard to match with a reliable manufacturer, but she eventually found one in China that she trusts. The packaging is sustainable, lovely, and from San Diego—it includes a plantable paper insert pressed with dill seeds, and compostable boxes made of recycled material.
System #4: Pickle Pipe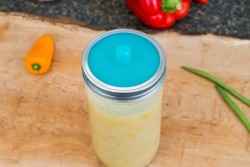 Inventor: Phil Baron, founder of Masontops
Location: Toronto, Canada
Funding: Raised $189,066 from 4,533 backers through Kickstarter
Inspiration: Fermentation is simple to do, it's inexpensive, it's delicious, and the products are healthy. He says, "We're not changing people's lives with the Pickle Pipe, but if it helps people make more things for themselves and eat healthier food, that's great."
If he were a fermented food or drink, what would he be? "I would definitely be kimchi. I'm a little bit spicy, pungent, and complicated, but delicious." It also happens to be his favorite fermented food.
It's not every day that you hear about someone who feels a deep connection to Mason jars. But, Phil Baron feels that connection, and he has a collection of Mason jars that belonged to his great-grandmother many years ago. His great-grandmother was a farmer who immigrated to Canada from Eastern Europe way back when there was no refrigeration and the only way to eat veggies in the winter was to preserve them. We love that his grandma confessed to sneaking into the kitchen at night as a child to eat sauerkraut by the fistful! Even during her childhood, much of the preserving was done in Mason jars.
What's a man who feels a deep connection to Mason jars to do after earning his MBA? He creates a line of accessories for his beloved glass jars, of course! Such was the beginning of Masontops, launched in 2013.
At the same time, Phil's community-supported agriculture (CSA) cabbage bounty lent itself to fermenting experimentation. His first kraut-making attempt in a large plastic bucket was a failure. He soon learned about small-batch fermentation in Mason jars. He liked the idea that if he failed with a small batch, he'd fail small. It wasn't long before Phil, a natural problem-solver, began looking for ways to make the process easier. His first invention was Pickle Pebbles, high-quality glass fermentation weights that keep the veggies below the brine.
Next came the Pickle Packer, a wooden sauerkraut pounder. And last, he developed an airlock system. Now he sells the Pickle Pipe. Pickle Pebble, Pickle Packer, and a Pickle Pipe. Say that 10 times fast!
Through an iterative process and with the help of an industrial engineer, Phil eventually landed on the right design for the Pickle Pipe. The Pickle Pipe now comes to life in a factory based in China where baby products are also made. It's important to Phil that consumers know the factory has "been fully audited, and we send a third-party inspector to the factory to watch over production." They also send samples of each product batch to SGS labs in North America to confirm they are BPA-free and phthalate-free; Phil makes the report available on the Masontops website.
Recipe
It's your turn! Give small-batch fermenting a try with Kirsten's recipe for cebollas encurtidas (pickled onions) from her book, Fermented Vegetables. The recipe originates in Ecuador and is traditionally a vinegar-pickled cebolla paiteña (a smaller and spicier onion than those widely available in the US). Enjoy and let us know how it goes!
Recipe: Cebollas Encurtidas (Pickled Onions)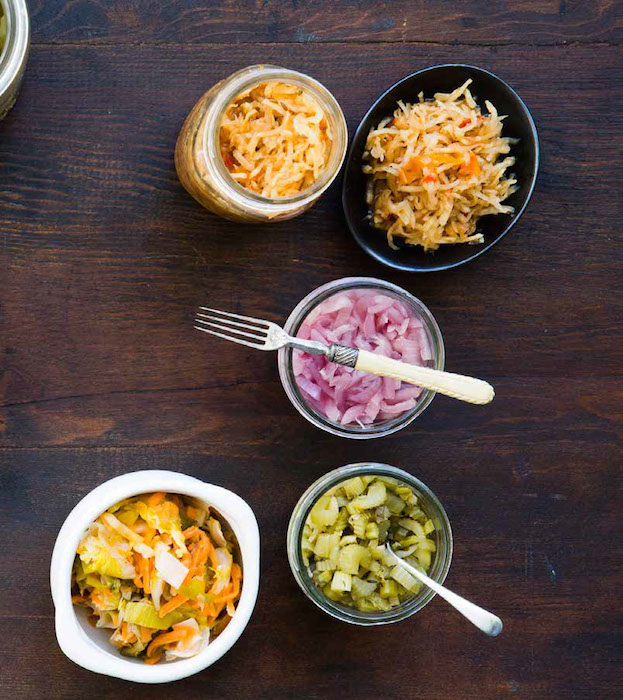 Yield: about 1 quart
Ingredients
3 red onions, sliced
1 tablespoon lime zest (optional)
Juice of 3 limes
1 teaspoon unrefined sea salt
Instructions
With a knife, trim away the ends of the onions by making shallow, cone-shaped cuts. Peel away the papery outer layers of skin and any damaged or discolored layers.
Thinly slice the onions crosswise to make rings. Transfer onions to a large bowl and sprinkle in most of the salt, massaging the onions and salt with your hands. Taste and sprinkle in more salt as needed to achieve a salty flavor that's not overwhelming.
Add the lime juice and the optional lime zest. At this point there should be brine building at the bottom of the bowl.
Press your onions firmly into a jar or crock (no smaller than one quart). More brine will release at this stage, and you should see the brine rise above the onions.
Top the jar with your favorite airlock system. If you don't have one, top the ferment with a quart-sized zip-lock bag. Press the plastic down onto the top of the ferment, fill it with water, and seal the bag; this will act as a follower (an object that you put on top of the ferment to keep it beneath the brine) and a weight.
Set the jar aside on a plate in a cool location, out of direct sunlight for 7 to 14 days. Check daily to make sure the onions are submerged, pressing down as needed to bring the brine to the surface.
You can start to taste the ferment on day 7. Your ferment is ready when the onions are translucent, have lost their sharp bite, and have a pickled taste without the strong acidity of vinegar.
Store your ferment in jars, leaving as little headroom (space between the ferment and the bottom of the lid) as possible and tamping the onions beneath the brine each time you remove a spoonful from the jar. Tighten the lid and store in the fridge for up to 18 months.
*An earlier version of this article was posted at Hatch Lab (Eds: Joy Herbers & Maggie Wells)
~
Guest Author bio: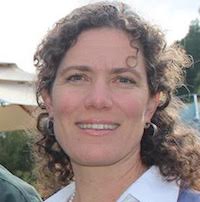 Kirsten K. Shockey is a mother and homesteader living in Southern Oregon who finds herself with increasingly fewer children at home, significantly less livestock in the fields, and way too much fruit in the orchard. Now she is also a writer and educator who is passionate about helping people take responsibility for their food. Kirsten and her husband wrote the book Fermented Vegetables: Creative Recipes for Fermenting 64 Vegetables & Herbs in Krauts, Kimchis, Brined Pickles, Chutneys, Relishes & Pastes. She maintains a blog to build community for enthusiasts of vegetable fermentation at fermentistas.kitchen.
Authors: Mara Rose and Kirsten Shockey 

Editor: Renée Picard

Images:  Christine Kiffney, Kirsten K. Shockey, Erin Kunkel (Used with permission of Storey Publishing), Karen Diggs, Philip Baron, and Andrea Willems