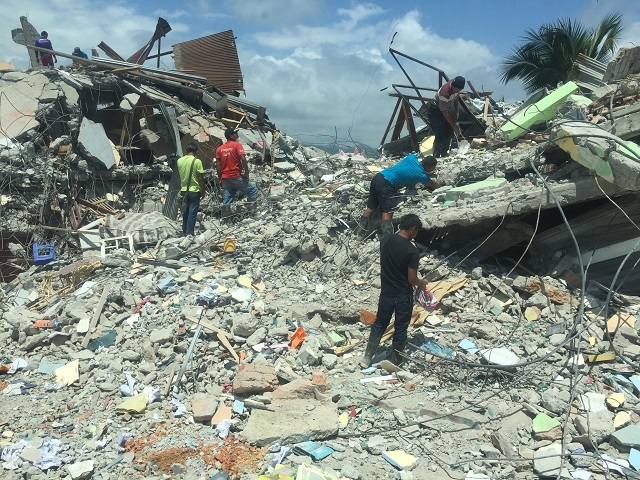 How do you feel about death—as an entity, rather than an end?
It's not something I'd ever thought about too deeply. Dying sure, but the relationships leading up to the final moments? Or what it leaves behind in its wake? Not so much.
That is until it abruptly hit my world, and that of Ecuador's.
At around 7p.m. on April 16th, 2016, an earthquake rocked the Ecuadorian coast with a magnitude of 7.8. We immediately knew this was serious, but it wasn't clear exactly how serious. It took a while for the news to confirm that our fears were indeed true—the situation was devastating.
I've lived in Ecuador for nearly 15 months, first as a student and now as a Fulbright grantee. Being a conservation biologist with a specialty in herpetology it didn't take long for this geographically small, yet biologically immense, country to win my heart. I fell hard and when I was offered a study and research grant to return, it didn't just seem fitting, it felt like coming home.
I came to Ecuador to change the world, or at least a small percentage of a community, but I never realized just how much it has shaped who I am. When the earthquake hit, it rocked the earth beneath my feet and shook me to my core.
As we learn more about what happened—rising death tolls, whole towns demolished, missing people and lack of resources—it has been beautiful to see the response of help. The reaction from unaffected cities in Ecuador has been swift and grand, coming together to supply towns with medical attention, excavation efforts and emergency supplies.
Having spent many moments within the towns along the Manabi province of Ecuador, I reacted as quickly as possible to offer my own aid. Working together with established organizations, I joined a group of friends and traveled to the communities of Tabuga and Camarones, located just south of Pedernales and the epicenter of the 7.8 tremor. Our group left 36 hours after the earthquake hit and were the first to arrive in these small towns. Naturally, most attention was being directed towards the larger cities.
We were unsure of what to expect before we arrived, having very limited communication beforehand. Due to police stops and unsafe road conditions, our journey took about nine hours. Although landslides are normal in Ecuador, it wasn't until I started losing count that I registered how intensely the earth had been moved. As we got closer to the town of Pedernales, an area hit the hardest, the roads slowly broke apart, buildings crumbled into dust and finally the town became rubble.
Even as the scene passed before my eyes I struggled to comprehend what I was witnessing. You start to question what's really important when you see destruction like that. And once you're in it, you know without a doubt that life is all about family, safety and love. Never about things.
By 7 p.m. on Monday, 48 hours after the earthquake, we arrived at the reserve which would become base camp for the relief efforts. We got to work immediately: transforming the environmental interpretive center into a volunteer and supply base; unloading and organizing vehicles full of gear by category (clothes, food, water and medicine); gathering and delivering emergency items.
By the time we finished, it was past midnight and we settled in, knowing we'd need to rest up for an early start. The next morning, we divided into seven groups to address the needs of specific communities. While some volunteers stayed to organize supplies, most of us spent the afternoon creating jobs, setting up community kitchens, rebuilding temporary structures and tending to medical needs.
We left feeling like we'd accomplished so much, but also like there was a lifetime of work left to do. The town is doing a good job self-organizing and distributing materials. But while there is a strong sense of community, it is obvious after speaking with people that they are shaken by this disaster. They fear going into houses, are extremely alert for aftershocks and unsure of what's next.
The Ecuadorian government, with the help of foreign aid and countless numbers of citizens, is doing what they can to regenerate the affected communities and the many displaced, injured and concerned individuals. Emotionally and psychologically the situation is harder to address. Fear seeps through a lack of understanding and the unknown. The damage right now is evident—it stares at us from every fallen building, reflects back through desperate faces and screams in alarm as minutes turn into hours and then days with loved ones still lost.
I returned to Quito like a zombie: going through the motions of what I knew I had to do, but mentally, so far removed. My mind kept drifting to the scenes, thoughts and people affected by this tragedy. I'm not normally an emotional person, so when I nearly broke down on the bus the morning after arriving back in Quito and fell into the arms of a woman I hardly knew, I realized there were a lot of things I wasn't processing.
When volunteering, you go into instinct mode—addressing what needs to be done, remaining strong for others and staying optimistic. I was handling everything with a sense of certainty, except my own feelings. But when I was left alone with just the thoughts and memories of what I'd seen and actually took the time to understand the gravity of the situation, it all came flooding back to me at an overwhelming rate.
Energetically I wasn't myself, constantly searching for something to do, anything that made me feel involved with the situation. I got angry with people who lived "normally," as if nothing had happened. I felt betrayed when my supervisor prohibited me from returning to the coast for safety reasons. I went through the week unsure of what to do, how to act, who to be.
Events like this are often covered for days and maybe weeks after they occur. But the road to regeneration after a natural disaster of this scale is far from a quick recovery. The emotional damage remains long after the rubble has been cleared, so it's important we acknowledge how to take care of ourselves and our communities once the trending has stopped.
I personally found solace by coming back to my yoga practice. It is a normal daily practice that I completely abandoned once the earthquake hit. My body ached and my mind wandered as I shoved it away. When I finally came back to it, although not easily, my mind clawed at me and kept bringing up images of fallen houses and devastated faces. I sat and sifted through the craziness that I had created around me, feeding off of the craziness of the event, and realized my heart was broken.
We often regard heartbreak as something that happens when an individual faces a personal tragedy. It took a while to understand that all my actions and emotions are coming from a place of mourning for a country and strangers and places I loved. My heart is shattered with what happened and the road to recovery seems slow, as does the regeneration of coastal Ecuador, but I am not alone. This heartbreak is felt near and far, inside and out and it is okay to be broken hearted, to feel.
With love, friends, compassion and giving back, our hearts will heal; the thousands of broken hearts will heal, the communities will rebound and the country will persevere. We may not know when, but we will get there.
The Greeks described love in six different ways. One of them being agape: a selfless love, a love for all people. I realize this is the love I was feeling, for myself and for so many others giving their time, donations and kind thoughts toward Ecuador. This is the love that longs to heal my broken heart and my adopted broken country.
With this love we will gather the strength to rebuild each other and our homes. Those who love this vibrant little country are asking for support from all people—love selflessly and give back to the people of Ecuador. Keep in mind the many towns and individuals that have been impacted. May we come together to heal our broken hearts as we continue to mend the broken roads.
Author: Chelsea Carson
Editor: Nicole Cameron
Image: Author's own