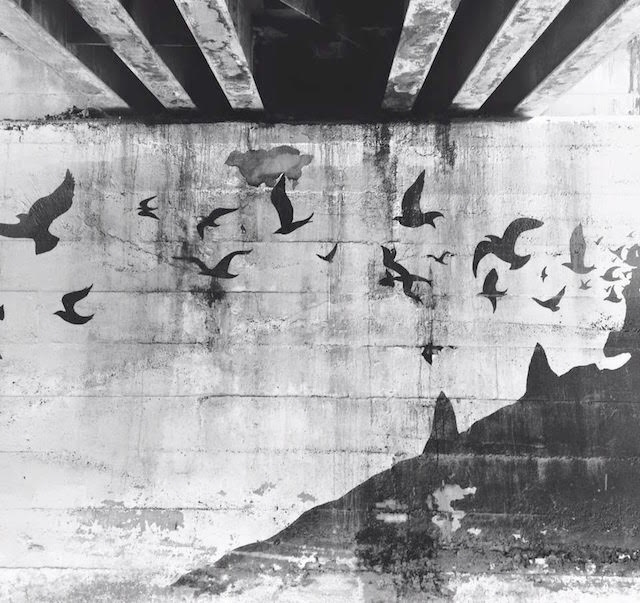 Nothing quite compares to waking up under the rising sun, the prickle of grass between my nylon floor, and the songs of the outside world.
I have become forever tied to the fruits and grit of gathering the tent, throwing on the pack, and moving from one mysterious horizon to the next.
Walking for 242 days across the United States changed me. I was no longer under the rigid and often monstrous authority of time and spiraling transactions. The real world waits. Breathing, beautiful, and messy people like us move about it—away from screens and often self-induced noise. The wind calls us to join them.
I believe that whatever its purpose or role in our lives, moving at this sacred pace (two to three mph) is one of the most important, misunderstood, under-prioritized, and deeply critical invitations into being human.
Escaping the limits of our modern day interiors and moving into and through the outside world invites us into a sea of new ideas, possibilities, open arrangements, difficult realities, and needed conversations. When we walk under our true ceiling we become intimately a part of everything that moves and beckons for our attention. In each step, we have the ability to learn from our interior and the magic of moments:
The squirrel, fiercely nibbling, perched on the old cottonwood.
The golden shimmer resting on flowing grasses.
The corner café has fresh bread for ½ off. I'm stopping in.
I just saw my mother's friend. She needs help with her groceries. I'll walk her to the bus.
It feels so good to be as relaxed as I do right now.
The sky is so big. How could we ever begin to think we can control anything?
The young girl smiled at me as I walked by. I smiled back. I think we both felt lighter.
The sound of flowing water. Smooth green river rock. The glistening sun on each ripple.
I feel stronger. I feel better. People are good.
The benefits of walking go vastly beyond miles, calories burned, step-trackers, and even hurried commutes. This modality (whether by foot, stroller, or wheelchair) longs for us to connect. The way we're built to. There couldn't be a better time for you, for us, to start learning and growing more in this way.
Here are five tips for planning a good and needed walk:
1. Time.
a. Mark your calendar. Protect 30 minutes, one hour, two hours, or a full day.
b. Consider walks during sunrises, sunsets, and times of the day that already speak to you.
c. Using Google Maps? Add an extra 15-25 minutes to be safe.
d. Loops are easiest. One-ways are more adventurous. Plan a pick-up (bus, cab, friend).
e. No really, mark your calendar.
2. Route.
a. The Architect: Use your own knowledge of an area to create your walking experience. Keep in mind that your walk/meditation will range from one to three mph depending on your pace, exploratory possibilities, spontaneous encounters, and the like. I usually encourage folks to consider a three to four mile route in a two hour time-frame to get started. This will give you enough cushion at the beginning and the end to relax into your steps.
Other considerations: Build in parks, main streets, trails, points of interests, views, monuments, historic sites. Consider where there are restrooms, water, and food if you will be out longer than 30 minutes.
b. The Flâneur: Often known as an "idle man or woman about town." No real goal, set route, or even time-frame. Maybe give yourself a broader scope one to three hours. This is more about finding yourself in the midst of being somewhat lost. Take steps as they speak. Go the direction that calls. Chase new horizons. Let yourself follow rabbit tracks, alleyways, or the shifting pebbles and sand on a tide cut beach.
Other considerations: Have a phone or map with you just in case you really are lost. Don't hesitate to ask someone you pass by for help getting to their favorite spot or to help you get back to your starting location.
3. Prep.
a. Be Safe, Be Healthy: Sunscreen, sunglasses, first-aid kit, cell phone or emergency numbers, water, snacks.
b. Be Comfortable: Non-cotton clothing/socks if you have them, comfortable shoes (waterproof if in rainy/winter climate), extra layers for adding and shedding (no bulky clothing), small backpack to carry items.
c. Be Seen: If at night, wear brighter clothing. Consider reflection stickers, patches, or vests.
d. Be Creative: Bring you camera, journal, sketch pad.
4. Intention.
a. Be Present: with nature, silence, strangers, spontaneity, pain, simplicity, loved ones, and gratitude.
b. Try: taking the first 10-15 minutes and walk without talking, without your phone, without headphones, or anything to distract you from what's naturally occurring.
a. A couple extras: Stop somewhere for 10-20 minutes. Sit and close your eyes. Only focus on sounds around you (nature, kids playing, wind). As you walk, focus on other sensory experiences other than sight to guide your steps (sense of smell, sense of feeling as the wind hits your skin, sense of hearing as you move from place to place).
5. End in Gratitude and Reflection. Pause for one to two minutes (at least) and go over in your mind, heart, and gut what you saw, heard, experienced along the way. Consider naming what you are grateful for, what you learned. Maybe write it all down.
"Never did I think so much, exist so vividly, and experience so much, never have I been so much myself, if I may use that expression, as in the journeys I have taken alone and on foot. There is something about walking that stimulates and enlivens my thoughts. The sight of the countryside, the succession of pleasant views, the open air, a sound appetite, and the good health I gain by walking, the easy atmosphere of an inn, the absence of everything that makes me feel my dependence, of everything that recalls me to my situation, all these serve to free my spirit, to lend a greater boldness to my thinking, to throw me so to speak, into the vastness of things, so that I can combine them, select them, and make them mine as I will, without fear or restraint."  ~  Jean-Jacques Rousseau, Wanderlust: A History of Walking
For those who don't often see the world, others, or themselves this way. Get out there. Trust it. Our neighborhoods, hearts, ideas of others, participation in difference, and inner life begs you to.
Author: Jonathon Stalls
Editor: Emily Bartran
Photo: Author's Own