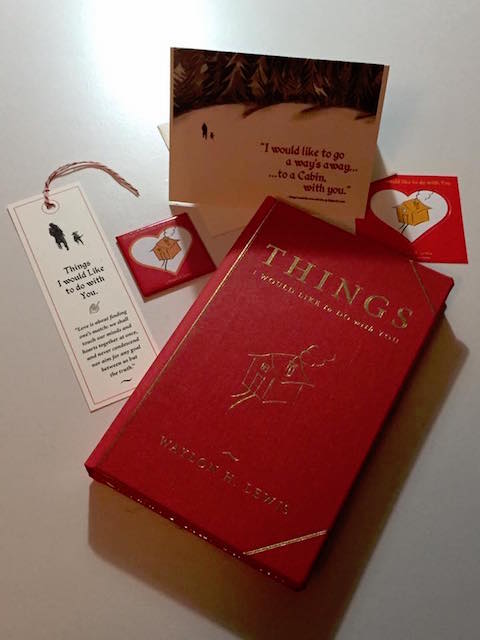 I recently received a package through the post and I was instantly in awe at what delicately tumbled out.
The unveiling revealed an exquisitely crafted red and gold book called Things I Would Like to Do with You, written by founder of elephant journal, Waylon Lewis.
Although I was impatient to read it, I already knew I would adore the book as it invisibly held a very personal story of mine. However, the beauty was that only I could see and feel it, but it was there. Printed (local to Waylon in the U.S.) in black vegan ink on smooth eco paper.
My connection with this book started sometime in 2013 when I stumbled upon the first of Waylon's writings titled "Things I would like to do with You in the Woods."
Admittedly, I, among many others, very quickly became wildly addicted to the unraveling of this series and read in love with the simplicity and elegance that spilled out.
Waylon's words describe not the kind of love that is talked about in glossy magazines, romance novels or that we usually find expressed in sensual movies.
His stories show another version…
The kind that I had held a whisper of hope existed, but, up until then, had not seen any proof of.
They talk of a cabin somewhere, unknown, of hiking in the mountains with Red, the half-hound dog, hand scribbled notes, working too much and simplicities like: coffee, cooking, oatmeal, blankets, snow, stretching, reading, bicycling, talking, dancing, laughing, sadness, loneliness, doubts, fears, arrogance, jealousy and kindness. Lots of kindness.
I was immediately moved.
And so, I wiped away 20 years of procrastination and took out my pen and I wrote. I responded to one of Waylon's writings with this.
And I continued… I wrote and I wrote and wrote.
The words Waylon had given were the jolt I needed to embark on a winding road that propelled me on this cathartic journey of writing.
I chose to share some words from Waylon's book here as I believe they will pry open the ribcages of some readers, touch hidden, forgotten places in others or be the catalyst that inspires, encourages, and empowers another to decide it is finally time to pull out that dusty old type-writer, feel what is inside and transfer it to paper.
Here are a few of my favorites:
"This story is not true, but it is not fiction. This story is my heart's life."
"And this is how it will begin. It will not all be sex and cooking and aimless wandering through the forest and conversations and happy runs and lazy hours with Red the dog and paperback books and pens by the creek…but it will be mostly that."
"Love is something else entirely. It is caring. It is arguing with curiosity—It is giving an inch when the other seems certainly wrong—it is teasing, it is empathy, it is respect, it is a moment of quiet smiling admiration each morning."
"I would steal poetry from your heart, and leave it for you to read with tea, your heart, my words, bound in a book of tan paper."
"I would like to see you most every day for what I fear most is to miss seeing what you wear, how you laugh, and what you are creating, and what you think about things I think about, and what you think about things I have not thought about, and what you say out of that."
"When I am lazy, I will not be lazy, for you. When I am weak I will find strength, for you. When I am frustrated I will find the door and walk out of it, for you, and go for a walk and remember the clouds and forget my thoughts and remember my breath and forget your supposed insult and so remember my humor and big-ness and charm and forget my pettiness and my pride and my self-concern. A breath where no breathing was. And I would like to be back in two-and-a-half minutes, for that is how long it takes."
"And you ask things about me, and I tell you about myself. I do not know why I tell you so much truth, but you are beautiful and I am tired—though I am attached, too, to my alone-ness. The longing is here: the longing for a friend, for a gold lover to stretch out on my gray sheets. The longing to love and even bicker about the little things: the longing is right here."
"I would like to play, but not games. I do not play games because I cannot—they twist my sweet heart like a wet rag, and what feels all right, fast becomes unworthy of us."
"For sometimes a choice must be made—this is the definition of focus. Sacrifice is not a word: it is loss and achievement, and most of all it is caring about other more than self. It takes Mad Ones with ascetic drive to cultivate something bigger than self-concern."
"I like you so I could read a chapter of Huck Finn to you, or Fitzgerald, or Kerouac. I like you so I would like to hear you read the books you love to me: your books are boringly unknown to me but because they come from your heart up through your throat out your mint-scented lips into this air, I find enthusiasm for them now, too. They are part of my world, now, too."
"My hunger makes me focused, dangerous. It is cold, so I wear the union suit beneath the striped sweater and the hat and the jeans and the too-heavy boots with soft linings and the tweed jacket and the coat with its high collar over the bottoms of my pink ears. A cozy winger is about breathable layers."
"I would like to be able to look back, some day far away, and remember these things. So I write them down, here, for me, for you."
There are many tales of courtship and out of all the ones I've read, this is the only book that has conversed with and captured my heart. Each of these quotes stayed with me long after they found me, and are now integrated into my view of what love really means. The words aren't escapism to a world that doesn't exist. They are a road to reality, a real possibility.
They are timeless, everlasting. And they have found a permanent home beneath my skin.
~
Author: Alex Myles
Editor: Travis May
Photo: Jill Marie (used with permission) and Flick/Arielle