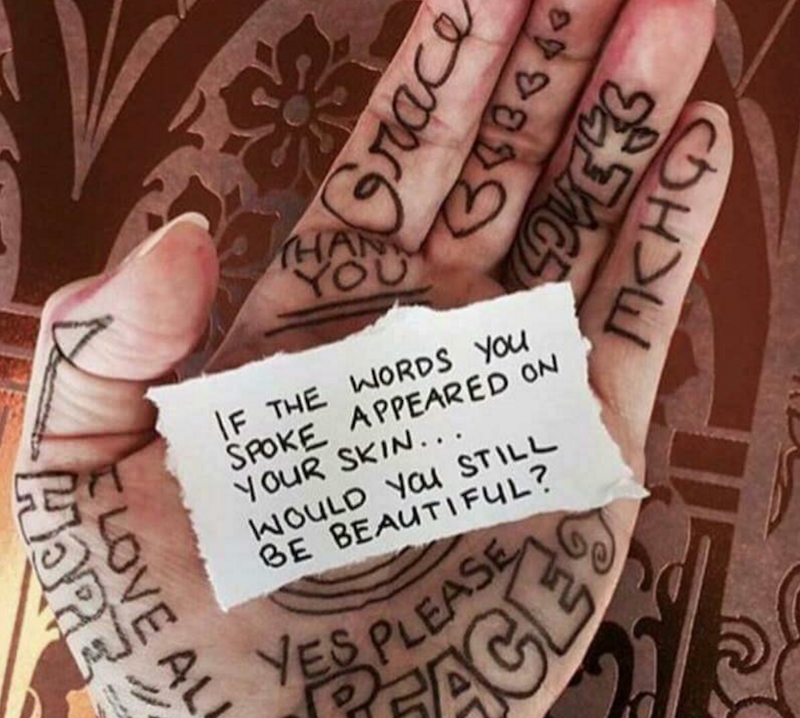 Yesterday, I saw this picture.
After a quick assessment, I realized in horror that if my body were instantaneously tattooed with the words I say, it wouldn't be all that pleasant. It wouldn't be beautiful at all. Instead, it would be dark and harsh, and much too dreary.
But, that was yesterday, and this is today.
Today, I've decided I want to change my words. Today, I've decided I can individually pick my words, live by them, and stand by them. I will make the decision what words will come out of my mouth, and I will make sure they are much more beautiful than the words I said yesterday.
It is my vow, my mantra, and my anthem to myself to bring more beauty to my life each and every day, and that decision starts with me.
I will live these words and cradle them to my breast, allowing my being to breathe each one in, one syllable at a time.
If my body were tattooed with 40 words, here's what I'd like them to be:
Juicy
Zealous
Aplomb
Delicious
Apologetic
Precise
Simple
Eccentric
Erratic
Ecstatic
Superfluous
Blossom
Ardent
True
Blessed
Enigmatic
Driven
Warm
Quirky
Beauty
Soul
Open
Masterful
Magic
Heart
Love
Self
Breath
Coupled
Notwithstanding
Adore
Sexy
Silky
Smooth
Jubilant
Excited
Endearing
God
Life
Be
Now, what will yours be?
~
Author: Brittany Ann Bandemer
Editor: Travis May
Image: Unify