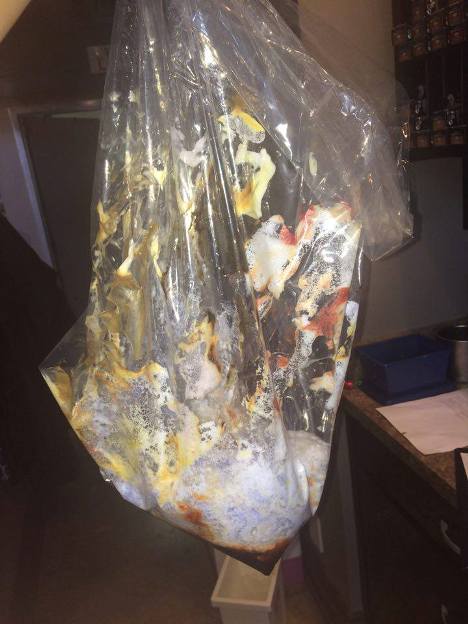 This is a bag of leftover hair dye from about a week's worth of appointments from my favorite hair salon.
Gross huh?
What's even grosser, though, is that this bag of harsh chemicals is what would normally go down the drain at a typical salon each week.
I was browsing my Facebook feed and noticed a "recommended for you" post from a hair salon page that I'd liked. I don't often see posts from many pages I follow, thanks to Facebook's recent changes (don't get me started on that—you can read all about it here) so it caught my eye and I clicked.
Nestled in among deals and updates from the salon was a post about Green Circle Salons.
Ooh, what is this?
Of course, being an editor for a mindful journal who loves cool eco stuff, I was immediately intrigued and did a bit of googling. Green Circle Salons essentially helps salons recycle and re-purpose materials that they normally aren't able to—like hair and tin foil used for hair dyeing—so that less waste is sent to landfills and fewer chemicals enter our waterways. The more I learned, the more I was impressed that my go-to hair place was also into being eco-conscious. Guilt-free hair-dos? Hell yeah, bring it on!
This is the salon's before and after garbage picture. Wow!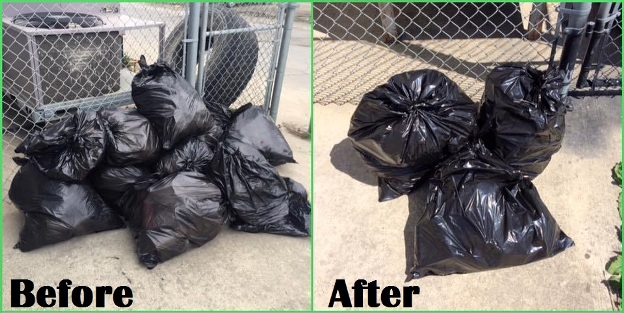 Here's a quick infographic that explains the process: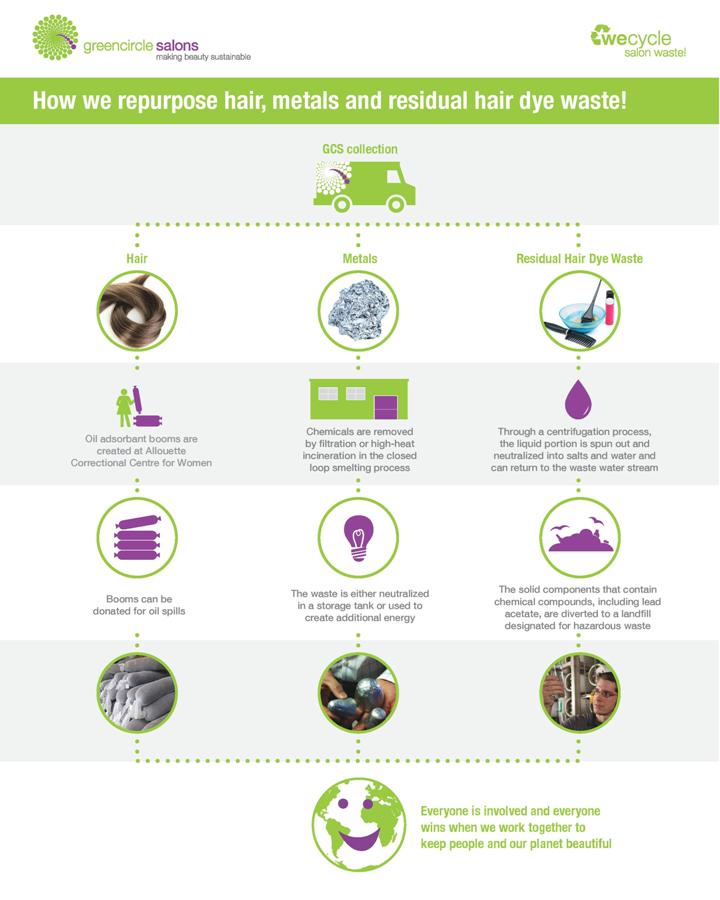 A couple of interesting facts that caught my eye while reading through the literature Green Circle Salons provided:
"The population of New York City grows enough hair annually to clean up 12,609,000 liters of oil, enough to have cleaned up the entire Exxon Valdez spill."
"Toronto Salons waste enough aluminum foil annually to manufacture 7,320 bicycle frames. If 7,320 more Torontonians biked to work, we would reduce carbon dioxide output by 43,920 tons."
And a video that explains a whole lot more.
Check out these hair booms in action!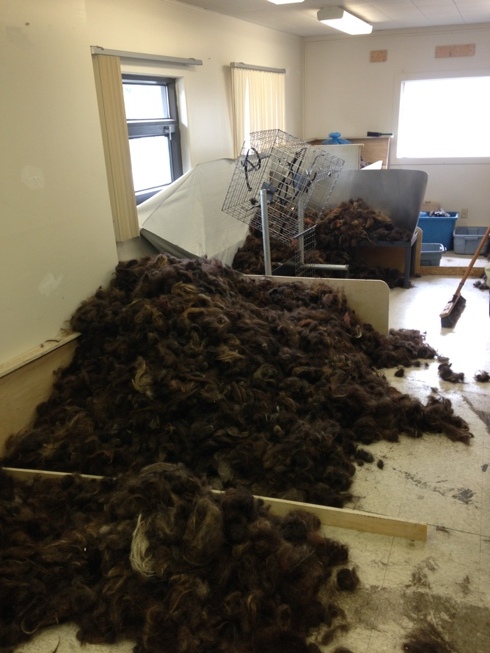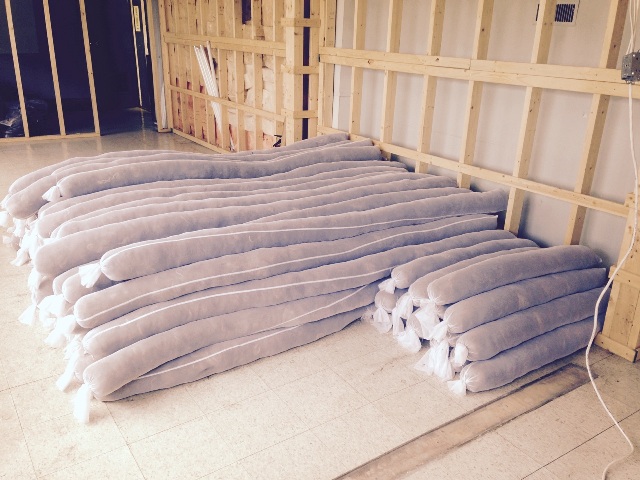 At an oil spill: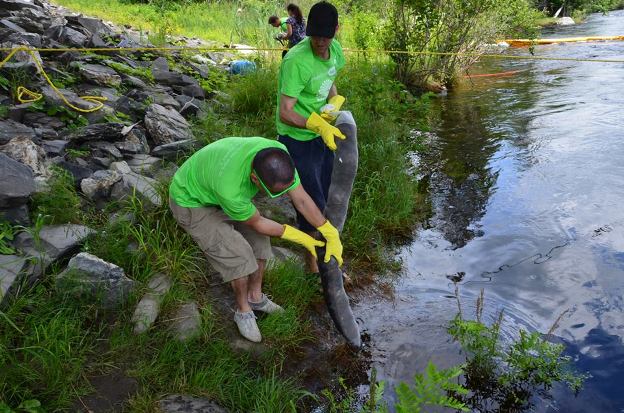 And the foil once the chemicals are removed and it's compressed: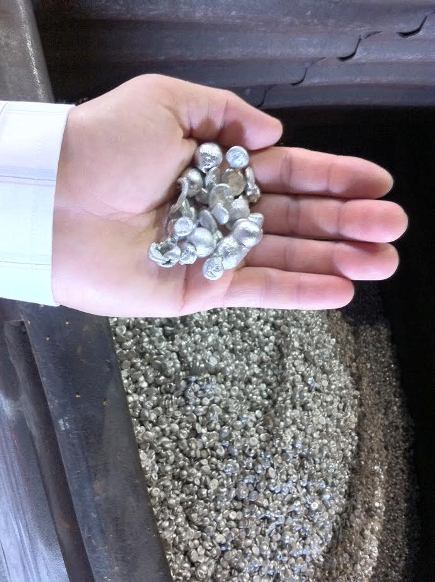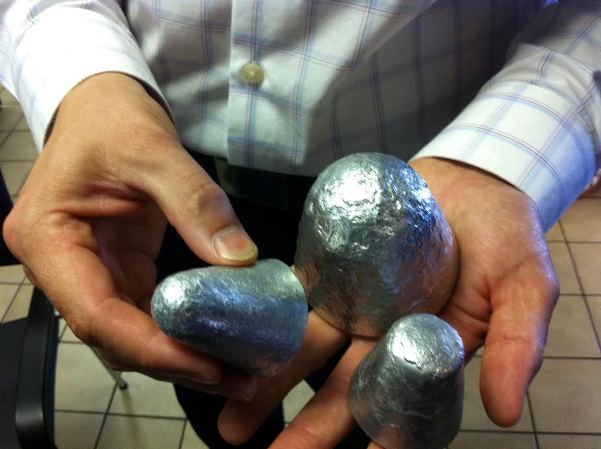 One of the easiest, laziest things we can do for our planet is vote with our dollars.
I already love this salon because of my experiences there, but now I'll also keep coming back because they're putting in more effort to do what's right for the environment.
When I contacted my salon to ask about their decision to join, the salon's manager Lindsey explained that while they had been doing some recycling, it didn't seem like enough. So when they were given some information from their beauty supplier about Green Circle Salons, they jumped on it. "A rep from the company came from Calgary to present more…and we were automatically hooked on the idea and wanted to implement it in our salon." Lindsey also mentioned that so far, clients have been supportive—instead of their yearly price increase, the salon asks for a small $1 to $1.50 fee to support the initiative.
Whether we're buying food, stuff for our homes, makeup, clothing, getting our hair done, traveling, buying coffee—there is always a way to vote: by what we're choosing to pay for, and how we consume it.
The more we ask for green choices, and the more we're willing to pay for them, the more these options are made available by businesses. Therefore, any time we have the option to choose a more mindful way to be in this world, we need to take advantage of it.
I get it: changing our habits is hard. It takes practice and effort, and sometimes we'd rather just stick to our comfortable, easy ways of doing things. So, when businesses make it practically brainless for us to live greener, it's on us to support them and help move the world forward—inch by inch.
Images: Courtesy of Q-Hair Design & Green Circle Salons