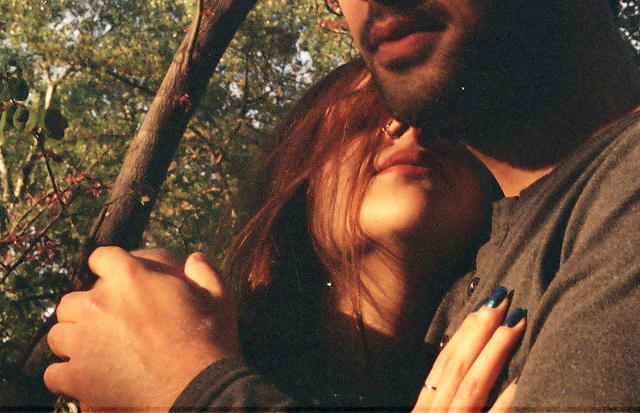 I want romance, badly.
Love like tendrils folding over the curvature of a home, hot sparks of salt on stars and sounds of the richness of summer falling on frozen bits of light and day. I want that holding firmness of a hand on my back that carries me through the wind and I want to know with violent certainty that I am loved to completion.
I want that laughing, careless, windy dance that follows you up the shore and dances inside the folds of your dress. I want youth—stretched out upon the flaps of wings, carrying me through the curving days of this life, through the sprawling territory of ages and years coming toward me like scars. I want to be known and I want to know that endless, unwavering mystery that spins around inside of a love still beating with a bright, red heart.
Pounding like ash and rain. Pounding with that still, strong sound of a name. Just pounding ancient youth forever, through the strains and strings and curtains of a life still open. Always open, always reaching, always able to be reborn.
I want the okay to start over. To be a square one and to know how to stay clean. How to keep something beautiful in my own two hands. How to not drop something fragile and whole. I want to learn how to really meet someone eye to eye. And to hold their gaze for long enough. To hold their gaze through the endless days that stretch onward and outward.
I want to learn how to be that person who can make life worth living. I want to be given the opportunity to hold steady, fast and true. Forward and closer and deeper. I want to be given the opportunity to hold another's heart just so—not too tight, not too loose, not too bright, not too bold. Just right.
Just enough to keep that heart still pounding. To let it pound, to feel it pound, to hold the endless pounding that cannot be stopped. I want to live with a love still living. Still learning. Still burning and yearning. And pounding.
I want something real. I want someone to love me on and off the pedestal. Take me down from the high shelf, dust me off, see me as I am and understand that life is complex and rich and thick with a thousand different angles. And at the same time, keep the dream alive. Keep the magic alive. Explore this wild and whimsical world with me. Take my hand and walk beside me. Not above, below or inside-out and perpendicular to me. Just walk with me. Just be present and respond to what I am giving. As simple as that.
Be here with me to take in the sky, watch the world spin on its axis and open to each other's secret worlds. And I promise, I promise…I am sure, so sure…that I could love beyond reason. Beyond doubt. With fervor and mystery and faith and a ball of fire in my eyes. I keep this dream in my heart.
I could love in the way they sing songs about love. I could do it. I just need someone to reach and grab the hand I am holding out. Endlessly, endlessly. Meet me where I am. Take my heart in your hands and say yes to the world. Make magic with me.
So I bury myself into a hole, curve myself outward like light, funnel myself through the new day. I chase that uncharted water and I swallow whole the promise of the night. I breathe deep into this hole in my chest and try to find the pieces worth piecing together. I dig out my ditches and shake out my cerebral nonsense. I clean this body with a bottle of pure hope and ground my feet into the earth like I've got roots worth rooting.
I fake it to the other side of confidence and love that fragile, shallow stone inside my scars. I love those little broken pieces faster and harder than the wind can blow and I let the rain of this earth clear the dirt out. I hold this shaking frame and let it whistle out. Let it whisper out. Let it wander about. Let it find its own courage and know its own name. I come to know that deep, deafening darkness inside my rib cage and I let it fan my flames, burning old names to the ground and keeping ash for sacred compost.
I bury new seeds in the upturned ground and I wait. And I water. And I wait. And I bend my tiny legs to the angle of the ground. And I wait. And I love the prospect of loving deeply enough that my love cocoons me. And I let the bounty bound out.
I begin to love every passing flower, every dreamy piano note. I begin to love every small rock that tumbles in my hand. I begin to love twirling scents that sing their way to me and hues of colors I have never named. I begin to love that desert in my heart; those fast and spinning thoughts that knock me off my feet. I begin to love the rocky terrain, the moonlit pools, the dusty road. I begin to love and love begins to love me. I begin to love and love begins to find me finding it.
I love this bottle of love I swallow—and love loves me back. Romance waits stage left. Love wraps me in her arms and gives me the patience to wait. Heart pounding, lungs breathing. Love holds me close, gives me my own two feet to stand on and calls my cue when it's time.
Author: Lauren Suchenski
Image: Yagmur Adam/Flickr
Editors: Nicole Cameron; Emily Bartran