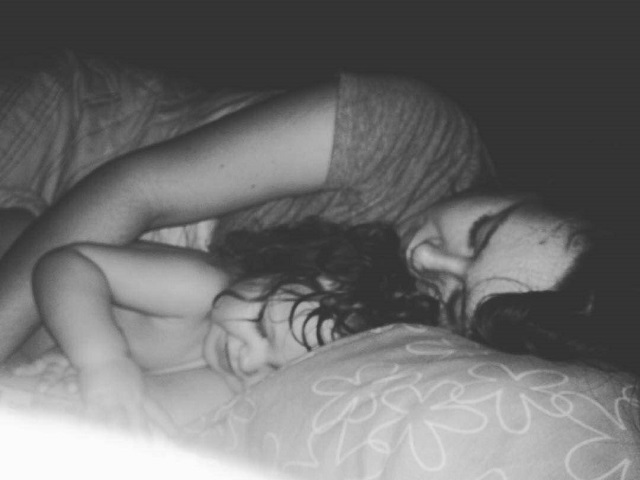 Watching my daughter learn and grow has been one of the most joyful experiences of my life.
Every day is a new adventure, a new routine, a new discovery. Her phases pass as quickly as they come, and as much as I try to teach her, she teaches me.
It is easy to get caught up in growth charts and milestones with our children. Oftentimes, it is hard to pause amidst the chaos of the day and relish in the love and joy that our children bring to our lives.
My daughter went through a phase, like many children do, where she would only nap if I was with her. Sometimes it was an hour and a half of lying there as her own, personal body pillow fretting about all of the things that I should be accomplishing during her naps. Other days, I relished in the moments of lying there in awe watching her sleep.
I wrote the following poem as a reminder of the beauty and peace found in these brief pauses.
You sleep,
eyelids fluttering slightly,
body curled into a perfect "C"
mimicking the shape you held inside me,
but larger now.
There are dishes piled high in the sink,
toys causing tripping hazards
like landmines across the living room floor, but
I can't help but watch your tiny, peaceful body
for a sign of the slow rhythm of your breath
pumping life into your soul.
When you awake,
your little feet will pitter-patter across the floor,
collecting dust and crumbs,
searching for the next mess to make.
Your delighted squeals will fill the now quiet air
as you find joy in the discovery of
things I often overlook.
All the energy has slowed
for a few peaceful pauses
amid the chaos of the day.
I gently stroke your back
and kiss your smooth, unblemished forehead.
You roll ever so slightly toward me,
curling into my body,
finding comfort in my soft flesh.
Author: Michelle Carpenter
Image: Author's own
Editors: Nicole Cameron; Emily Bartran