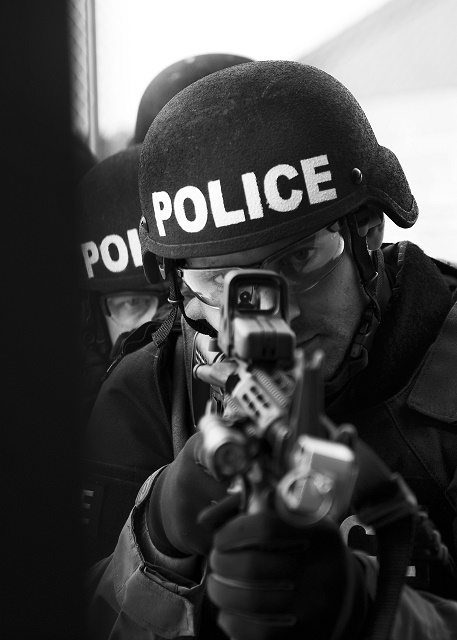 While the shooting they reported this morning was not fatal, it is yet another look at the relationship between law-enforcement, the black community and Western gun culture.
"It's a complicated issue," many of us say—but is it, really? Or has it just become too easy to shoot first and ask questions later?
Have civilians and law-enforcers become so afraid, that using guns is the natural reaction from both sides?
Even if we do not have the answers, I think we should be asking the questions. By questioning our motives, our beliefs and our conclusions, we stand a chance at true social progress.
"Charles Kinsey was trying to calm down an autistic patient who had run away from his North Miami assisted living facility when police arrived. A bystander filmed their interactions on July 18, before Kinsey was shot." (Courtesy Hilton Napoleon), it is reported in The Washington Post.
On July 18th, a cell phone camera and it's owner became a witness to a scene that in previous years would have simply been the word of a black man against the word of a white police officer.
The video shows Charles Kinsey lying on the ground with his arms up, explaining the situation to the police-officer and saying, "There is no need for guns."  The young autistic man he was trying to assist had wandered away from his residence. The two were blocking traffic while Kinsey tried to calm the situation.
Explaining that the young man had only a toy truck in his hand, Kinsey was shot in the leg a few seconds later. Adding to Kinsey's shock at being shot, was that he was left bleeding on the pavement for 20 minutes.
"His attorney called the video "shocking." "There is no reason to fire your weapon at a man who has his hands up and is trying to help," Hilton Napoleon told The Washington Post in a telephone interview Wednesday night. Napoleon called for the department to fire the officer." ~ The Washington Post

After weeks of violent altercations between police and the black community: the shootings in Dallas, Falcon Heights (Philando Castille) and Baton Rouge (Alton Sterling), it is no surprise that there is a high degree of tension.
These altercations are increasingly being caught on video by passersby. We are left, as citizens, with the opportunity to serve as quasi jurors—all of us weighing in with opinion and justified horror while the violence unfolds before us with such graphic reality.
"Live video is now crucial in holding police accountable for their actions. Is Facebook ready?" ~ The Washington Post.
Are we ready to participate in justice, to be faced with violence that once was so easily avoided before we became street journalists with cell phones as our tools?
This could have been a fatal shooting had fire rescue not come in time. To leave a man bleeding on the street for 20 minutes goes beyond the question of who was right or wrong in this situation. It speaks of our character as human beings.
All lives matter.
Author: Monika Carless
Image: Wiki Commons
Editors: Renee Picard