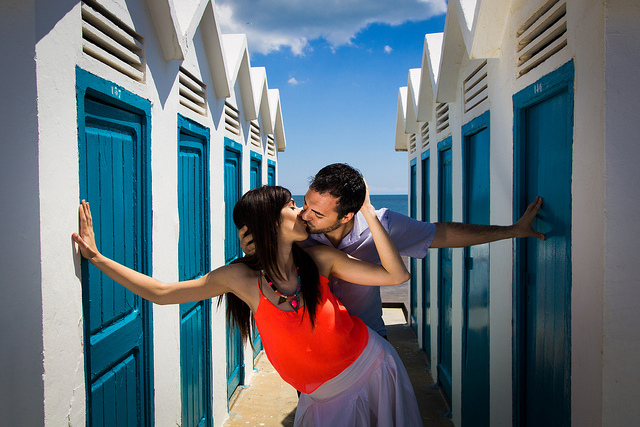 "People don't write sonnets about being compatible or novels about shared life goals and stimulating conversation. The great loves are the crazy ones." ~ Unknown
.
As I feel my walls crumble into nothing more than dust, and my heart turns somersaults within my chest, the only thing I am left wondering is—what are you doing to me?
I don't know if this is where I should be, and while at one point I could have thought of innumerable reasons why I shouldn't be, now I am left floundering trying to think of one reason why it shouldn't be you.
I didn't plan for you—and if I am honest, I spent more time than I would like to admit hoping that it wasn't you, because sometimes it seemed that it would have been so much easier if it wasn't.
Yet at times, it seems that just because we would like things to be easy, it doesn't mean that they are meant to be that way.
And so, now I find myself uttering these soft-spoken, silken words, hoping that maybe an answer will manifest in the same tantalizing way that your lips always feel against mine.
What are you doing to me?
I still don't understand how you have managed to turn my exquisitely built walls of wrought iron and twisting vines into nothing more than a garden whose beauty is best enjoyed within the darkness of the waning moon.
Everything I tried to be suddenly seems futile compared to you and the way that you help pull out my most vulnerable, sensitive qualities, admiring me not for the woman I had pretended to be, but for the woman I actually am.
What are you doing to me?
I never wanted to need another—yet as the days pass in their honey richness, I suddenly see that not only do I want you here in my bed and by my side, but I need you here as well.
It seems that time has made a fool of me and the independent status I wore like this season's hottest trend, because I now realize that I never had to pretend to be able to do it all on my own—I simply had to find the courage to be brave enough to admit that I couldn't.
I don't know if anyone has ever seen me in the way that you do, and it's that heartbreaking reality that lets me slip into a realm where I can actually imagine you and me and the life that we could create.
What are you doing to me?
In truth, I didn't want to love you. You sometimes seem to turn me around until I don't know which way is up—yet this chaotic dizziness of desire and feelings I wasn't always ready to feel never let me truly escape from you.
And so, I find myself simply, completely and utterly in love with you.
I don't know where this love will lead, but only that it feels damn good wearing it like a truth I had to dig through the mud for in order to acknowledge.
I love you—and maybe now I am seeing that it can be as simple as that.
What are you doing to me?
You have challenged me like no other ever has—not just because of the sometimes rocky terrain that we both have had to navigate, but because you make it utterly impossible to hide from myself.
Held within the breath of your own journey, you shine a light onto all of my darkness, giving me the choice to either face my fears and insecurities, or instead run—not just from them, but from you as well.
There was a time when I did both, yet in between stolen moments and nights that seemed more dreamlike than real, I made the conscious choice to not run.
Because I suddenly realized that whether or not I want you to have my heart—you do. And I truly believe that there isn't any running away from our hearts.
What are you doing to me?
You've made it impossible for me to stick to my life plan.
Actually you laughed and helped burn it to the ground—yet you never actually told me what I should do once the remnants were done smoldering.
You simply set fire to a life that wasn't truly the one I was meant to live, and then you stepped back into the shadows knowing that I was going to have to be the one to rebuild from the ground up.
What are you doing to me?
I never thought anyone would actually stay. I had become accustomed to people leaving, and so it seemed that each time our paths went into separate directions, that internal fear was triggered, and I would feel satisfaction at knowing that I was right in my insecurities.
Until I realized that even when our paths took us in different directions—you never really left.
Somehow you became a constant that I could depend on just when it seemed that I wasn't ever meant to know what it felt like to have someone stay.
Perhaps you haven't really chosen to stay just yet—and maybe there will still be enough reasons for you to not want to step into my world and dance with me here until the sun comes up—but the reality I am now seeing is that you also just may be the only one who is meant to join me in this life.
What are you doing to me?
Suddenly I can see you here.
I can see you waking in the morning light, alongside the laughter and smiles of children. I can see the way that you and I could fit our lives together to create the greatest masterpiece we both never actually expected to be a part of.
I can see myself loving you for a very long time, and somehow it now feels that just maybe we were meant to go through everything that we have because neither of us was ever ready for the changes that our love would inevitably bring to our lives.
And now I just have come to believe that maybe the greatest loves are also the crazy ones, because now nothing else matters than the fact that I simply just love you.
Just as you are.
.
.
Relephant:

.
Author: Kate Rose
Image: Flickr/Enric Fradera
Editors: Yoli Ramazzina; Catherine Monkman