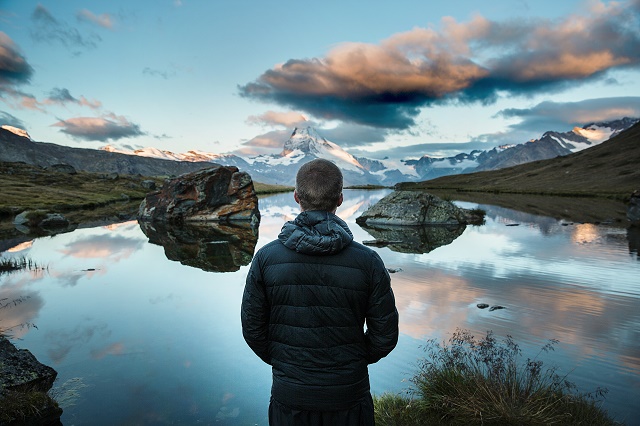 I turned my head and there you were—trailing behind me, your eyes cast down, your heart so wounded, bleeding teardrops onto the cold, hard ground.
I can't work miracles, but I can hold your hand.
Somewhere back there, you were stronger and wiser. Somewhere back there, you had more answers. Somewhere back there, you had the confidence of a warrior.
I don't know why this suffering is so bitter for you, but I know that I can hold your hand.
This won't last forever. These are days of discovery. This is a time for reflection and counting your blessings. A time to question, a time to seek wisdom. A time for laying yourself bare to the truths that guide you.
I can't do it for you, but I can hold your hand.
For the longest time, you were my strength—you saw me through the worst of my nightmares. You cradled my pain, you sat through my darkness…remember when you held my hand?
Lovers and friends, we ebb and flow, like the tides that seek the guidance of the moon; we sway, we turn, we dance, we fall—always—holding hands.
The strength in your eyes was once the spiritual food that I fed on. The warmth of your arms was once the refuge that I drowned in.
You can't offer it now, but I can still hold your hand.
Down in the cave of long-held dreams, you can curl up like a child; you can return to the stories told by ancient scribes and remember why you're here. You can close your eyes and search the darkness, you can unfold the map of your sacred being and take a breath of awakening.
I can't be your oxygen, but I can hold your hand.
When visions threaten to overwhelm you, and you scrape open the scar of your pain—when you peer with curiosity at what fell you to your knees, when honesty screams your name and you have to face your humanity—I will hold your hand.
When others point and stare, when life leaves you exhausted, crawling towards the edge of your personal abyss…I will hold your hand.
Let me take you tenderly into the only healing that I know. Let me show you that in the grasp of my palm there is solace and an everlasting calm. Let me share my love by wrapping your fingers in mine. Let me be the harbor for your storm.
I can't be your guru on a mountain top, and I can't smooth the road under your feet. I can't take away the miles that you will have to travel to reach the summit of your goals. I can't live your life, nor make every day sunny and hurricane free. I can't silence the ramblings of your mind. I can't make you see the light at the end of the tunnel. I can't make it all go away.
But I can hold your hand.
Once, I lay against your body and was naked in my search.
Once, I sipped your kisses like lemonade and grew strong.
Once, you held my hand and watched me unfold.
May I hold your hand? Won't you lay aside your resistance and stop pretending that you're the man I can always depend on? You're not. I can't. We're human. Perfection is not a contract we entered into. I honor your vulnerability. I love your sobbing and the way you look when you're real.
I want to know you like this.
I long to hold your hand.
.
Author: Monika Carless
Image: Pexels
Editor: Yoli Ramazzina