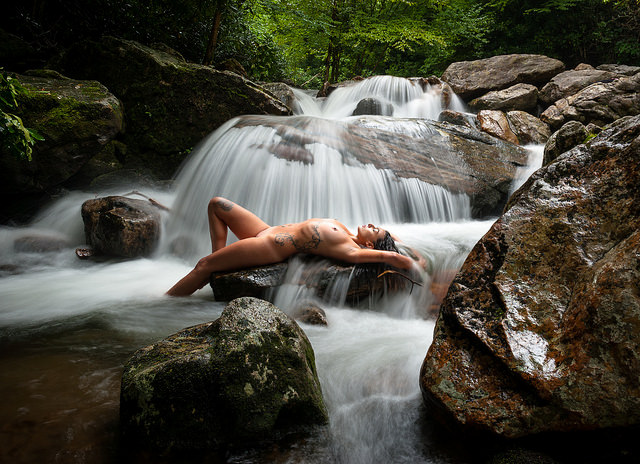 "I know I am a handful but that's why you got two hands." ~ Unknown
This isn't about just the act of getting wet with me—but about seeing if you'd be alright with being submerged in my waterfalls.
Although I burn, the truth is that I flow as well.
I drip, and sometimes I even gush—though not every lover can be the sailor skilled enough to ride my waves.
I love your kind of sex, but here are some things that I would like to do with you.
Definitely when no one was watching. Most likely no one even knows about you and me and the fire that we have begun to create.
I have levels which no one besides you has experienced—and whether or not I understand it, you somehow have unlocked them all.
I'd like to get wet with you.
I'd like to undress one another and let the warm water of the shower cascade over our bodies until I can slide my skin along yours, making you gasp in the simple delight of the way it feels to have my whole body in your hands.
We'll take our time and enjoy the physical sensations of the moment until you feel me shudder and gasp against you as I gently bite your shoulder.
Because darlin' I'm beginning to think that there are just certain things I need to do with you to stop burning the way I am.
There are secrets in my oceans that I'd like to let you explore—taking you to places that I've never led anyone else before.
Sex is just sex, and sometimes it's something more.
Don't yet ask me what more it is, because right now I don't really think we need to say.
It's summer still, and we have time to laugh and play, forgetting that tomorrow we may have to make sense of the moments we've only begun to taste.
I'd like to get wet with you.
I'd like to take a drive, mingling with the sunlight and midsummer dreams of suspended time, just long enough for us to escape the world for a few hours—because I promise, they won't miss us.
We'll stop and find secret streams hidden behind ancient boulders, and waterfalls as gentle as mine flows for you.
I want to feel you inside of me as the sun shines above and the water moves below.
I'm not an exhibitionist, yet there's something I love about being naked in nature. It brings out a different side of me—my eyes light up just a bit more and my river water soaked hair smells just a little sweeter.
You don't have to swim with me, but I'd like it if you watched.
And when I tire of feeling the water slide between my legs—like your hands—I'd straddle you kissing you in the daylight, letting your eyes wander along my skin, not shying from whatever it is you might see.
This is what I would like to show you if you let me.
Not because it would lead to more, but simply because I'd like to enjoy a few more moments with you.
I'd like to get wet with you.
There might be a time when I meet you in the rain.
I'll be wearing my white cotton slip, and within seconds the rain will plaster it against the pale of my breasts, creating shadows of my nipples.
I'd come to you slowly letting the rain fall down in the small spaces left between you and me.
I'd like to move my fingers up along your jaw and over your ripe lips until  taste them against mine—staying with you there until the rain begins to chill our skin and we move into the heat of the house.
But neither of us will be able to get past the kitchen and as I sit on the counter and draw you to me, wrapping my long legs around you.
I would like to get wet with you.
I'd like to drip with the desire that pulses throughout my body, drenching my skin in readiness for you.
You aren't just sex to me, and while maybe I am to you—I don't really care about all of that this time.
My only concern right now is this moment with you, and the next one if that's what the universe conspires to create, because there is just so much I want to do with you.
Perhaps you are fire and I am water—an unlikely combination—it's not that we douse each other's best qualities but instead we create a slow and steady rolling boil, with just enough steam to make it interesting.
While I could say that there are other things I would like to do with you, other than get wet, right now I'd like to have you in the wild.
So I might can you and the water around us, as we create our own waves.
I'd like to show you all of life's possibilities—swimming the depths of my waterfall.
So while things may be more complicated than this, the only thing I'm really asking is—Do you want to get wet with me?
~
Author: Kate Rose
Image: flickr/Justin Askew Photography, Flickr/Gregorio Puga Bailón
Editor: Ashleigh Hitchcock