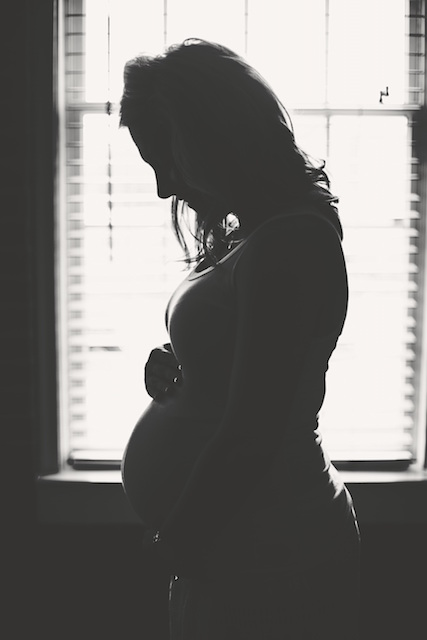 We had moved into a beautiful house in the suburbs when I got knocked up—a few months shy of my 38th birthday.
I'm not even a fan of the suburbs for many reasons. I'm here mostly for the good schools, but I prefer the energy of city life over a lifestyle I liken to living in a model train set. Still, I have learned how adapt to suburban living.
But maybe those are the pregnancy hormones talking.
The lure of the suburbs is their decent public school system, but it's the only perk to buying amongst a row of houses built so closely together that little is afforded in the way of privacy. I wonder if our neighbors heard my cries the evening I took the pregnancy test.
"Are you kidding me?" I yelled from the bathroom.
I walked down the foyer to the front door where the summer sun shone through glass panes. Holding the stick up so the light could illuminate the results, I saw the unmistaken positive vertical line in the test window.
My husband came to look, with my six-year-old following closely behind, her smile wrapping from cheek to cheek.
She put her arms around my midsection and gave my belly a kiss.
I wished in that moment for her sweet innocence; I felt guilty—like a monster—for my own lack of instantaneous love.
For the past 12 years I have been a stay-at-home mom, and I recently realized that I'm ready to move out of that role. So a few months ago, I started a blog filled with personal essays and memoirs in an attempt to break free from what felt like a hamster wheel—I'd been exhausting myself day after day in a sea peanut butter and jelly sandwiches while never feeling like my own life was moving forward.
Such as it is with motherhood.
My readership leans toward the multitude of women out there like me; I didn't realize there are so many of us. We are all looking for something more than minivans, soccer practices and exclusive playdates set up amongst friends who easily abandon themselves to group mentality, medicating the aftermath with wine and antidepressants.
Like me, these women dream of gorgeous love and intimate conversations. They dream of self-worth defined by their fierce passions, not by their handbags and their casseroles.
I understand these women. Without writing, I would be lost. Words are my greatest form of self-expression, my passion. As a child, I escaped the boredom of white-walled classrooms by disappearing into spiral notebooks filled with love stories. As a woman, I tackle my dependency conundrum with saved files telling stories about my children, relationships, faith and God.
I didn't attend church consistently in my youth. The loveliest sermons I attended took place in my grandmother's living room where she sat in a rocking chair, her crooked arthritic bones leaning over a jigsaw puzzle with a rosary intertwined between bent fingers. She would tell me stories about being a mother and a wife, the trials and tribulations, the laughter and hope. She had come to understand life as one graceful flow telling the greatest love story ever told.
My grandmother was a living example of strength and goodwill, of God's mercy and grace. Years earlier I witnessed this same woman transition from wife to caregiver as my grandfather's mind succumbed to Alzheimers, his body eventually decaying from cancer. He died in a hospital bed in the living room where their dinner table once sat surrounded by cousins, aunts and uncles, laughter and the enjoyment of late night poker games on Christmas Eve.
As of today, I'm seven weeks pregnant. I'm not looking forward to the return of weight gain and leaking breasts, yet I'm reminded that, for some unknown reason, this baby has a purpose greater than my own understanding. I have to be patient, knowing that, oftentimes, confusion in life can provide the most clarity if I only stay quiet and still enough to allow the circumstances to transform me.
For now, I have my lap top and a blog; I have the strong desire to be something more than simply a mother and a wife.
Still, despite the lie I tell myself about the importance of titles, I must remember the lessons I learned from someone who was simply a mother and a wife, someone who had experienced more in her lifetime than a world traveller with little in the way of selfless love and devotion to others.
Next spring the landscape will fill with vibrant colors and the sweet scent of flowers fresh in bloom. The breeze will blow, sounding wind chimes and licking my skin. Softly, I will kiss the forehead of a brand new life resting in my arms. I will look down into his eyes shining brighter than all of the stars in the night sky. And I will know with certainty, yet again, that my womanhood will transform into something better than I could have imagined on my own.
An entirely new chapter will begin to unfold telling the story of one of the greatest strengths of womanhood this side of heaven has ever known: the bond between a mother and her child.
Author: Caroline Madison
Image: Joey Thompson/Unsplash 
Editor: Renée Picard