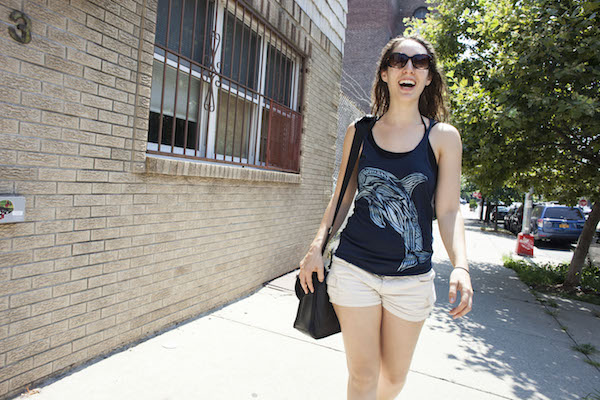 As some of you may know, at elephant journal we have a company policy about sparkles, rainbows and unicorns: we don't do them (especially the unicorns).
I'm going to let you in on a secret.
Some of us love that sh*t.
So when I came to Boulder in July for elephant's annual staff retreat and Bill (our shipping/tech/Academy/all-around-awesome guy) showed us a sparkly dolphin tank top from one of our marketplace vendors, my hand shot up faster than a unicorn riding a rainbow slide.
(Dolphins are like unicorns of the sea, only slightly more elusive.)
Normally, I miss the sea if I leave the coast for more than a few weeks. This month inland, though, I've had excellent company from my new maritime friend, and the deep blue doesn't seem so far away.
More importantly—let's get real, we love sparkles and sea mammals and all those fun things, but we love eco goodness more—this tank is totally sustainable.
Seventy percent bamboo (ultra sustainable—here's why), thirty percent organic cotton; 100 percent magical:
"All of our clothes are made from organic cotton, naturally sustainable bamboo fibers, and recycled polyester made from recycled plastic bottles. All products are made in the USA through fair wages and fair treatment." 
Tribe Vibe Apparel paints all of their unique designs by hand, too, which is a level of craftiness to which most of us could only aspire.
My one complaint: the cut of this tank requires a bra be worn underneath (unless you're into the whole #freethenipple thing), and if you've read this, you'll know bras are not one of my favorite things. But hey, we can't have everything.
So, let's just recap that, shall we? It's not a unicorn, but I still love it because:
Hand-painted.
Dolphins.
Sustainable materials.
Dolphins.
Locally produced (if you live in the U.S.).
Dolphins.
Tribe Vibe Apparel makes other sweet designs, too. Check them all out at elephant's mindful marketplace here.
And wait, one more awesome thing: Tribe Vibe gives back with seasonal projects. They dedicate 20 percent of profits to a new organization each season. In addition to monetary donations, with every project they seek out tangible ways to volunteer and to include everyone who is interested.
If there is an organization or specific species that needs help, an environmental urgency that needs to be addressed, you can let them know via email with any project ideas that you have.
I'm kind of in love…anyone else?
~
Author: Toby Israel
Image: Sara Kärpänen
Editor: Emily Bartran
~