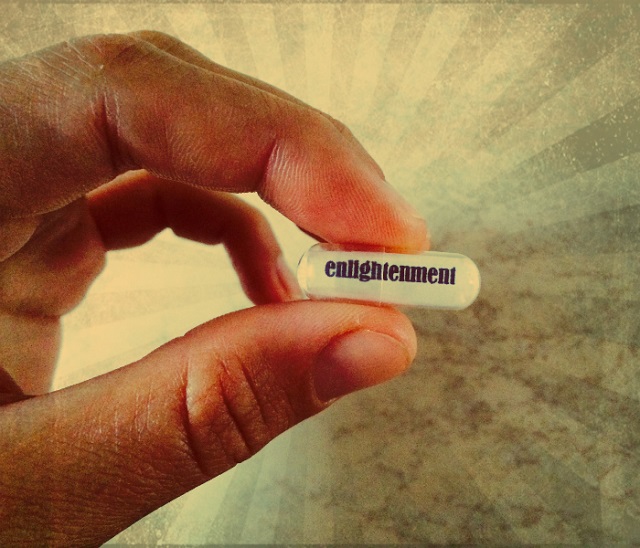 Enlightenment is not a solid state. It is like water—it comes and goes like the tides, evaporates with too much pressure and freezes when it's too cold inside my heart.
I've had many glimpses of the eternal Wow. I see them as sparks in complete surrender to the Now. But they always go, those enchanted moments. This life, with all its contrast and constant change, might not be the place for permanent bliss.
After all, that would be quite boring, like eating my favourite cake 24/7. For me, it is all about lengthening the times I am in joy and inner peace and shortening those other grisly moments. Wouldn't it be lovely to have a pill to pop that plugs us straight back in?
Good news: There are those "pills."
Bad news: They don't look like I thought they should and they are certainly not as easy to swallow.
Drugs like LSD and DMT, but also plant medicines like Ayahuasca and San Pedro, promise a momentary plug into other dimensions and altered states of consciousness. But Viagra is to Tantra what DMT is to personal practice. I can have four hours of ravaging sex with a man on Viagra and after some time, his blood-pumped, numb penis will hurt. And so will my vagina.
Or I can ride the waves of breath with tantric practices to make love deeply, fully aware and without those nasty side effects.
Drugs can lengthen and intensify the blissful states, but drugs sharpen the comedown, too. This is where personal practice comes in handy.
But my personal practices need to become a new habit before they show effects. That's the boon and bane of spirituality—rather than something being addictive, I have to make them seem addictive through the power of my thoughts and actions.
These are my pills to enlightenment because they leave me empowered to go there again instead of leaving me addicted to an external aid. They are my power plugs to creative energy, solution and boldness. They've changed me from the inside out.
Here are three quick "pills" I use to strengthen my power of now:
1. The radical yes
"Yes, this too"—I practice this mantra whenever there is the slightest hint of something that upsets me. By saying this, I mean that it's my job to say yes to this, too. Yes to the traffic jam. Yes to the empty bank account. Yes to the iPhone that just fell into the toilet (and yes, there was no back-up of the photos—yes to this, too). Yes to the lover that sleeps with another. Yes to the death of a friend.
Suffering exists only in the resistance to what is.
This is a radical yes. But it's not sugar coating. Let's not confuse it with "positive thinking"—this is saying yes to the heavy tears that come from the depth of my belly, yes to the rage that screams into the sky, yes to the fear that has me shaking. Can I just say "yes, this too" and see what happens?
2. Shut up and shake
When the anger sits inside my veins or jealousy pours out of my eyes, it is then that my body needs attention, release and movement. Any talking or analyzing is pointless in these moments. When my body is overtaken by the wave of an emotional torrent, there is no such thing as "discussing it again"—I just need to shut up and shake it all off. Resolution and rational thinking has space after the hormonal charge of cortisol and adrenaline is moved out of the system.
What is it I do? I dance, shimmy and shake. Moving my body like I don't give a flying fuck.
3. The but(t) and the angry person
I picked up this little sentence from Caroline Myss in her exquisite book, Why People Don't Heal and How They Can. In it, she says, "Don't put your but(t) in front of an angry person—you might get it kicked." And it stuck with me.
Now when I am faced with somebody being overtaken by an emotional waterfall, this is my internal mantra. It is the highest art of communication to stay present and not to react. My conditioned impulses will always want to take things personally and get me busy justifying myself. But that is like pouring salt into an open fracture.
Nothing heals better than understanding and presence. And nothing is harder than not getting triggered myself.
So for me, remembering not to put my "but I just wanted to…" and "but you did this and that…" in front of somebody who is angry has saved me many battles. Instead, I try to actively, silently and lovingly listen. And if that does not help, getting my beautiful butt (naked, if possible) out in nature and feeling the liberating effect of being in my most natural state merged with the elements, is always way more rewarding than getting it kicked. Here I spend time deep breathing and practicing numbers one and two in case there is any tension left. And then, when the silence comes, when I can feel the darkness lifting off my skin as if a rush of stars has just washed over me—I know:
The enlightened masters still stumble over stones and go to the toilet. Their mastery does not live in a life without hurdles. It lives in the fast and smooth transformation of anything that moves itself between them and now.
Relephant:
Author: Dara Meubrink
Image: Author's own
Apprentice Editor: Molly Murphy; Editor: Nicole Cameron