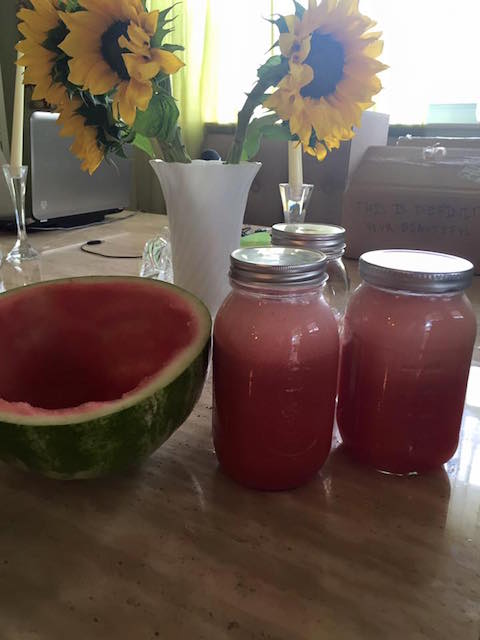 August third is National Watermelon Day.
Now this is a holiday I can get behind. I love watermelon in every form, and I can't imagine what summer would be without it.
My favorite way to enjoy watermelon is…every way! I even like it in salad with feta cheese and a drizzle of balsamic vinegar.
I recently found myself with a glut of watermelon (a wonderful problem to have) and decided to try my hand at making a watermelon beverage. I'd had watermelon juice before, but always found it to be a little too sweet and a bit flat.
It needed something, so I came up with a blend that brings out the brightness of the melon, while also balancing the sweetness. I ended up taking it to a party, where it was a huge hit. The kids drank it straight, while the adults added some tequila and turned it into the best watermelon margarita any of us had ever tasted.
Here's the recipe:
Watermelon Key Lime Cooler (Or Watermelon Margarita Mix, as the case may be).
Ingredients:
Flesh of half a watermelon (if it's really huge, just use a quarter)
Juice of four Key Limes (the little yellow ones) or two Persian limes (regular, big green limes)
One cup of fresh pineapple juice
One generous pinch of sea salt. Do not leave out the salt. It really makes a difference!
Tequila (optional)
To Make:
Add the flesh of the watermelon to a blender and blend until liquefied.
Then add in the lime juice, pineapple juice and salt. Blend to combine.
Chill thoroughly in a glass container until ready to serve.
Pour over ice and enjoy! (Add tequila to taste if using as margarita mix.) Keeps about a day or two refrigerated, but it's so good that it probably won't last that long!
~
Author: Victoria Fedden
Image: Author's Own
Editor: Toby Israel
~