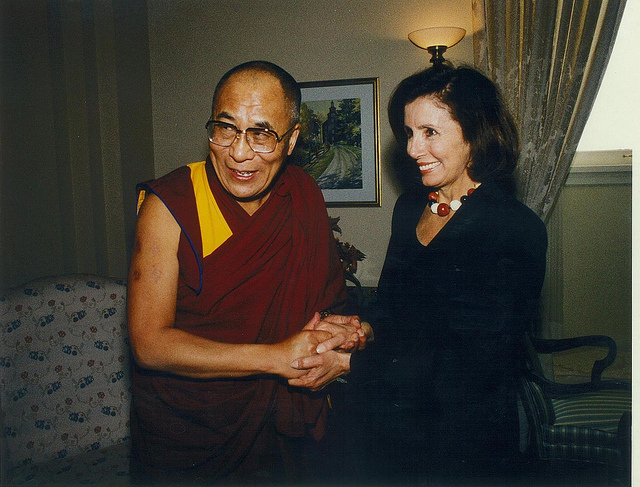 "We can live without religion and meditation, but we cannot survive without human affection." ~ Dalai Lama
.
As a child, it felt natural to hold hands with a friend or parent.
However, as I got older, it became more apparent that the only time it was widely socially acceptable to hold palm with palm is when we are in a romantic relationship with someone.
I've watched and observed His Holiness, the Dalai Lama, for many years—and one of the most significant and endearing things he does when he meets someone is to reach for their hand. He doesn't hold out his hand for a formal handshake, instead he warmly offers his hand out and touches other people's hands in the same way you would expect him to affectionately greet a lifelong friend.
It doesn't matter whether the Dalai Lama meets a prince or someone with leprosy, his expressive act of unity is always the same. Not only does he hold the hand or pat the arm of whomever he is newly acquainted with, he has been seen many times to link arms with whomever he is walking alongside.
Buddhism promotes love and affection between all sentient beings, not just close family members or partners, but also between friends, close or distant, and all citizens on earth.
I understand not everyone likes to be touched by people they might consider a stranger, but to those we are close with and know well, it seems odd to consider that we shy away from such a simple gesture of warmth and tenderness.
I'd imagine there aren't many who will become tense and back away when the Dalai Lama reaches out to hold their hand, yet many might feel quite uncomfortable if a friend or family member held their hand for no other reason than they want to express positive intentions, fondness and show that they care.
Holding someone's hand, even momentarily, is seen as a symbol of trust between two people, which is why many people in business shake hands when they meet. Hands fit together perfectly, and touch is therapeutic as it bonds people, makes them more empathetic, forms a pathway for open communication and promotes a sense of closeness.
Our hands and fingers have the highest concentration of nerve endings, and when we are under pressure or stress, they become far more sensitive than normal. Therefore, light pressure around this area immediately soothes and calms.
When we physically connect with other people, the stress hormone cortisol decreases, and the feel good hormone oxytocin increases, so touching someone on the hand, shoulder or arm reduces stress and can make people feel welcome, peaceful, happy and loved.
Many of us reach out to hold someone's hand as a show of support, when either we or they are distraught with emotional, physical or mental pain. This is our instinct taking over to prompt us to react in the most highly effective way to show care for their well-being by unconsciously acting to ease or eliminate their fear or pain.
However, in much of the Western world, it seems to have become quite common to override the impulse to take hold of someone's hand, particularly if we don't know the other person too well.
"When we feel love and kindness toward others, it not only makes others feel loved and cared for, but it helps us also to develop inner happiness and peace." ~ Dalai Lama
Metta is a Buddhist word for promoting boundless good will and friendliness through unconditional loving-kindness. It encapsulates the universal, warmhearted, all-embracing solidarity, compassion and consideration—without attachment—that we have with friends or other sentient creatures.
Metta is also a word that describes the empathy we feel for others and how we relate to people through experiencing, momentarily, how they might feel so that we can lovingly relate to every living being in the world.
Holding hands is non-verbal, universal sign that the person we are with means something of importance, and that they have our full, undivided attention. It represents a connection between two people with the intention of relieving suffering.
Some people may feel that holding hands is an invasion of their personal space, so to respect this, we can maintain the awareness that not everyone will appreciate physical touch. We can use our intuition and pay close attention to body language and verbal clues, so that we know immediately if reaching for someone's hand is not welcome.
There are many cultures in which men hold the hand of other men, and women freely hold hands with other women—as well as holding hands with the opposite sex. Much of our hand-holding is based on our conditioning, but we can break through these limiting teachings and beliefs at any time, as long as we are highly respectful of how the other person feels, and our intentions are purely for a genuine, compassionate connection.
If someone moves their hand away, it isn't always personal—it may just be that they are not used to this open display of affection. Whatever their reason, it is a clear sign that they aren't comfortable, and it is vital to honor their feelings.
And for the times that we are feeling uncomfortable or uneasy—or we just want to offer ourselves some gentle kindness—we can hold our own hands with care, consideration and loving intention.
Click here for beautiful images of the Dalai Lama holding hands with the people he meets.
~
Author: Alex Myles
Image: Flickr/Nancy Pelosi
Editor: Yoli Ramazzina