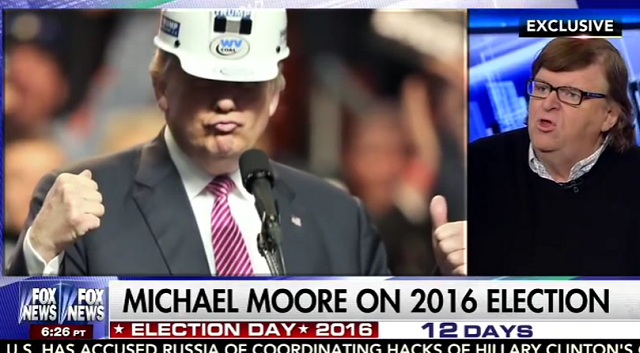 Update: "POTUS picks a twitter fight. Loses."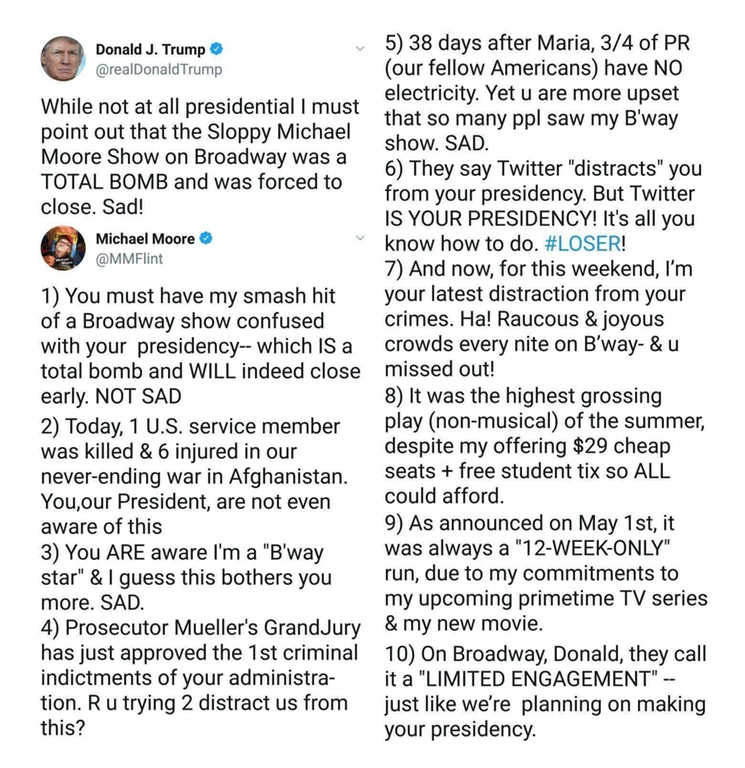 Author's Note: I wish to acknowledge elephant journal for its excellent policies on the subjects of journalism ethics, fact checking and honesty, all of which informed this particular article.
~
I recently opened my Facebook page to see that a friend had posted the following video:
~

Wait a minute, I thought. This video originated on the official Donald Trump Facebook page? How can that be? Did Michael Moore change his mind since the last time I read about him?
According to this post, Moore is now apparently supportive of Trump.
Really?
Three years ago when I joined Facebook, I took everything I saw to be fact. As a columnist for elephant journal however, I quickly learned that if I was going to write about anything as if it was fact, I needed to learn to fact check on a regular basis.
I didn't want to be part of putting forth fraudulent information.
Finding it hard to believe that Moore had suddenly done a political about-face, I did some simple research.
What I found was that the video posted on Trump's Facebook page is an excerpt from a speech in Moore's documentary "Michael Moore in TrumpLand," in which Moore—if you watch the entire scene—states the opposite of what the clip implies.
While social media has its positives, it is also too often used to persuade people and lead them astray with excerpts, fabrications and lies.
An eye-opening Washington Post article about "fake news" on Facebook stated:
"As part of a larger audit of Facebook's Trending topics, the Intersect logged every news story that trended across four accounts during the workdays from Aug. 31 to Sept. 22. During that time, we uncovered five trending stories that were indisputably fake and three that were profoundly inaccurate."
I'm not here to make a statement for or against Trump. I'm simply writing to encourage everyone to be careful what we take as real, true news on Facebook.
Not everyone who posts on social media is informed about the truth or factual basis of their content, most times they post what aligns with their personal point of view.
I fact checked the Moore story by simply going to Snopes, a website that helps debunk internet rumors. The Washington Post Intersect, Politifact and FactCheck can all be used in the same way.
The last time I looked at Trump's Facebook page, this post of Moore's so-called support had over 75,000 views. How many of those people checked to see if this video based in fact? My guess is that, given that it was on Trump's official page, the answer would be zero.
And why would anybody check? The video was posted for the choir it was preaching to.
I feel strongly that no matter what choir I belong to, the integrity of the press is absolutely necessary to a free, democratic society, and with social media being as influential and ubiquitous as it is—a spontaneous press, of sorts—it is now up to the individual in society to check the authentic basis of any story before promulgating it.
"Journalism has changed tremendously because of the democratization of information. Anybody can put something up on the Internet. It's harder and harder to find what the truth is." ~ Robert Redford
Author: Carmelene Siani
Image: YouTube
Editor: Nicole Cameron