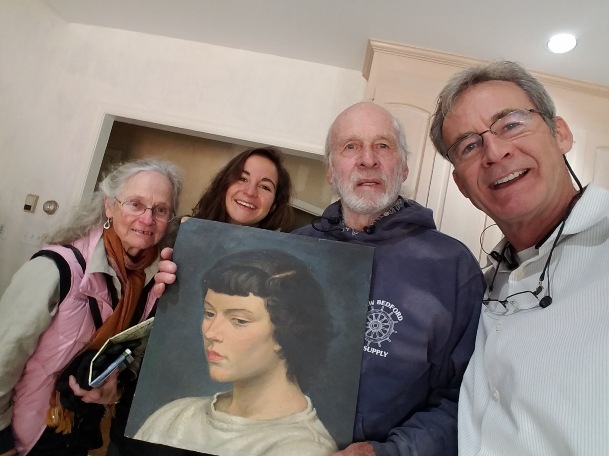 An out-of-the-ordinary visit from two elderly strangers from Maine taught me a captivating and surprising lesson on love and life.
An 87-year-old man journeyed down the coast, hoping to reunite with the love of his life after 67 years.
He carried with him a painting of my grandmother, Evelyn, at the age of 16, which he'd kept on his desk for over a half century as a reminder of his lost love. After searching on the Internet, he found my address and made the trip with his life-long best friend Patti.
My dad and I would never have expected two curious-looking visitors to walk up our driveway and shower us with love, reminding us that life is short and it's never too late. Alan was finally able to give his father's beautiful painting of Evelyn to her son and granddaughter.
Alan, age 87 and long-time resident of Maine, retired at age 60 in the clamming businesses, plays the piano for his church, is an avid Bernie Sanders supporter, cuts his grass with a scythe, tends to his garden, splits his firewood by hand, loves his sail boat and drives around in a Prius. He's been in love with my grandmother for 67 years and was unable to forgive himself for losing his true love.
This man and his dear friend Patti entered my life abruptly on a typical back-to-the-work-grind Monday. After typing through the morning at my house in Connecticut, I made my way downstairs for a late breakfast. Curiously, a white-haired woman stood in my kitchen rocking side to side, looking out over the yard.
"Hello?" I questioned.
"Hi there, we're visitors from Maine," she smiled.
Her best friend Alan then walked out of my Dad's office with a painting of a gorgeous young woman. "She looks quite sad, I think," Alan said about the 16-year-old girl in the painting—my grandmother, Evelyn.
Alan, Patti, my Dad and I sat together, looking at old photos of my grandmother and piecing together what came of their separate lives. He dated Evelyn when he was 20 and she was 16. What exactly happened between them is somewhat a mystery, but Alan repeatedly mentioned being unable to forgive himself for "messing it up" 67 years ago.
After their romance, Alan and Evelyn both married and had children. Interestingly, they grew to have a lot in common. Both remained passionate about music and the arts, playing the piano for their churches as they grew older. He raised three kids and her, five.
My Grammy developed a serious case of dementia, which has recently begun to affect her short and long-term memory, along with her ability to talk and carry out other everyday functions.
When we called Evelyn, she was having a rough day, was almost incapable of speaking and was unable to remember Alan. My Dad tried to remind my grammy, "You two were in church together."
Alan interrupted, "We were in love with each other!"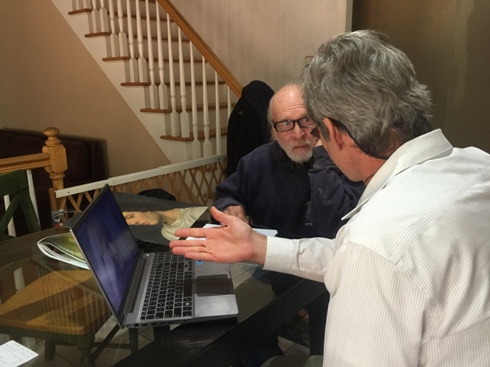 Despite Evelyn's inability to recall him, Alan remained sweet, earnest and open-hearted. Nearing 88 years old, he's reflected on his life, dedicating his last piece of time to making amends, reuniting with loved ones and gifting his father's paintings.
Watching an honorable preparation for the end, my father, age 57 and I, age 23, were reminded of the true meaning of this earthly existence. At the peak of our workdays, where we had spent no more than 60 seconds talking to one another, we were united by the power of true honesty, forgiveness and compassion. I saw my Dad in Alan, and I saw myself in them both.
Alan, with tears in his gentle, blue eyes said to me, "I'm looking at you because you remind me of her." It was the sincerest compliment I'd received in a long time.
Alan and my father hugged in the bravest way that two grown men would, with much to be proud of in both their hearts. "Life doesn't always work out how we thought it should, Alan. You are forgiven."
With tears of love, loss and hope, I thanked them for reminding me of love's ever present magic. May we never be too busy for the present, and instead remain inspired by honesty and motivated by love.
Today, on the new moon in Scorpio (the star sign of my father and I) angels came into my life, showering me with the heavy dew of raw emotion before the winter's cold. Recognizing the lesson, I set an intention to cultivate that love, letting it amplify within myself to redistribute it to the world.
As I watched two grown men, unknown to each other a few months' prior, exchange an "I love you," I wondered who the real stars were in this love story. We can imagine Alan and Evelyn madly in love, hurt over their unfulfilled future and we wish he had arrived just a few years earlier. Hindsight is tricky in that way; it robs us of gratitude for reality.
Alan's journey reflects more than a romantic feat akin to a big picture movie. As an 87-year-old man sorts through what remains of his life, symbolized in his journey to give away his father's paintings, he chooses to find strength in love and vulnerability, asking for forgiveness and closing the loops. Alan Hynd is an incredibly young 87-year-old and an inspiration to us all.
Before he left, Alan shared with us what he deems four of the most important words. "There is no forgetting."
The mind may wither, but the heart never fades.
Author: Shoshanna Delventhal 
Images: Courtesy of Author
Editor: Catherine Monkman