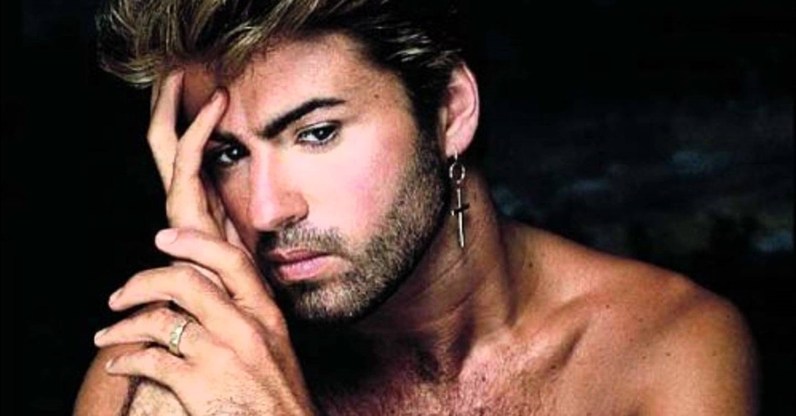 "I still believe that music is one of the greatest gifts that God gave to man." ~ George Michael

Bonus: If you need a smile: for the most moving cover of Careless Whisper, as well as the funniest, here. 
George Michael's publicist today confirmed that the Wham! singer and international rock star died peacefully in his home on Christmas Day.
The statement read:
"It is with great sadness that we can confirm our beloved son, brother and friend George passed away peacefully at home over the Christmas period.

"The family would ask that their privacy be respected at this difficult and emotional time. There will be no further comment at this stage."
Initial reports are suggesting that Michael died of heart failure in "unexplained but not suspicious circumstances." Thames Valley Police have said there will be no further comments until a post mortem is carried out.
The Wham! singer and solo performer sold more than 100 million records including seven number one singles in the UK.
Music legend George Michael, who is arguably one of the greatest singers and writers the world has known, met musician, Andrew Ridgeley, at secondary school in Hertfordshire when he was 12 years old. By 1982, the two were recording together as Wham! and the band's first album Fantastic reached No1 in 1983. By 1984 Wham! were one of the most popular acts in the world with hits including Wake Me Up Before You Go-Go and Freedom.
Michael's first solo album, 1987's Faith dominated the charts for much of 1988, and sold more than 25 million copies worldwide.
Earlier this month, it was announced that George Michael, whose real name was Georgios Kyriacos Panayiotou (son of a Greek immigrant, for those who voted Brexit), was working on reissuing his four-times platinum 1990 album Listen Without Prejudice Vol.1 alongside a documentary featuring Stevie Wonder and Elton John.
Other stars that were due to feature in the tell-all movie, that Michael would have narrated include Mark Ronson, Mary J Blige, Tony Bennett, Liam Gallagher, James Corden and Ricky Gervais. The movie had been scheduled for release in March 2017.
Michael felt destined to continue onwards with his music after saying, "I have to believe that somebody thinks I've still got some work to do here," after a serious bout of pneumonia followed by a head injury caused in an accident on the M1 motorway in England in which he fell from a moving car and was then airlifted to hospital.
Although Michael spent years refusing to be drawn into speculation and confirming his sexuality one way or another, he eventually spoke out about his relationship with Kenny Goss after an incident in public toilets in Beverly Hills, California.
Throughout the years Michael had had a number of sexual relationships with women, though he regularly spoke about how he knew in his heart that he was gay. He often referred to this by explaining how he could be sexually attracted to a woman, but it was only men with whom he was both emotionally and sexually attracted to.
"You'll never find peace of mind until you listen to your heart." ~ George Michael
Michael had only recently rekindled his friendship with Texan art dealer Goss after splitting up in 2009 following a 13-year relationship. Kenny was known to be the love of Michael's life, and was whom he wrote Where I Hope You Are about.
In an interview with GQ Magazine Michael had said that without the support of Kenny after his mother's death, suicide "would have been a very strong possibility…He was there to put his arms around me and remind me there was something positive going on."
Despite being named in 1990 Forbes Magazine as one the top entertainment industry earner of the year, followed by Michael Jackson and Mike Tyson, he chose to turn away from earnings worth tens of millions of dollars, as he was so unhappy at the time.
Michael explained his reasoning for walking away from America in an exclusive interview for Huffington Post, "It takes so much strength to say to your ego, 'You know what—you're going to keep me lonely, so I have to ignore you.' I realised those things my ego needed—fame and success—were going to make me terribly unhappy. So I wrenched myself away from that. I had to. I had to walk away from America, and say goodbye to the biggest part of my career, because I knew otherwise my demons would get the better of me."
"There is no such thing as a reluctant star. Stars are almost always people that want to make up for their own weaknesses by being loved by the public, and I'm no exception to that." ~ George Michael
Drug abuse, emotional anxiety, panic attacks and depression plagued Michael's life after he tragically lost his partner, Anselmo Feleppa, to HIV and then he was deeply impacted again a few years later when he lost his mother to cancer. However, he believed that he kept going because of music, "I felt almost like I was cursed. The only thing that got me through it was my music. It survived. I wrote very, very little, but the little I wrote did well and kept my head above water," adding, "'It was depression and shock, which just went on for years."
In recent months George Michael had rarely been seen in public and had even missed his best friend, Geri Halliwell's, wedding in 2015. The last known pictures of him socializing were taken on September 14th 2016, with widescale speculation that he was dependent on drugs.
Toby Bourke, who dueted with George Michael on the 1997 single Waltz Away Dreaming, paid tribute to the iconic star saying, "He was one of the important artists of my generation. He was kind and emphatic which is what made him a great artist."
The loss of George Michael will be sorely felt by the millions of fans all over the world who fell in love with his art during the last four decades. It is a tragic ending to 2016, which has been a year of shock and sadness within the music industry, with one loss after the other including the passing of iconic figures such as David Bowie, Prince, Leonard Cohen and Rick Parfitt.
Rest in peace to all who have passed, with immense appreciation for the timeless, eternal blessing of music that each of these icons gifted us with.