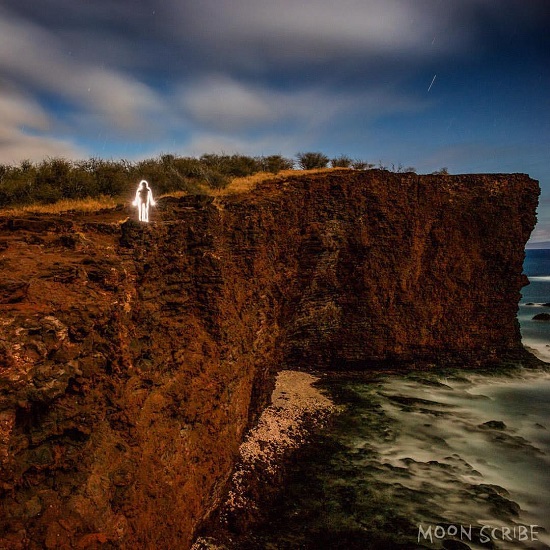 "If you're not living on the edge, you're taking up too much space." ~ Rev. Michael Bernard Beckwith
You are the one who goes left when everyone else goes right.
You listen to that something deeper when it comes to how you live your life.
You are tuned in to your soul-frequency, and however much you may want to play it safe, that energy insists on being followed all the way out to the tippy-toe edge.
Perhaps it wasn't always this way. It certainly wasn't for me.
Fifteen years ago, I applied to become a pharmaceutical representative. I had a rock-solid connection and knew that I had what they were looking for. It was a slam-dunk.
I started to dream of living in Austin, owning a nice home, doing my yoga on the side… 
What happened? I didn't even get an interview.
I called. I followed up. But nothing.
Instead, life crushed me, squashed me, killed off any remaining aspects of me that were not on board with becoming what I refer to as an Edge-walker, a New Paradigm Pioneer—someone whose soul is intent on living on the edge of consciousness.
I got married and then divorced. I made a lot of money, and then went into deep debt. I had one life, and then was re-formed and re-birthed into a new one, and painfully so.
There was a moment when I became acutely aware that someone else was in the driver's seat. Human Julie wanted life to be safe and easy. Soul Julie didn't really give a sh*t what Human Julie wanted. Soul Julie was on fire, aching for a mission that had little to do with human things—and Human Julie had to first get out of the way.
The first step to getting out of our own way and becoming an Edge-walker is to surrender the life we thought we wanted to live. The next step is a rocket launch onto our soul's path and mission. And wherever we are in that journey is perfect.
Sometimes it's lonely out there on the edge. Sometimes it's scary. Sometimes it's just plain hard. ​
Here are some things I still need to be reminded of on my path of living on the edge of consciousness. Let's remember them together: 
There will be times we feel alone.
There will be times we feel misunderstood, unseen, unappreciated.
There will be times we feel that we are too much of this, not enough of that.
There will be times when we feel unsafe to be who we are.
There will be times when we feel completely exhausted with trusting in things we can't see.
There will be times when we feel crushed, squashed, and up against the same curriculum for the hundredth time.
There will be times when we want to give up, throw in the towel, perhaps even jump the planet.
There will be times when absolutely no one has the answer that we are looking for.
And then…
There will be times when truth rises up within us like a tidal wave and we feel equal parts enraptured, honored, and terrified.
There will be times when our mission is so front and center in our being that we feel like super heroes of light and service, and we rise up dutifully to give, give, give.
There will be times when we encounter angels here on Earth who appear out of nowhere and remind us to stay here, because the ride is worth it.
There will be times when we meet that one person who can see through our human-suit straight to the essence of who we are, and we will feel seen and understood, encouraged enough to keep going.
There will be times when we just get it. And that it is the it  we know we are here to share. We will turn around and offer this nugget to a friend or a stranger—and we will see the light in their soul turn back on. And suddenly, every moment in our life will make sense.
And so dear Edge-walker, remember that this world does not have the answers—you do.
You are doing good work out there on the edge. You are collecting answers to pass on to the next generation. It may not feel like there are many of us out there with you, but you will recognize us by our light, by the twinkle in our rebellious little eyes.
We need you. Keep going.
Author: Julie Day
Image: Sarah Haywood/Moonscribe; @elephantjournal on Instagram
Editor: Nicole Cameron