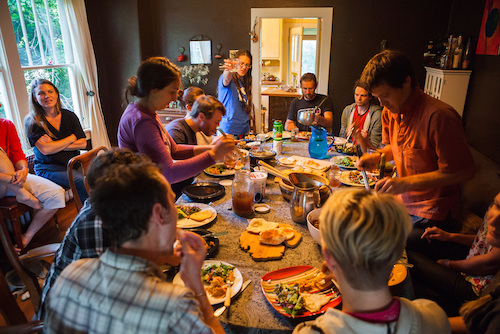 Both Co-op Advocates and Opponents Wait Anxiously for the City Council's Vote on the future of Boulder Housing Co-ops.
Boulder, CO—On Tuesday, January 3rd, more than 60 co-op advocates are estimated to gather at the Boulder Municipal Building to hear the final results of a co-op ordinance that has been in the making for 23 years.
Advocates have been working actively for more than three years to encourage Boulder City Council to fix the original co-op ordinance, adopted in 1994. The existing ordinance is so restrictive that to date it has never been used. Diverse speakers, representing many different constituencies, will deliver testimony on why a workable co-op ordinance is important to Boulder and how it will positively impact their lives.
"I am a first-generation student in college and see my education and my housing needs as entangled and fundamentally interdependent. I voted for many of the council members, which was my first time voting and it was really empowering. I was inspired by many of their platforms and visions. I would like council members to follow through on their commitments to community and affordability."
~ Maddie Gross, CU Student
Specifically, co-op advocates like Gross are asking council to set occupancy limits at 12 residents in low density areas and 15 residents in medium and high density zones. Advocates also argue that lot size restrictions are an unnecessary complication and that no more than 200 square feet per person should be required.
"I've owned a house in Martin Acres for 22 years and I live close to the Beet Co-op. I fully support legal co-ops because they (the Beet) are some of the best neighbors I've ever had. Co-op members are friendly, quiet and respectful to myself and our neighbors. In a world where environmental regulations are going to be gutted under a Trump presidency, we need even more community based solutions for sustainability." ~ Damelia Mujica, Boulder homeowner 
The co-op ordinance vote comes just 17 days before President-elect Trump's inauguration. Community members, students, homeowners, and the broader Boulder community will see if City Council stands with them during this important time.
Where and when: The Boulder Municipal Building, 1777 Broadway, Boulder, CO 80302 on Tuesday, January 3 at 7:30 p.m.
What: The final co-op public hearing to determine the legality of housing co-ops in Boulder.
Who: At least 60 people in support of a workable housing co-op ordinance are expected to attend the hearing. Students, homeowners, faith leaders, and community members will come together to request that a working co-op ordinance is passed. Proponents' requests include: occupancy limits of no less than 12 people in low density areas and 15 in medium and high density zones, no lot size restrictions, and that no more than 200 square feet per person should be required within the ordinance.
Why: Some people who make Boulder a vibrant community need affordable housing and legalizing workable co-ops is an important part of this strategy. With a Trump administration looming, the environmental sustainability of co-ops is more important than ever.
"One reason I live in a co-op is because it drastically reduces my resource consumption. I care about climate change and this is one way that I can live in alignment with my values. We found that right now the co-opers in town use about 75% less electricity per person, which means we are meeting our city's climate goals right now with a fancy new technology called sharing."
~ Christina Gosnell, a co-op resident 
Co-ops are important in successfully meeting the city's climate action goals, adopted by City Council on December 7, 2016, and co-ops provide affordable and safe housing for our community members.
Hope to see you there.
~
Author: Michaela Mujica-Steiner
Image: courtesy of Ethan Welty
Editor: Ashleigh Hitchcock