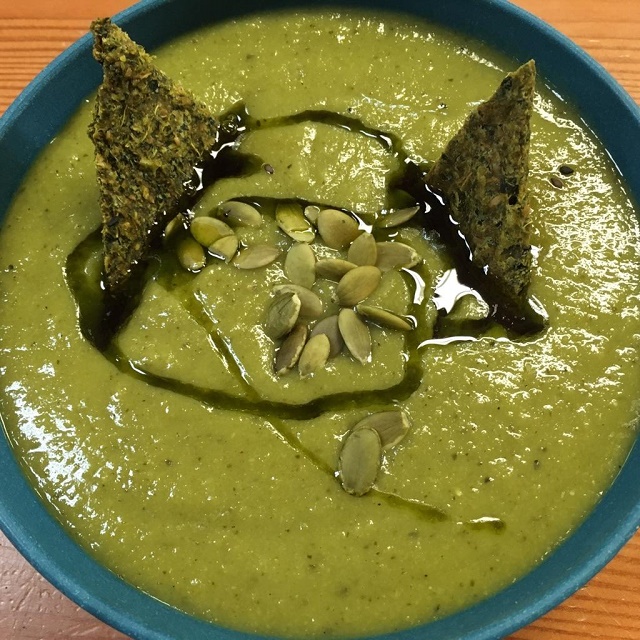 "If more of us valued food and cheer and song above hoarded gold, it would be a merrier world."  ~ J.R.R. Tolkien
.
There's a quaint little health food store in Tofino, British Columbia.
It's one of those places that feels comfortable right away, with the incredible aroma that health food stores have…but with a twist.
The store, Green Soul Organics, also hosts Earth Mama Love—a vegan kitchen that serves up delicious meals and snacks, and keeps the town-folk and all manner of tourists healthy.
A co-operative, Earth Mama Love is a genuine connection with the best of what organic, vegan food has to offer. As it happens, my first-born is one of the happy kitchen creatives, and recently she shared this recipe for Green Goddess Soup.
It may be the most delicious soup I have ever tasted. I am a lover of soup, being Eastern European and raised on a variety of nourishing recipes, and this one is addictive.
Easy to prepare, high in immune-boosting ingredients and wildly fragrant, Green Goddess Soup will soon become a favorite recipe to warm up on during winter months.
Ingredients. (Use organic everything if possible!)
1 medium onion
3 cloves of garlic
A chunk of ginger (finger-sized)
2 or 3 small pieces of turmeric root
1 fennel bulb
6 stalks celery
1 small bunch kale
1 small bunch parsley
1 cup split peas, rinsed
1 veggie soup cube or stock
Salt (Grey Sea Salt or Himalayan) and pepper to taste
Love
On low heat, warm the olive oil and add minced onion, garlic, ginger and turmeric, then caramelize slowly.
Add cubed fennel and celery, and sauté for a few minutes to release flavors, adding salt and pepper. Stir in peas.
Cover with water, and add stock cube now—or instead, use organic veggie stock. You may have to add more water or stock as the peas cook and soup thickens. Best not to add too much water at once to avoid a thin soup.
Simmer until peas are soft, stirring occasionally.
In the meantime, chop kale and parsley. Add to cooked soup, and puree or blend immediately. Adjust salt and pepper.
Serve with a drizzle of hemp oil and chili flakes. For a bigger meal, add a rice cake topped with mashed avocado, tomato, cucumber and red onion.
Try having only one bowl—I don't think you can.
Thank you, Earth Mama Love Kitchen!
~
**Source: Earth Mama Love Kitchen
~
Author: Monika Carless
Image: Elizabeth Coull, used with permission
Editor: Yoli Ramazzina