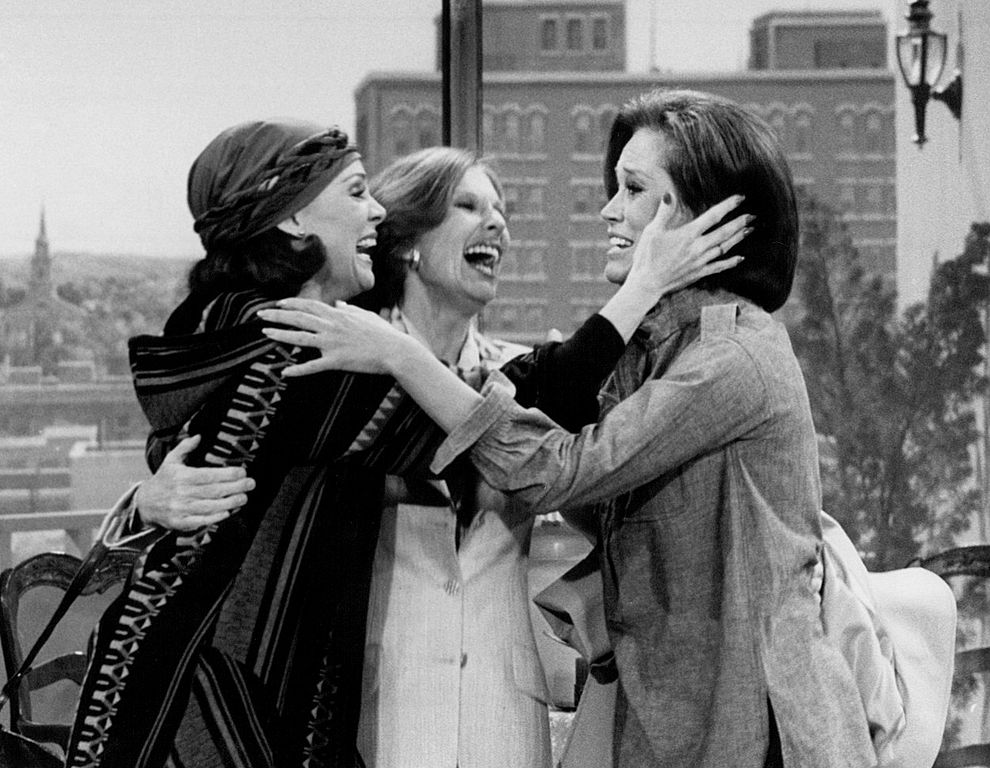 As a child she made me laugh.
As a young woman she helped me see the possibilities, and as a mom she helped me get through some dark days.
It sounds corny, but since I was a child, Mary Tyler Moore, a woman whom I never met, has played a big role in my life.
I remember when I was about six years old, before my dad would come home from work, I would crawl into my pajamas as my mom prepared dinner in the kitchen and I would spend time with Mary. I would watch her as Laura Petrie, that smart, sassy, yet sweet wife on the "Dick Van Dyke Show," that to this day is probably one of the best written television shows to ever air.
I was smitten by her character and her wide, toothy smile. I remember how years later it hit me that she balanced playing the 60s doting wife and mother but still revealed incredible independence—a stark contrast to the submissive wives of the black and white comedy television series era.
It was called the "Dick Van Dyke Show" but people tuned in as much to see Mary as to see him. I often wondered if that independent role she played early on defined her later roles.
Years late, Mary and I would hang out again, when she joined forces with Ed Asner and Cloris Leachman for "The Mary Tyler Moore Show."  I remember watching the show with my parents well into my high school years.
The final episode of the original series aired in 1977 but it would go on to enjoy decades of reruns for new generations.  The theme song at the start of that show, "Love is All Around," with Mary starting out a new career as a transplant in the big city, single and ready to take on the world, at a time when men still dominated the news world, was inspiring. That independent woman theme inspired me in so many ways as I made my own way into the adult work world in a big city.
Who can turn the world on with her smile?
Who can take a nothing day, and suddenly make it all seem worthwhile?
Well it's you girl, and you should know it.
With each glance and every little movement you show it.
As I became a young adult, her compelling portrayal of a mom who was struggling with a depressed son who had tried to commit suicide, in "Ordinary People," drew me back to her again—as I too, by that time, had lost a couple of important people to suicide.
She seemed to always find her way into my heart—like an old friend, I felt a connection that endured through the years.
But the most profound connection I have to Mary Tyler Moore is one which she shares with my daughter.
It was a trying time for me, I suddenly became single, left with two little ones to care for on my own. My youngest was diagnosed with Type 1 diabetes. Not only did I have to navigate a new health care routine for this sweet baby and the exorbitant costs that accompany diabetes, but I had to learn how to help my daughter manage this disease.
What would the later years look like?
How would she cope?
Her nurse told me that everything would be fine and asked if I knew about Mary Tyler Moore living with Type 1 diabetes since she was a child. I did not know that. It was 1998. "Look at the full life she has led," she said to me.
And I did. I looked her up to also discover how involved she was in driving research to find a cure for Type 1 diabetes. At that moment, the earlier respect I had for this woman grew a thousand fold.
After my daughter's diagnosis, Mary stepped back into my life in a new and profound way. I found myself drawn to the old sitcoms to show my daughter others who also had diabetes so she didn't feel so alone.
About a week after bringing my daughter home from the hospital with her new diagnosis, I also found an old cassette tape at a rummage sale that I bought for 50 cents—the tape held the theme song from "The Mary Tyler Moore Show."
I listened to it over and over when those dark days overwhelmed my heart, and I felt like the world was crushing down on my little family.
How will you make it on your own?
This world is awfully big, this time you're all alone
But it's time you started living
Twenty years later, here we are. My two children are young adults and my daughter, who is also named Mary, is managing her diabetes. I co-own a successful business. I have incredible friends and family that are near and dear to my heart and those dark days are well behind us.
We did make it after all. Thank you for being there MTM. Rest in peace my friend. The heavens have a new angel and you will always have a place in my heart.
Love is all around, no need to waste it
You can have a town, why don't you take it
You're gonna make it after all
~
Author: Janice Burch
Photo: Wikimedia
Editor: Deb Jarrett
~