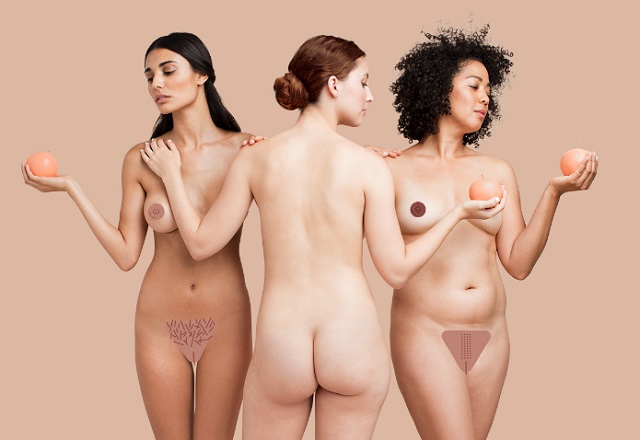 Is sharing nude photos wrong?
I know many men who share photos with their shirts unbuttoned, or completely topless. Sometimes the photos are sexy and suggestive in a fun way.
No one ever gives them flack.
I recently toyed with how far I should go when sharing a photo for my recent article on reclaiming my body and sexuality as okay, and discussed with a friend if the photo (my ass, in jean shorts, with a rip in the bottom) was pushing it far enough. I felt too uncomfortable, knowing the backlash I would receive, to share anything even remotely more exposing.
I bet you any amount of money my male friends didn't hesitate for a minute before sharing their topless photos. 
The double standard still exists for men and women when it comes to our bodies and our sexuality. The female nipple is seen as excessively sexual, even though cleavage is used to sell just about everything.
Censorship for males and females is worlds apart on the internet.
But there's an app trying to change that.
Nood will cover nipples and vaginas with anatomically correct illustrations.
It's fun and inclusive.
It's f*cking amazing.
And they were rejected by the app store.
From their petition:
"Nood is a photo editing app we created to battle the shame, restriction and hypocrisy women face on the subject of nudity. It uses body-positive stickers to undermine censorship of the female form on social media platforms. By advocating for the empowerment of the female form and embracing nudity as expression, we hope to change the way female #noodity is perceived.
We recently submitted our app to the Apple App Store and were rejected due to 'objectionable material.' As stated in guidelines, objectionable content is qualified as overtly sexual or pornographic material, defined by Webster's dictionary as 'explicit descriptions or displays of sexual organs or activities intended to stimulate erotic rather than aesthetic or emotional feelings.'
nood is none of those things. It celebrated the beauty and life surrounding the female form. It shouldn't be seen as shameful, dirty, or inherently sexual. By deeming minimally-illustrated lady parts as 'inappropriate,' the App Store is perpetuating the problem. Women's nipples aren't the problem. Sexual objectification is the problem.
This is particularly frustrating as there are far more 'inappropriate and suggestive' apps that exist in the App Store, such as Sex Dice, Dirtymoji, and Perfect Girlfriend. This sends out a message that a woman's body is socially acceptable when it's objectified and sexualized in media, but not on her own terms. So we're calling bullshit."
Nudity is natural. The human body is beautiful. The female body is beautiful—not something to be covered, shamed and considered taboo.
If you want to encourage the nood app, sign their petition on change.org. This is a message that deserves to be heard.
*Please note that I am in no way affiliated with nood, I simply love the sentiment and feel strongly about eradicating the shame still present around women's bodies.
~
Author: Annabelle Blythe
Image: via nood
Editor: Khara-Jade Warren