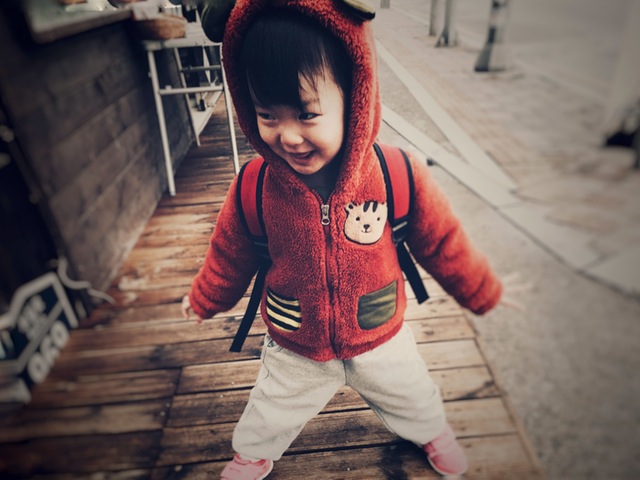 A toddler leaps across the room. Takes every opportunity to finger-paint in her yogurt—or on the walls. Loudly squeals when the mood strikes her, including in a restaurant, religious service, or her elderly grandma's apartment lobby.
Sadly, in our culture we call this marvelous, uninhibited stage the "Terrible Twos."
To a toddler, every moment is an opportunity for fun. Legs aren't for walking: They're for racing, hopping, climbing, jumping, and, mostly, skipping—the cadence that best expresses a child's joy.
Food isn't to nourish the body: It's a plaything more colorful, textured, and varied than any toy—and no one shouts "no" when she puts it in her mouth to experience its sensations.
Grass that adults trod over unnoticed is for picking, sniffing, lying on, and prickling the skin. And pets: oodles of energy, softness, fun, and adventure—so like toddlers themselves.
We adults should seek to appreciate this great stage, and to incorporate a toddler's exuberance into our own lives.
Once a mom in a playgroup I belonged to watched my then two-year-old daughter toss dozens of colorful balls into the air, squealing as each one flew (and oblivious to the fact that someone would have to clean them up). The mom suggested making ourselves feel as free for the next hour. So there we were, otherwise prim adults, rolling around the floor, loudly clanging lids to pots, drawing on our hands and legs, and ripping bits of paper to make confetti. I hadn't laughed so much since, well, I was a toddler!
Before that day, I had actually looked forward to the time when my daughter would grow past this age. I wanted to walk through a grocery store without replacing all the boxes she'd pulled off the shelves. To go to bed without first having to stack all her blocks, shelve her books, and clean up her massive mess. To eat a restaurant meal without her jumping on our shared bench.
Then I realized I was wishing away the greatest teaching I would ever encounter: That life is to be sung full throttle (if adorably off-key).
The next day I read an "improve your life" article in a women's magazine that advised parents to toss a blanket into the trunk of their car for impromptu play or picnics. I dug an old comforter out of the linen closet and stashed it, along with sidewalk chalk, sand toys, and extra clothes for each family member.
A few days later, as my daughter and I were running an errand, we passed the beach. She went nuts when she saw the sand. Torn between my errand and our possible fun, I recalled the magazine article and the beach won. We waded in the waves, buried our limbs in sand, created "houses" for the mermaids who might come out of the ocean and want to sleep (her idea), and dug deep holes in search of treasures hidden by ancient fairies (mine). We had a fabulous time.
After that, I made sure to carve out time for us to play in mud, splash in water, pretend to be a seahorse, and dance to every kind of music imaginable. I engaged in these activities without worrying what else I should be doing. Being with a toddler also gave me permission to release my self-conscious fear of looking ridiculous, allowing me to tap into that place where unfettered joy resides.
Psychologist Harville Hendrix observes in his book, Giving the Love that Heals, that adults often equate being silly with being vulnerable, and they avoid the former in an effort to stave off the latter. I believe that being silly is indeed being vulnerable, in the best and highest sense of the word. When we allow ourselves to be vulnerable, as sociologist Brené Brown observes, we open to our full selves.
For a toddler, the joy is in the doing, not in the having done. Reveling in the thrill of every action is its entire purpose, not a byproduct. I'm not sure exactly when—or why—adults decided that this fun-filled abandon is not the way we are supposed to live. Of course, a few people never learned that rule—and thank goodness for the Jimmy Fallons and Lady Gagas, for they serve as reminders to those without toddlers underfoot.
The next time you find yourself holding a pot and pan, don't immediately head for the stove. Clang them together, create a song to accompany your rhythm, and march or dance around your kitchen to the beat. Because there's no reason actual toddlers should have all the fun.
Excerpted and adapted from the new book Enlightened Parenting: A Mom Reflects on Living Spiritually With Kids.
~
~
~
Author: Meryl Davids Landau
Image: Pexels
Editor: Travis May