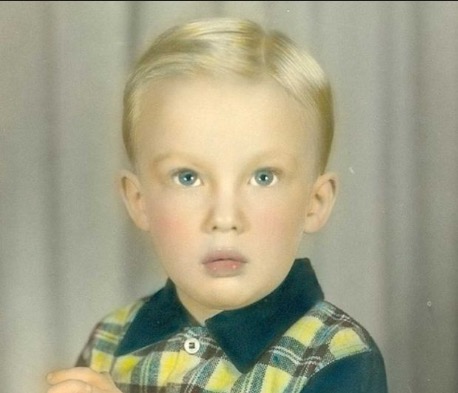 "Stop covering politics," some of our dear readers cry every time we post something relephant. Look: politics are life. Equal rights, empathy, fair economy, healthcare. We can't ignore what's happening, and you shouldn't either. ~ ed.
~
Dear Donald,
Yes, I am addressing you by your first name for a reason, though I acknowledge you are currently the President of the United States of America.
I choose, with my first amendment right (for the time being), to address you as Donald because I am regarding your being that is human; your ordinary self. The self you suppress, overlook and ignore in favor of the view that you are more than human—powerful enough to be above the status quo. It's clear you want to demonstrate you have power.
But, I see you, Donald. And in seeing you, I see myself.
Underneath your constant anxiety, fear and impulsive chatter I see your cowardice, fear, insecurity, uncertainty, vulnerability (god forbid), and emptiness.
I feel your ambition, anger, contempt, separation, machismo, aggression, and meaninglessness.
I see your brokenness under your beastliness and I see through the wall you have built around yourself (not just the southern border you are striving to create).
You cling to an aura of darkness with hopes of prevailing. You wear a chameleon-like cloak so that you may feel favored, approved of, and popular. You have abandoned all inner guidance. Your speech is as empty as your personal feeling of national purpose, your words as meaningless as your failed University.
I pray for you.
I pray for all of us: Americans, immigrants, our global society.
I pray for myself.
Because in seeing you, I see me. In reacting to your darkness, I recognize my own. For every selfish, inconsiderate and ignorant claim you make, I see my own privilege and prejudice. You bring to light my own demons that I am more comfortable burying. You remind me that I live in a bubble and I haven't sought to understand "the other half." I feel the burden of becoming "awake" in this life and understand better than ever that "ignorance is bliss."
But, Donald, ignorance is also catastrophe in ecstatic motion. And that catastrophe is a call to wake up.
You see, external power is only an illusion. Your true power is eternal, internal, and one with all. Your direction is man-made, which is where you have found success. However, you seem so layered in opinion I wonder, when you strip all that away, what's left?
Have you ever sat in silence with yourself?
Can you hear the seat of your intuition or any voices that might cry for you to pause and listen? Do you listen? From what I see and hear, the only listening it appears you're "fantastic" at is listening to the sound of your own voice. And still, I wonder if you hear yourself?
Donald, you terrify me as President Trump, and yet I am grateful.
How? The thing is, I trust in the bigger plan, whether it unfolds this month, in 10 years or 1,000 (although, the sooner the better). I am forced to uncover the depths of my beliefs, preferences and ways of being that are counter to what is occurring. I am more willing to seek different opinions with a commitment to try to understand. I am more aware of my reactions, and I am becoming more compassionate and accepting of my darkness.
I understand why I value respect, responsibility and equanimity so deeply, and my commitment to seeking balance has never been firmer. I recommit myself to my individual authenticity, rather than becoming something I think I need to be, or that others might want me to be, because you remind me that it will neither bode well nor feel good.
President Trump, you're creating a story for the books. But it's just a story. You know as well as I that stories can be fabricated, changed, thrown out and rewritten. But what can't be fixed easily is your soul, your spirit and your inner compass to well-being and, ultimately, personal freedom. You are bound.
And so again, Donald, I pray for you. I thank you. I hope for you. And I'm still working on cultivating love and compassion for you, because to meet you with contempt would be to allow your fear tactics to win.
As you continue to get lost in "making America great again," may you unravel to the point of having nowhere to turn but up.
God bless.
~
Author: Suzi Rice
Image: Newsday 
Editor: Khara-Jade Warren