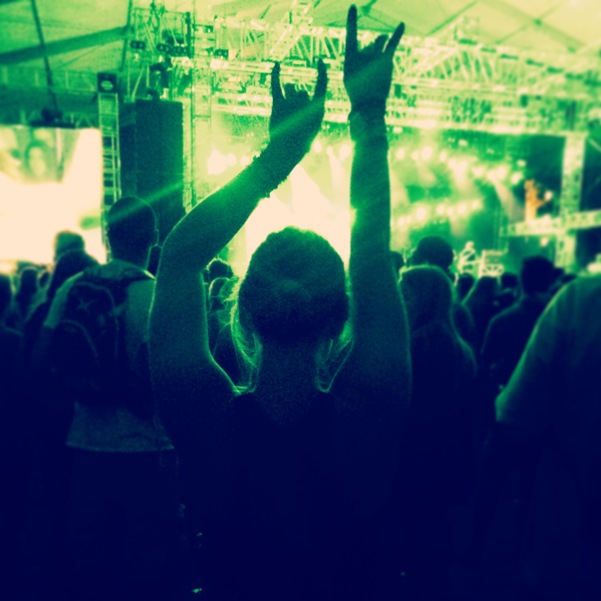 Whether we're familiar with the phrase "bliss out" or not, we yogis know a thing or two about achieving this elated state of being.
After all, it's pretty much in the job description, right?
We feel it in our morning meditation over a steaming cup of tea, in the warm embrace upon stepping into a heated studio, on our mat in the flow of each sun salutation, and off our mat in the simple pleasures of life and the shining souls all around us.
bliss out, verb
1. to experience bliss or ecstasy
2. to relax, daydream, or temporarily lose consciousness merely from contentment 
To bliss out is to experience joy in an effortless way, and throughout our entire being. One of the easiest ways to achieve this is through none other than the power of music.
"Music seduces our heart to awaken, to feel more deeply, boldly, and colorfully the preciousness of being human." ~ Sean Johnson
Here are a few of our favorite yogi-friendly artists to help you do just that.
1. Emancipator.
Portland-based producer and multi-instrumentalist, Emancipator presents downtempo electronic music that is as relaxing as it is uplifting—the perfect combination for a dynamic yoga practice. With the help of his intricate beats, your flow will transform into a gooey dance that's sure to liberate your time on the mat. Check out his visually stunning video for "Ocelot" from his latest album Seven Seas.
2. Random Rab
Random Rab's multifaceted compositions have been described as "surreal soundscapes." Throw it on your yoga playlist and in no time, you'll understand why. The classically-trained artist creates an equally relaxed and energizing soundtrack to your practice that will enhance each salutation in a dreamlike way. Kick things off below with a yogi favorite, "Apparently" from his 2011 album Visurreal.
The term drishti, Sanskrit for "a concentrated and focused gaze," has helped pave the way for the unique focus of this family of musicians, instructors, DJs, vocalists and rappers: to offer a music experience like no other that is specifically tailored to yoga. Each track combines downtempo electronic beats, smooth vocals, sax and hip hop to empower and deepen your practice from the inside out. Take a colorful music journey through the chakras in their "Time Flies" video linked below, and be sure to check out "Paradise High," an early release from their brand new EP coming out next month.
Tranquil and rhythmic, Catching Flies offers a vibrant way to flow through your sequence and will inspire you to experience your body and movements as one. Take a look at the visual interpretation of his most popular single "Komorebi" below.
5. East Forest
Described as "a revelatory excursion in sound" that invites listeners to "go on a journey of self discovery," East Forest offers a brand of music that blends instrumental poetry with a touch of classical, pop and electronic flavors that's perfect for dropping into a unique meditative flow state. The video below is a playlist of his popular 2015 album, Orbits. Give "Toad Lick" a listen for an especially blissful sound. And for his most vulnerable album yet, check out his 2016 LP Held.
6. IHF
IHF (aka "Imagined Herbal Flows") fuses soothing electronic beats with powerful drops that together are sure to energize your practice in more ways than one. Experience this unique balance in the video for "Awake," part of his new album Departure.
7. Bonobo
What started off as "intellectual chillout" music, has expanded to incorporate a range of influences from jazz, soul, house, and folk to African, Asian, and Middle Eastern styles. His tunes will no doubt bring you back to the slow and steady basics of your practice, and the two words that lay at the heart of yoga: just breathe. Watch the beautifully calming video for the song "Break Apart," part of his brand new album Migration.
8. Edamame
A unique Indie blend of classical sounds and funky electronic beats, Edamame is sure to take your flow to new invigorating heights. To add some uplifting depth to your breath-to-movement when you need it most, throw on "Tongue," and be sure to check out his latest video "Tree Shadows" below as well, both from his album Ochre.
~
Author: Kristy Gustafson
Image: Author's Own
Editor: Catherine Monkman