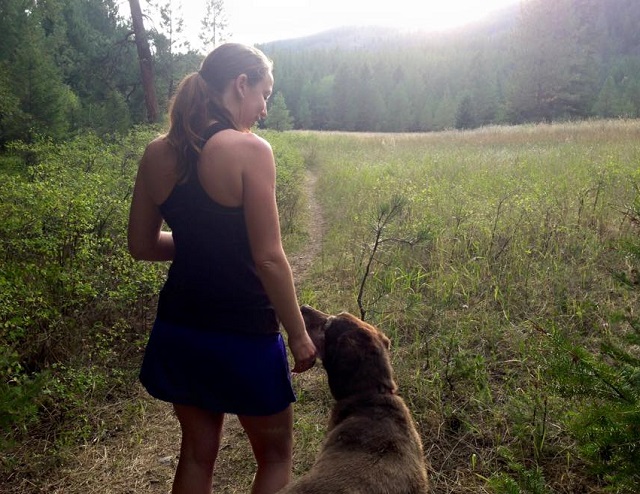 I remember the day I first met my soulmate.
She was three years old and huge. Her papers listed her as a Labrador/Husky/Shepherd/Pointer, which is pound-speak for "giant mutt."
My soulmate was a dog and her name was Alta.
It was love at first sight, but I couldn't bring her home right away. I begged the volunteer at the desk to hold her for 24 hours. She replied, "Oh honey, no one's been interested in this dog for months."
I brought her home the next day.
Alta became my adventure buddy. I taught her to ride in the back of my inflatable kayak, a hilarious process for onlookers—getting a confused, 100-pound dog in the back of a tiny rubber boat is no small task. And once we'd figured that part out, I had to strategically keep us as far from shore as possible to avoid her unpredictable flying leaps for solid ground that would send the little ducky spinning.
We hit on a solution pretty quickly: I realized she hated wet paws and installed my old Thermarest behind my seat. She realized boating was actually mobile squirrel watching. I rarely left her at home for a river trip after that.
She was also a powder hound, her paws spread out on the snow, giving her a wolf-like quality. I took her backcountry skiing with me. She loved leaping for the snowballs I threw at her, and was happiest when the ground was covered in white.
I bought a two-person backpacking tent to fit both of us. We adventured all over the Western U.S.—from Arizona canyons and Utah red rocks to Montana mountains and Idaho hot springs. I loved waking up in the wild next to her warm bulk, when she'd roll into my arms for our morning cuddle session. She'd stretch out next to me on slow mornings while I sipped coffee, content to watch the world go by from my side.
Alta was my constant, my shadow. She was my support system through boyfriends and breakups, moves and jobs. She kept loneliness at bay for me—just the two of us on long nights at home with the music on low. She knew the twists and turns of my days. We took care of each other. She made me a stronger woman and a better person.
I lost her in November as winter set in, eight years after the day we met.
I'd learned in the spring that she had cancer, a difficult-to-remove tumor on her liver, slowly eating away at her lifespan. I'd known since March that we were on borrowed time. Every day with her was an extra one to be thankful for, but I still wasn't prepared for this.
She let me know when she was ready. She'd held out hard for me over those last months and she went down fast. We said goodbye in the same house I brought her home to all those years ago, a beautiful closing of the loop of all the other places we lived in between, the rivers we'd run, the mountains we'd climbed.
Her body sunk into her bones, and she looked into my eyes until hers slipped closed.
I miss her every morning when I wake up without her good-morning snuggle, every time I walk through the door to the vast absence of her welcome, every time I get in my truck and the backseat is empty. I'm re-learning how to live without her company.
I read a book once that said we're born into the same circle of souls throughout time, and once in a great while those souls find their way into the bodies of animals. We don't always find the souls in our circle with the right timing in a given lifetime, but sometimes we get lucky.
And because I was lucky, I want to share how I learned to process the loss of my soulmate:
1. Grieve as hard as you need. Losing a dog can feel like losing a family member. For me, it was like losing a limb. It's okay to grieve the loss as much as you would that of any human in your life, and you can't allow yourself to question that.
2. Perform a ritual or celebration. Marking their impact on your life and their passing is an important step in the grieving process. On Christmas morning, I retraced the familiar steps of our daily walk to the creek. I stood on the banks of her favorite swimming hole and scattered her ashes. I cried the whole way home, but I felt lighter for it.
3. Capture your memories. Create a photo album. Write about your favorite adventures together. Make a video. I still can't write about Alta without becoming emotional, but it's cathartic to remember her through words.
4. Enjoy the freedom, as hard as it is. A good friend once told me that she thinks our animal friends know when something bigger is coming in our lives, and they leave us to make the space for it. Enjoy the gift of freedom they've given you in their passing, and be open to what's to come to fill the empty space.
Author: Cassidy Randall
Image: Courtesy of author
Editor: Nicole Cameron