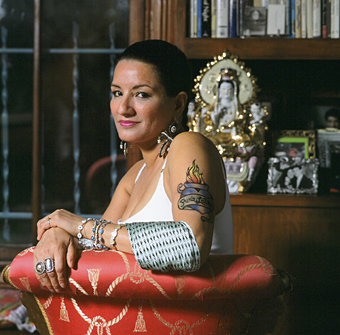 "They say I'm a beast.
And feast on it. When all along
I thought that's what a woman was." ~ Sandra Cisneros
.
I really don't know where to begin.
Our collective heart is broken. Humans treat other humans terribly it seems, on the whole, when you look at the world, the nation and our society. Politics. Corruption unveiled. What can be done?
How can we take action at the personal, family and local community levels in order to cultivate awareness, compassion, understanding, and ultimately, peace?
I don't know.
Maybe poetry.
Poetry is so good, it can make us tear up when we read it aloud.
Poetry, as in beautiful, terrible, intense, calming beads of words strung together that somehow make sense of life.
Poetry, as in yoga—as in love.
Last week, the day after the presidential inauguration, which I chose not to watch or read about, I began day one of giving my first week-long retreat ever. I've led or co-facilitated lots of weekend retreats over the past six years, all of which have been wonderful and three days long. This one was eight days. We dove deep within ourselves.
In the safe space created by our intimate circle of brave women, we practiced "heartfulness," asana, breathing and looking at our lives—at life, through the lens of the chakras. And we read poetry. Mostly, I read to them while they were in a yin pose or savasana.
We also took turns reading pages from The Book of Questions by Pablo Neruda, which is a thin volume comprised completely of set of four questions per page—unanswerable, curious, poignant questions—conveniently laid out in both Spanish and English.
"Tell me, is the rose naked
or is that her only dress?

Why do trees conceal
the splendor of their roots?

Who hears the regrets
of the thieving automobile?

Is there anything in the world sadder
than a train standing in the rain?"  
I also read Maya Angelou, Mary Oliver and Sandra Cisneros. Their words welled up in me and stirred emotion, stirred gratitude, stirred solidarity.
Women, powerful women, soul sisters: por favor, read these poems aloud in their entirety. Often. Some of my favorite excerpts are below. Viva la revolucion!
From "Wild Geese" by Mary Oliver:
"Meanwhile the wild geese, high in the clean blue air,
are heading home again.
Whoever you are, no matter how lonely,
the world offers itself to your imagination,
calls to you like the wild geese, harsh and exciting—
over and over announcing your place
in the family of things."
From "Still I Rise" by Maya Angelou:
"Out of the huts of history's shame
I rise
Up from a past that's rooted in pain
I rise
I'm a black ocean, leaping and wide,
Welling and swelling I bear in the tide.

Leaving behind nights of terror and fear
I rise
Into a daybreak that's wondrously clear
I rise
Bringing the gifts that my ancestors gave,
I am the dream and the hope of the slave.
I rise
I rise
I rise."
From "Loose Woman" by Sandra Cisneros:
I strike terror among the men.
I can't be bothered what they think.
¡Que se vayan a la ching chang chong!
For this, the cross, the calvary.
In other words, I'm anarchy.

I'm an aim-well,
shoot-sharp,
sharp-tongued,
sharp-thinking,
fast-speaking,
foot-loose,
loose-tongued,
let-loose,
woman-on-the-loose
loose woman.
Beware, honey.

I'm B*tch. Beast. Macha.
¡Wáchale!
Ping! Ping! Ping!
I break things.
~
Author: Michelle Margaret Fajkus
Image: WikiMedia Commons/ksm36
Editor: Yoli Ramazzina