get elephant's newsletter

This is a post written by Sarah Numan—an elephant partner. We're honored to work with anyone who is this dedicated to sharing the benefit of yoga, changing the face of yoga in Jordan, and inspiring us to awaken our inner yogis. ~ Ed.
Yoga has the mystical force to rise in the most unexpected of places, and it affects people in surprising ways.
If you consider the Middle East and the events taking place there, you would never expect to find a thriving yoga community. It is often conveyed in the media as a segregated region with conflict, unrest, and oppression.
However that is not the case—at least not in a certain oasis where the spirit of yoga is strong and continues to develop.
Jordan has witnessed a surge in yoga practitioners, influencers, and studios, which has surpassed that of neighboring nations. In the past three years, over 30 yoga studios have opened and the number of practitioners has risen dramatically.
Yoga was once perceived in Jordan as a slow activity for the middle-aged or senior citizens, with a focus on just the breathing or spiritual aspects. The aim was to provide a hobby that lead to social activities such as retreats, which few could afford.
This has changed.
In comes YogaMy with a vibrant and spirited following that has changed not only the demographic of its practitioners, but the entire landscape of yoga in Jordan.
YogaMy is the product of Farah Abdulhadi, a pioneer-minded yoga instructor who took the risk of expanding the "restricted" teachings of yoga in Jordan, and thereby welcoming an excited flood of students eager to experience the journey of yoga in its entirety.
~
"There is no manual for yoga to follow and implement. Stick to what feeds your body and soul and pass it on to your students. There are no rules when it comes to yoga. Don't try to imitate, surely there are people who will not like your style, but don't give away who you are to satisfy who comes to your studio. Always give what you are good at and what you believe in. I believe this is what makes any yoga instructor a good teacher for her students."
~
After earning her Yoga Alliance Instructor Certificate, Farah found she naturally developed a flow that focused on a combination of flexibility, strength training, meditative breathing, and static power; what she calls the YogaMy Flow.
This was a shift from the norm in Jordanian yoga studios, where studios focused mostly on meditative breathing and only slightly on flexibility and strength. The shift introduced by Farah saw an influx of younger practitioners hitting the mats, hoping to push themselves further while also getting in sync with their bodies, understanding their physiological limitations, and how to adapt and work around them.
"The YogaMy Flow wasn't something that was planned. It is simply my own practice. I like to have fun, yoga has to be fun and all else will follow. I make sure that my yoga portrays my energy. This is exactly what was needed to strengthen the yoga community in Jordan, it brought in new members and shifted the long-standing standard."
Farah didn't only influence the demographic of female yoga practitioners, but her stint as a consultant to martial arts training centers also increased the virtually non-existent interest of male participation in yoga in Jordan. This broke boundaries of yoga participation in the kingdom and expanded the awareness of the benefits of yoga.
"My husband is heavily involved in martial arts, specifically Brazilian Jiu-Jitsu and through exposure to Jiu-Jitsu I realized how much yoga can help in martial arts since I believe that yoga and martial arts go hand-in-hand and further the athlete's static power, breathing techniques, physical conditioning, and physiological understanding. Now-a-days, several renowned martial artists in Jordan incorporate yoga to their training regimen."
Through a more diverse teaching method and large following, Farah's YogaMy has become the flagship program of the growing yoga community in Jordan that now frequently gets together to celebrate their love for yoga.
Young ladies gather in large groups to practice together, socialize, and discuss their yoga journey. What was once believed to be limited to an elder generation in Jordan now has a young force to carry the torch and further develop the growth of yoga in Jordan.
Though Farah didn't establish YogaMy from the get-go—it has just celebrated its one year anniversary—it enjoys a full studio with an even bigger waiting-list. Farah took her yoga teaching course with Yoga Alliance one month prior to getting engaged.
"It doesn't matter where you are in life, how busy you are, how old you are, when you have an intention or purpose you should proceed with it and accomplish whatever your purpose is without fear of the outcome.
Being a hands-on full time mother and a devoted wife did not stop me from taking the risk and changing the perspective of yoga in Jordan. My yoga journey started one month before I got engaged to my now husband. I didn't see my fiancée for a month before our engagement, but he always got it. He has his own business, which he started from scratch, so I guess he always motivated me with hobbies because he felt passions always provide a fulfilling life. When I wanted to start teaching, he intervened, offering me the chance to give it a try in his gym and see how I feel about it.
I started teaching in my husband's gym, and then I got pregnant and delivered a beautiful baby girl. I went back to teaching, this time at an all-ladies gym. I loved teaching, but I didn't like not having control of my own time. I didn't like forcing a schedule on my daughter.
I decided it was time to make my own studio with a schedule that suits me and to top it off, I rented a space exactly across the street from the house. Family comes first for me. I don't want my husband and daughter to feel that my studio comes first, especially since they are so supportive."
Farah started yoga because she wanted to improve her flexibility. She worked out frequently, but it didn't quench her exercise needs entirely, she wanted more, she wanted something good for her body. She began finding her way in yoga—her own way, a way that made her happy. This happiness is conveyed in her yoga flow and attitude, which slowly but surely captured anyone she encountered.
It may seem like a risk to try and change the dominant style of yoga in any location, but for Farah, it was a natural step forward. That risk ended up saving the yoga community in Jordan by altering the landscape, the practice, and the usual practitioners in Jordan.
Taking this risk didn't scare her. She simply followed her heart.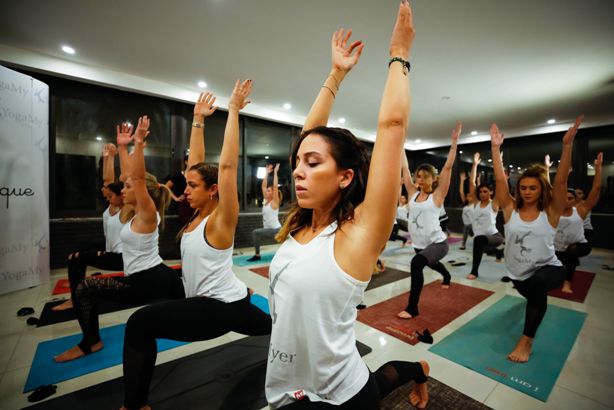 "(Wo)man cannot discover new oceans unless (s)he has the courage to lose sight of the shore." ~ Andre Gide
~
Images: Courtesy of Avo Moses
Editor: Catherine Monkman