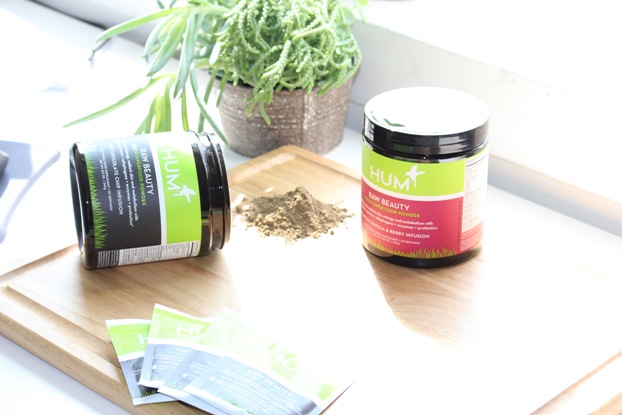 This is a post written by HUM Nutrition—an elephant partner. We're honored to work with anyone who is this dedicated to offering vegan nutrition options, satisfying that pesky sweet tooth without guilt, and helping us get through our long workdays without having to nap at our desks. ~ Ed.
While there is no substitute for sleep, fresh greens, and self-care, life happens and sometimes you choose a Netflix binge over sleep, or grab a bagel instead of busting out your Vitamix—and there's no reason to beat yourself up about it.
Enter: superfood powders.
As convenient as they are potent, a high-quality superfood powder will protect our bodies in times of stress and supercharge us with wellness benefits on our very best days.
At HUM Nutrition, we designed Raw Beauty Green Superfood Powder to optimize your digestion, energy, and beauty needs in every delicious serving. Our powdered green superfood blend can travel with you anywhere, and it's filled with 39 dynamic ingredients to fuel your day and make your skin glow.
Bonus—it's fully vegan, gluten-free, nut-free, GMO-free, soy-free, dairy-free, and free to try!
Try A 3 Day Sample + 20% Off When You Purchase w/ code EJ20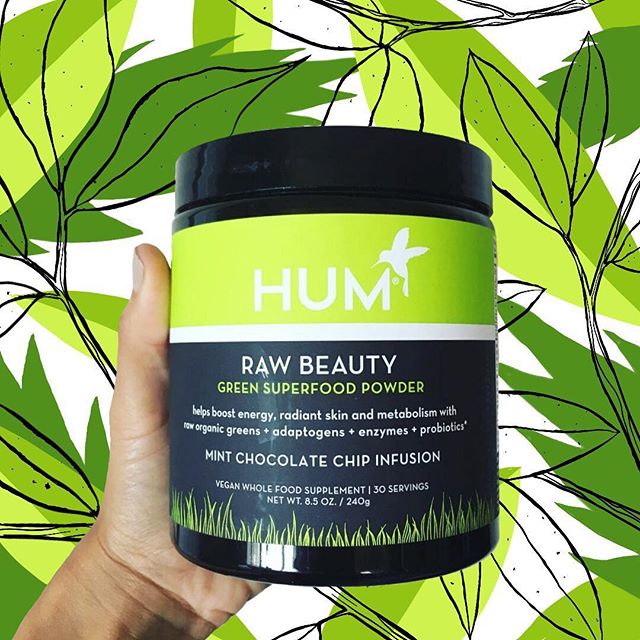 Here are six reasons why HUM Nutrition Raw Beauty will make your life better:
1. Natural Energy
We, too were often tempted by a 3 p.m. coffee—only to toss and turn at night, wake up groggy the next day, and repeat the cycle all over again. Raw Beauty solves your midday energy slump with a dose of matcha green tea. High in antioxidants, matcha contains less caffeine than coffee but is known to provide a steadier and longer lasting energy boost that won't leave you crashing or restless at night.
2. Look Younger
Whether your skin concern is irksome acne or damaging toxins from living in a polluted urban environment, raw organic greens will nourish and cleanse your skin from the inside out for a naturally radiant look. Our blend includes powerful barley grass, chlorella, alfalfa, spirulina, and wheatgrass.
3. Get Lean
To really bring your superfoods alive, look for a superfood powder with digestive enzymes and probiotics to keep the microflora in your gut happy. A happy gut means reduced gas, bloating, and fullness after a high-fat meal, and even improved metabolism. Our Raw Beauty powder uses a five billion probiotic blend which will not just make your gut happy, but ecstatic.
4. Saves You Money
It's all too easy to go overboard when investing in your health and wellness habits. A morning $8 pressed juice in the morning and $6 triple-shot almond milk latte after lunch every day will add up quick! At a fraction of the cost per scoop, Raw Beauty combines dozens of beauty benefits in a single cost-effective treat that won't break your budget. Plus, you can try it for free!
5. Satisfies Your Sweet Tooth
A tasty superfood powder can turn your bad habit into a good one. At HUM, we know that the best way to ensure consistency with your daily dose of greens is to serve it up in a flavor you'll look forward to drinking every day. Raw Beauty comes in delicious Mint Chocolate Chip or Tahitian Vanilla Berry flavors, with more coming soon! If you're someone who needs something sweet to get you through the day, you'll love these tasty dessert flavors with only 30 calories per serving.
6. Ultra Convenient
It can be difficult to find healthy options if you travel often or are always on the go. Superfood powders are TSA-friendly and easy to combine with water or almond milk on the go. We never travel without a jar of Raw Beauty in our suitcase, and you can usually find a few green to-go packets in our purse to prevent unexpected hangry situations.
If you need any more reasons to give a superfood powder a try, check out these great results:
In a HUM consumer panel, 97 percent of our consumers reported an increase in productivity, 89 percent avoided unhealthy snacks, 76 percent saw an improved skin tone after one month, 81 percent reported an improved digestion, and 70 percent lost some weight by replacing their unhealthy snack with Raw Beauty.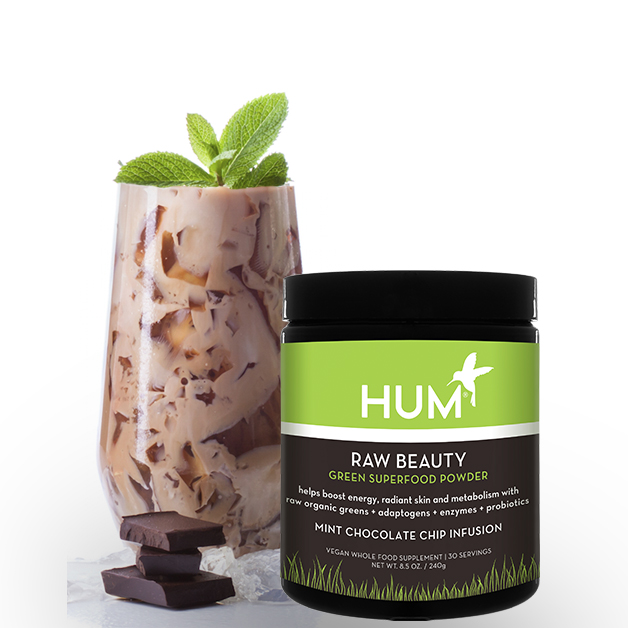 Get your superfood superpowers now with a sampler of Raw Beauty.
~
Editor: Catherine Monkman