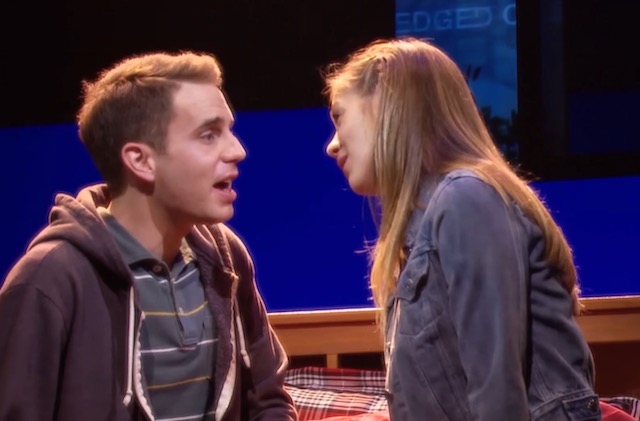 After Sunday night's sweep at the Tony awards, I reckon we will be hearing more and more about the hit musical "Dear Evan Hansen."
Born from a book turned musical that was kicked off in Washington, D.C., in 2015, it then continued to be workshopped off Broadway. "Dear Evan Hansen" landed on Broadway and hit the ground running in November of 2016—it has continued in full sprint since then with eight intense and exhausting performances a week.
My own introduction to "Dear Evan Hansen" was when I ran into this video of Ben Platt performing "Waving through a Window" back in December. At the time, I was staying with my dear, older brother who was dealing with brain cancer.
This performance hit my heart, and I knew it would his as well. We had similar experiences in school, and I knew, at some level, he would be able to resonate with the lyrics—"on the outside always looking in"— as I had.
And sure enough, we sat and watched it together with tears streaming down both of our faces. (And he left the planet within a month.)
Thank you "Dear Evan Hansen" for not only speaking to our kids and saying that the feelings of anxiety, of wondering where you can turn, of thinking life could be better, and that sometimes our own or others' thoughts of taking their own life is real. 
These difficult times and thoughts are real.
It's not just you.
Thank you for letting us parents know we are not alone in grasping for every possible way to connect with our teens. The song, "Anybody Have a Map?" will resonate with every parent negotiating the teen terrain.
Thank you for encouraging parents to try.
Thank you for taking tough topics out of the closet and setting a stage alight with memorable songs and heartfelt acting and the love and care that the "Dear Evan Hansen" team has put into this production.
Congratulations "Dear Evan Hansen": You deserved every single Tony.

A movie version would be most helpful in spreading the message even wider.
Like me, if you haven't gotten to see this show in New York and don't know when or if you ever will, you can find enough information, videos, and interviews about the show online to help you feel touched by the production as well.
And then you, too, might say: "Dear Evan Hansen," thank you.  
~
~
~
Author: Becky Aud-Jennison
Image: YouTube
Editor: Travis May