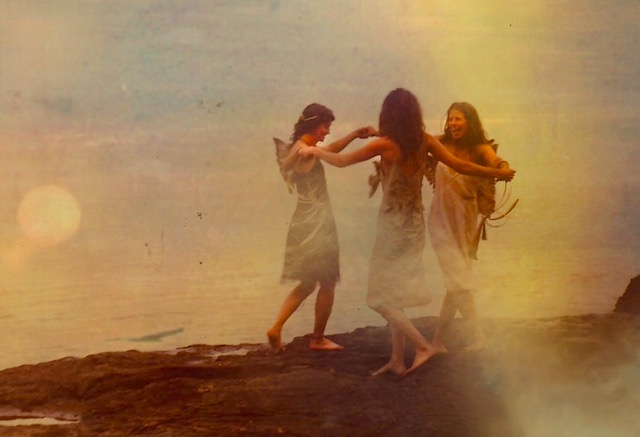 I will come to your river to wash my soul
.
I will come to your river to remember
The pristine expressions of my fluid essence.
No matter our background, beliefs, or skin colour.
No matter our religion, political ideas, or education.
We are listening—and our soul speaks the same language.
Like you, my fellow earth walkers,
I too have felt in my skin the burning question of my identity,
seeking to bridge the separation between the woman that I was told to be—and my epicness.
Like you, I am clearing the path of my existence
from the old dead societal patterns,
which, like leaves in autumn, had started to crumble.
Like you, I have also felt the need to break away from a system
that doesn't love the mother
and start flowing passionately with the natural urge of my inner guidance.
I have found the courage to be vulnerable,
to let my softness find the solutions that this hard world didn't.
To let my intuition guide me when my rational mind gets stagnant
and wu wei my way around it.
I have found the guts to allow my senses to feel,
and long for beauty impregnating all I create.
To love unconditionally
and let the fear of separation melt away,
Allowing our realities to make love.
Melting in your eyes when our bodies dance
without the need of words to explain experiences
that are pure magic.
Today I am sure that our untameable spirits have the total support
and blessing of our grandmothers' lineages.
I can feel them whispering to my heart with encouraging voices.
We didn't choose to come to this world during easy times.
We have chosen to be born in a time when real shift can happen.
The canvas is waiting, my fellow human,
We are the colours we needed.
This is not an easy piece of art we are crafting.
It requires our full presence,
because intuition, love, creativity, compassion, and true wisdom,
are priceless in a world built up around monetary values.
With my words today, I wish to remind us…
maybe our unfitting personalities are actually a gift.
We are not too much, we are exquisite abundance
in a world that is still tuned into lack.
We have heard the powerful call of the Earth
and have no more time for institutional bullsh*t.
Once we wake up there is no way back.
We are owning our bodies, our joy, our minds, our art.
Our weirdness is our seed of genius,
our madness art undiscovered.
Our distractibility a sign of the flow of life.
Our system just can't stay in tune anymore
with the low frequencies of some parts of this world.
We felt trapped in the artificial rules,
and have shifted our lives toward the natural laws.
We don't have to stop dreaming,
instead, listen to our dreams
since they are a direct channel with the eternal wisdom of a higher consciousness.
We are exploring and experiencing,
so this world can move forward.
Without motion, there is no evolution.
The world needs our unique gift.
Our dance, our emotions.
Our untameable spirits have been set free to be who they truly are,
embracing our wholeness.
As a family we dance, our dance is our prayer,
and we will keep coming back to wash our souls in each others' presence
To remember…
~
Author: Layla El Khadri
Image: Lauren Treece/Flickr
Editor: Lieselle Davidson
Copy Editor: Leah Sugerman
Social Editor: Yoli Ramazzina