This is a post written by Keen.com—an elephant partner. We're honored to work with anyone who is this dedicated to helping us find meaningful love, make sense of our relationships, and finally end the cycle of ruined romantic affairs. ~ Ed.
~
Well, this was interesting.
Having just witnessed an enchanting wedding ceremony, I was now surrounded by the buzzing chatter of familiar voices of college friends, most of whom I'd neglected to spend time with since graduation nearly a decade ago.
Amid the flurry of twinkling string lights and hors d'oeuvres, one question was doggedly swirling in my mind: How did this happen?
That question may be confusing, but I was at my best friend Sloane's wedding. The cornerstone of romantic achievement! In her white dress, she stood in full glory, confidently beaming with joy and pride—not just for her big day, but for her new husband. This man, who seemingly appeared out of nowhere, was now a starry-eyed, handsome accomplishment for my once misled, heartsick, and complete relationship-wreck of a BFF.
Just a few years ago, Sloane and I would meet up weekly during lunch breaks or happy hour where I'd be filled in on her latest round of love-woes.
There was no shortage of mascara tears on cocktail napkins. Among her heartbreak hall of fame, I clearly remember Felix, the man who promised her the world, only to ghost her after his last year of med school. Oh, and how could I forget Gus, the up-and-coming head chef with full-sleeve tattoos hidden under his coat. What Gus made up for in an abundance of adventure and ambition, he lacked in honest communication. (Let's just say she found a series of unsavory texts that created a recipe for disaster.)
The list went on, and so did the gloomy reports of inattentive and flighty paramours and awkward first dates. Over and over, I helplessly watched her relationships crumble into irreparable bits.
So, how did this wedding finally come to be?
We had disconnected in the last year when my job took me to another town, so when I finally got the lowdown on Brady, I expected another painful descent into shambles. But, according to Sloane, Brady was confident, respectful, and visually stunning. And my gosh, when I finally had the chance to meet him, he didn't disappoint. He smiled with his eyes and made everyone in the room feel his warmth. He was curious and charismatic, and most of all, he absolutely adored Sloane.
How did Sloane finally end up with this one? The one?
It couldn't have just happened out of the blue. Men like Brady certainly don't come out of the blue.
Enthusiastically taking in the free libations—Hey, open bar! Nice work, guys!—my curiosity was piqued. I went to find my newly-wed friend.
"There you are!" Sloane threw her arms around me. We hugged tightly and I felt the years of repeated disappointment and pain melt away.
"Girl, how did you do it?" The music was loud and I had to shout a bit, but she caught my drift right away. It was no secret—something had changed. "How did you find him?" I asked, shamelessly.
"I know! I know what you're thinking. It's been too long, I have so much to tell you. It wasn't easy, but I had help."
"What do you mean? Like a dating site? You didn't mention that!" I asked, slightly confused.
"No, no. I started talking to a psychic," she said with a big smile. As captivated as I was, I was dismayed.
"Hold on. Wait, what?" I managed to blurt before a stampede of jubilant guests aimed for the bride.
"I'll tell you all about it soon, but…Keen! Go to Keen!" She yelled back, just as the overly-excited pack charged. Shocked, but intrigued, I spun around and beelined to my table. Keen? What was she talking about?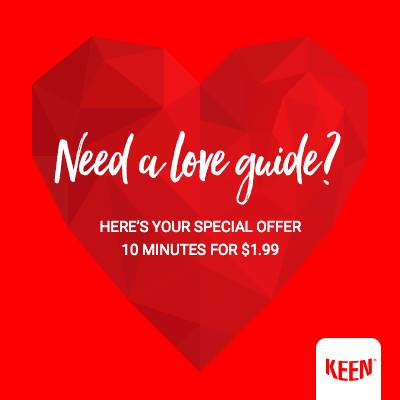 When I got home, I tossed the heels off my feet, wiped the makeup off my face, and threw myself backward onto the ever-inviting cocoon otherwise known as my bed. Holding my phone over my head, I typed "Keen" into the search bar. "Did she just tell me to go check out a shoe company?" I thought, but scrolling down further, there it was. Keen.com, online psychic readings and love advice.
"Psychics, huh?" The intrigue and liquid courage overcame me. I clicked.
I browsed the site with the enthusiasm of a child on Christmas morning. There's no shortage of psychic readers, astrologers, tarot readers—you name it. All with different specialties and skills.
A few psychics in the Love and Relationship category sparked my interest. I found a spiritual clairvoyant whose experience indicated she connects to energy, and specializes in helping you find love. Without pause, I clicked the "Call Now" button on her listing. After a simple registration, my phone rang immediately. It was an automated message stating I was being connected to the psychic. Keen acts as an intermediary, so your personal information is secure and anonymous.
Speaking to a psychic was better than I expected.
The advisor, as they're referred to by Keen, was personable and friendly, with a compassionate demeanor that made me trust her. She understood my personal relationship challenges instantly.
To get started, she only needed my name, and advised me to be deliberate about my question so I received the most useful reading from her. She guided me through my first call. It was so easy! Her reading was intuitive, enlightening, and magical.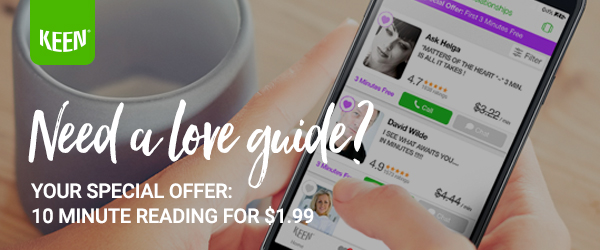 Sloane's story isn't that different from a lot of people in my community of friends—myself included. We all go through the ups and downs (sometimes, more downs than ups), but often, our misinformed expectations lead us astray.
What Sloane had found, I experienced first-hand with my psychic advisor. A love coach who is highly intuitive, but wholly unbiased. She sees where my relationship roadblocks lie, and most importantly, how to overcome them.
Where my psychic readings differ from traditional therapy or advice from a friend or family member is how my advisor is so in tune with my personality, my background, and yes, my spirit.
She's able to intuitively guide me and help positively shift my direction. I'll admit, I've been calling regularly. Not only is Keen helping me find clarity in my relationships, I see myself growing in ways I had never expected.
And I'm excited to see where my new love goes next!
Hopefully on a romantic jaunt through the south of France—no pressure on the new beau.
It worked for Sloane, it's working for me, and it can work for you, too.