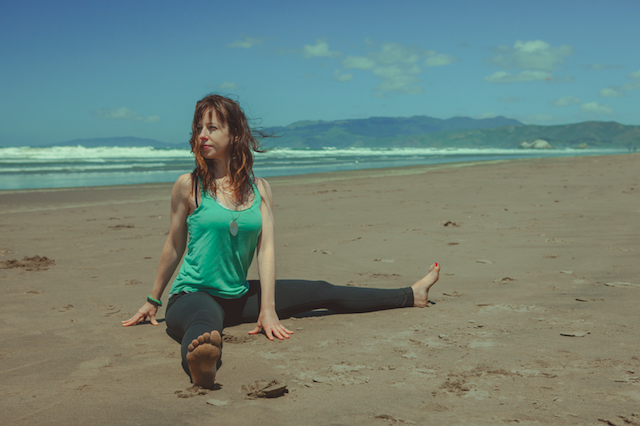 Summer and me have a love/hate relationship.
I crave the freedom to play, to explore, change up my routine, and get outside a lot more. But, I often find myself face-to-face with struggle during this season—in particular, with desire and craving. As a fiery person (and a Pitta in Ayurveda, yoga's sister science) by nature, I crave excitement, activity, and social gatherings. But I can easily overdo it and wind up feeling depleted.
It can be so easy for me to get wrapped up in planning a great trip that I forget to stop and enjoy the trip while it is actually happening. It's an old pattern. Or I get anxious with so much fun and play that I never want it to end. I remember this feeling in particular during those long summer days after July 4th when I was a teenager too. Can you relate?
Summer is bittersweet. It's a reflection of life.
The cycles of full abundance/vitality (summer), shedding/letting go (fall), death (winter), and re-birth (spring) are front and center if you pay attention. This year, I'm starting to lean into my feelings and the gifts each season offers us a bit more.
This summer season of abundance will not last forever but I am going to try and enjoy each moment as it comes. And when summer ends, if I feel the clinging and desire that has plagued me for years, I will tend to it the way a mother tends to a child, and listen to its message.
Life is a series of beginnings and endings—but, that doesn't mean we can't enjoy the fruits when they are right in front of us. In fact, that might be the biggest gift of summer: It's okay to enjoy and revel in pleasure. Listen to your energy, and if you are present, you will begin to learn when it is truly enough and when you need to rest (or when you have the energy to continue).
Make plans if you like, but let go of the outcome in the moment. Have fun and live fully!
Here are 3 yoga poses to help cool your mind and body if you find yourself feeling anxious, overheated, or ungrounded this summer.
~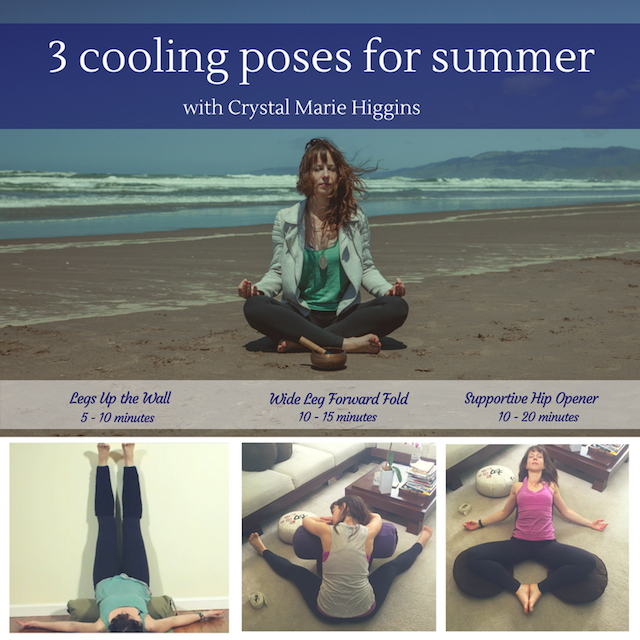 ~
We often forget that we have tools available to us wherever we are—whether you are traveling or at home—to feel more rejuvenated and present all summer long.
Take at least a few minutes for each pose below, and you will feel refreshed and relaxed at the end of this practice.
>> Legs Up the Wall (pro tip: place a bolster or blanket folded under your hips as you swing your legs up the wall for an added release).
How to get into the pose: Sit right next to a wall with your knees bent and one side flush with the wall. Come down onto your side, and make sure your feet are touching the wall (do not move away from the wall). Extend one arm and the side of your head on the ground, then move to your back and bring your legs up the wall. Adjust yourself so your legs are straight up the wall, and move closer or further away from the wall depending on what feels best for your legs and back. Do not lock your knees but keep your legs straight. Close your eyes, and take some nice soothing breaths in and out through the nose.
Stay in this pose for five to ten minutes.
>> Wide Leg Forward Fold (pro tip: lean forward on couch cushions or a bolster for the maximum amount of relaxation in this pose).
How to get into the pose: Sit on a folded blanket or small pillow, and extend your legs out in a wide "V" format. Lean forward either with your hands on the ground or on a supportive platform like a few couch cushions or bolsters stacked on top of each other. If you are using support you can bring your arms down and lean your head to one side. Set a timer, and halfway through, switch and bring your other cheek down to even the stretch in your neck.
Stay in this pose for 10 to 15 minutes.
Note: If your knees or hamstrings bother you, place a blanket under each knee.
>> Supportive Hip Opener (pro tip: use blocks, blankets, or pillows under your knees).
How to get into the pose: Bring a block to its highest setting, and a second block on the wider, lower setting about four inches away from the first block. Place a bolster or a couch cushion on top of the blocks to create a slope. Get two blankets or pillows of the same size and place them slightly forward of and on either side of the bolster or cushions. Sit at the end of the bolster or cushions so your back touches, place the soles of your feet together in a butterfly shape and recline back. Position the blankets or pillows under your knees.
Note: If you do not have a bolster, couch cushions, or blocks, you can practice a modified version of this pose with two blankets or pillows. Come to a butterfly pose on your back and bring one blanket or pillow of the same height under each knee.
Stay in this pose for 10 to 20 minutes.
~
Author: Crystal Marie Higgins
Image: Author's Own
Editor: Leah Sugerman
Copy Editor: Nicole Cameron
Social Editor: Catherine Monkman