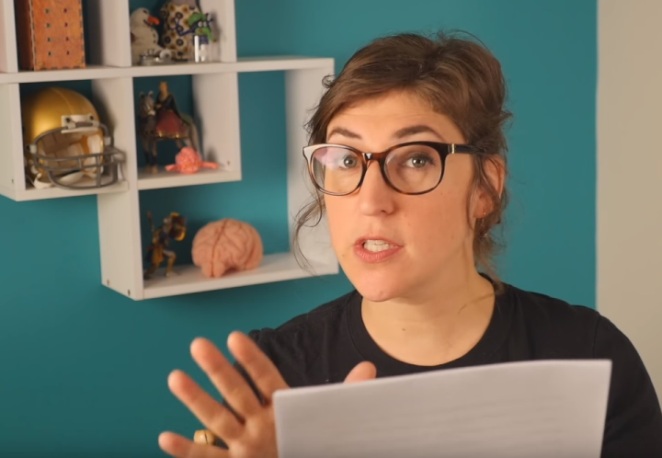 Mayim Bialik, most widely known for her roles in "Blossom" and "The Big Bang Theory," is one of my favorite YouTubers and someone I admire.
Many are surprised to learn that not only is she a talented actress, she's an author, a neuroscientist, a feminist, and she's vegan. There's a lot to love about her, but I didn't really get to know much about her life and views until I followed her on YouTube.
I can't say I've watched a video of hers that I didn't immediately like, however, there is one in particular that grabbed my attention, and it's one where she admits she's wrong.
One lesson I've learned and that I always remind my kids about is that it is easier to admit we are wrong or made a mistake than any other option—like lying, or letting our ego take over. I'm sure we've all, at some point in our lives, been in a situation where we realize: Oh sh*t, I'm wrong about this—but we're too embarrassed or too deep into the argument to say so. That really doesn't feel good, and it's actually quite a relief to admit our wrong-doing (or in this case, wrong-saying).
So why was this video different?
Well, Mayim does more than just say she was wrong. And this is where we need to take note for the next time we need to eat our words.
1. She acknowledges that she heard what people were saying.
The very first step is to pause and realize that if someone or a group of people is vehemently disagreeing with us, it might be worth looking into. Mayim took the time to hear what people were saying instead of just writing off all the naysayers.
2. She apologizes.
Regardless of whether or not she hurt anyone by expressing her views, she still acknowledges the possibility she might have. So, she names those who she might have offended and offers a genuine mea culpa.
3. She doesn't just say she's wrong—she does her research and learns what exactly she got wrong.
I wish I could credit where or who I first learned this from—my memory is good, but short—but the gist of it is that to ensure that our argument is sound, we should argue against ourselves.
It's easy to apologize and say we're wrong…and not mean one word of it or take the time to really understand why. Instead, Mayim breaks down—in detail—what she was wrong about and why.
Here, she shows that she wants to learn and understand more than just her own perspective and opinion, and I really respect her for that.
4. She explains the consequences.
On top of gaining an in-depth understanding of where she went wrong, Mayim discusses the consequences of expressing views that were factually incorrect and stigmatizing. This is important to note because as a celebrity, Mayim has a voice that reaches many more than the average person, and as an "influencer," she has a responsibility to ensure that she is not condoning or encouraging something harmful.
I cringe when I see big-name YouTubers doing things that are damaging and I wish I could ask them to stop (and sometimes I do leave a comment to that effect)—like using only paper plates to eat, or using shock collars to train their dogs. They're essentially saying to hundreds of thousands or millions of people: Yes, this is okay.
5. She has a backbone.
While she realizes that she was wrong about a lot of things, she also expresses that there are some views that she either doesn't understand or agree with—and that it's okay, because not everyone will agree. Once we've done the work of learning and understanding, we still need to be true to ourselves, as long as it's not harming anyone else.
This video reminds me of one more lesson that I learned while working here at Elephant Journal, and that's "drive all blames into one." Sometimes, it's hard to swallow the pill and admit defeat—and especially when we are 1,000 percent sure we are right.
But, as Linda Lewis (mama of Elephant's Editor-in-Chief, Waylon Lewis) explains, "Interestingly, this simplifies the situation. It clears the air so that everyone can have a fresh, clear view. When we take on the blame, which Chogyam Trungpa Rinpoche called just a 'paper tiger,' everyone can begin to communicate because the defensive, uptight mood has dissolved. And this might surprise and relieve the individual or individuals who were the actual cause of the problem. They may or may not admit some wrong-doing—but that is not the point. The point is to relieve a tense situation in order to move forward together. This makes both household and organizations move smoothly."
Watch Mayim's video below:
The next time I really blow it and have to eat humble pie, I'll be following in Mayim's footsteps.
~
Author & Editor: Catherine Monkman
Image: YouTube