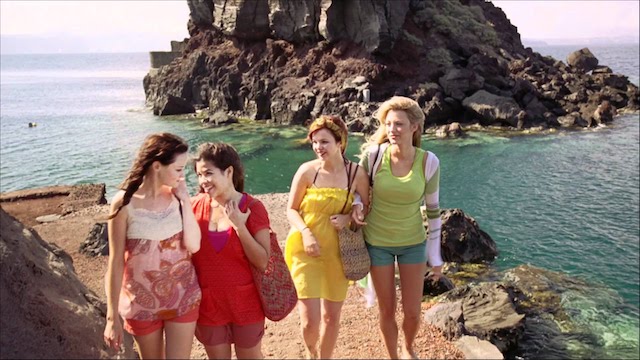 "Broad, wholesome, charitable views of men and things cannot be acquired by vegetating in one little corner of the Earth all of one's lifetime." ~ Mark Twain 
~
When I say nothing broadened my horizons like traveling did, I mean every word of it.
As a kid born in a middle-class family, traveling was a luxury only the rich could afford. As I sat home, I dreamt only of the exotic places I read about in books.
Treasure Island and Gulliver's Travels were my favorites, and I can't say how many times I read and re-read those two classics. Needless to say, it took me years to turn a dream into reality. The first time I boarded a plane I was 27 years old, and ironically, it was for work.
The rest was history. I caught the wanderlust bug, and haven't stopped traveling the world ever since. Many people consider it a luxury, but I strongly believe it is a necessity.
Two years ago, I suffered from severe depression due to a messy breakup. Nothing could make me feel better—until I booked a ticket. Followed by another, and another, and many more. That year, I visited three new countries and two new states, and along the way, I reclaimed pieces of me that were lost amidst all the stress adulting puts us through. Consequently, traveling nursed me back to health, and now all I want is to share the remedy with the world.
Here are seven reasons to plan your next trip A.S.A.P.
1. Thrill and adventure:
Paulo Coelho put it best when he said, "If you think adventure is dangerous, try routine; it's lethal." I couldn't agree more, especially because I've had many boring desk jobs throughout the years that got me to a point where I couldn't get out of bed to face another identical day. Now, I jump of bed at 4:00 a.m. whenever there's a trip in sight.
The thrill we feel on a plane and throughout an entire trip is indescribable. It's amazing when we anticipate something new because everything around us isn't familiar. We even experience a range of feelings we never even knew existed. I remember this feeling on a trip I had with two of my best girlfriends to Cyprus, where we spent almost two weeks on the island. Not a day passed by that remotely looked like the other; each day brought a new taste and a new adventure. With traveling, there is no place for routine.
2. Exploring new cultures:
Nothing makes us grow faster than exploring new cultures—whether through food, clothes, music, language, or even driving. I can't tell you how freaked out I was the first time a driver took the left side of the road. I also can still recall the first time I ate paella, tapas, and sangria in Barcelona. I can still taste how perfect it was. We really underestimate the flare every culture brings into our lives.
To truly have an authentic experience, I learn the local language before visiting a country, especially when the locals do not speak English. It was really nice to be able to communicate with the locals in the Italian countryside—I was even mistaken for being Italian on more than one occasion!
3. Learning experience:
We learn something new every single day, even when we do not leave our comfort zone. However, imagine the things we get to see and learn when we break the ordinary by exploring unknown lands. Most of the things I've learned have been from my travels—whether as sophisticated as the many kinds of cheese and wine I tasted in France, or as simple as the first time I had a shot of tea in a glass in Turkey. Trips can be educational as well. For instance, I learned everything there is about Gaudi thanks to my many business trips to Barcelona.
4. Good stories to tell:
"Traveling—it leaves you speechless, then turns you into a storyteller." ~ Ibn Battuta
When I visited Ibn Battuta Mall in Abu Dhabi for the first time, I was really taken by all those displayed marvels that were inspired by the many travels of the Moroccan explorer. I just stood there and thought about how this man must have had many friends; he was certainly entertaining as well as interesting.
Every time we travel, we witness and experience so many things that eventually become stories to tell. Like the time I went parasailing, or the time I looked out over Paris from the Eiffel Tower, but I wouldn't want to ruin it for you. Go ahead—experience it and have your own stories to tell.
5. Good exercise:
When I went to Italy, I had so much pasta, pizza, and gelato that I thought I would gain at least five pounds in two weeks. However (to my surprise), I was able to lose five pounds thanks to all the walking I did around Rome, Venice, Florence, and the Italian countryside. Some people even dread holidays thinking they will end up eating unhealthy food and gaining a ton of weight, but from experience I can say that whenever we travel, we walk and move so much that we end up exercising without even thinking about it.
6. Exotic shopping:
Every time I travel, I end up buying amazing things that are so exotic I wouldn't even dream of finding them anywhere else. For those who don't follow trends and love having unique pieces, shopping abroad becomes like a treasure hunt. I got leather sandals from Cyprus that I have been wearing for three years now, and that's not even the most awesome part—they were cheap too. My house is full of artwork that I bought at a good price on my travels; it's like touring the world in less than 80 days!
7. Broader horizons professionally and personally:
The number of business ideas I get after each and every trip stretched my creativity in a way no business school could. Every time we go out there, we broaden our horizons simply by being exposed to foreign notions. Whatever field you are in, a new vision is always needed in this competitive age. Go ahead and travel to find out what your next big idea might be.
Last but not least, I can proudly say I have friends all over the world. One of the best people I met was a Russian teacher I had the pleasure to know in Barcelona. I am still in contact with her on Facebook, and our friendship owes it all to the love of traveling.
These are just a few of the infinite reasons why traveling is so good for us. If you've had the itch to go somewhere, take the risk and book that ticket.
~
Author: Rita Wehbe 
Image: Youtube still
Editor: Danielle Beutell
Copy editor: Yoli Ramazzina