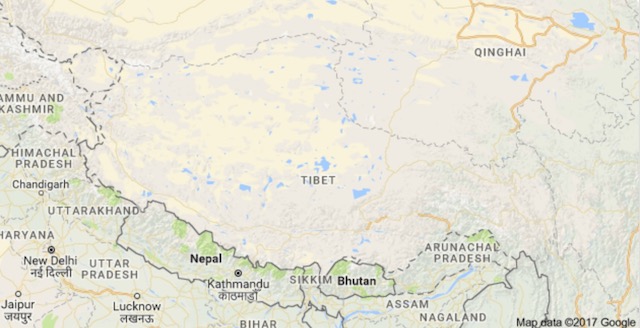 In August 2017, I led a group of people to Surmang, Tibet for two weeks, and we had simply the most meaningful experience with the 12th Trungpa Rinpoche.
I feel like I have found a Tibetan brother, an emerging leader, and an important Buddhist teacher who will build on Chogyam Trungpa Rinpoche's legacy. The humble, playful, and partly reserved personality of Rinpoche reminded me of my youthful days of being a yak herder in Tibet. This might be another reason why Rinpoche and I feel connected.
About Trungpa Rinpoche.
Chogyam Trungpa, the 11th Trungpa, is credited by many as one of the primary people who brought Tibetan Buddhism to the West in the early 1970s. He founded Naropa University in Boulder and established over 160 Shambhala Buddhist Centers in the West. He died in 1987.
Born as Chokyi Sengay in Dege, Kham in 1989, the 12th Trungpa Rinpoche was recognized in 1991, at age two, as the reincarnation of Chogyam Trungpa Rinpoche by Tai Situ Rinpoche. Shortly thereafter he moved to his seat monastery of Surmang Dutsi Til.
Over the years, Rinpoche has studied at Palpung Shedra for five years, Surmang Namgyal Tse for three years, and Serta Monastery for five years. Rinpoche is the fourth child of eight siblings and was raised primarily by his father Chalo, as his mother Tseru died at age 50.
In 2001, Sakyong Mipham Rinpoche, the eldest son of Chogyam Trungpa and current Shambhala lineage holder, traveled to Tibet and met with the 12th Trungpa Rinpoche. Along with other offerings, the Sakyong envisioned building a Shedra, a monastic college in Surmang, and founded the Konchok Foundation, a non-profit organization in the United States, to support the Shedra Project in Tibet. With the generous support of donors and hard work of the Konchok Foundation for many years, the Shedra is now scheduled to open officially in July of 2018. The Shedra is expected to start with about 80 monks and continue to offer classes for lay students during their school holidays.
Rinpoche Wants to Connect.
Trungpa Rinpoche told us that the Shedra consecration will definitely happen in July, 2018. He made a video message as an invitation to the Sakyong, those who have supported the Shedra Project from the West, and many local dignitaries and community members. We have heard from the Sakyong's secretary that he might not be able to attend, as his schedule seems already full. However, Trungpa Rinpoche hopes that members of the Mukpo Family (family members of Chogyam Trungpa from America) and the Konchok Foundation are able to attend along with key sponsors. The Shedra consecration will be one of the most joyful occasions, and the Surmang Valley is expected to be filled with rituals and ceremonies, songs and dances, and even horse racing.
Experience.
Conscious Journeys, a travel agency for Tibet that is based in Colorado, normally offers an itinerary to Surmang, known as Dokham Journey, that essentially explores in and around Yushu, along with a few days in Surmang. Since people will be coming specifically for the Shedra consecration, we will be spending most of our time in Surmang and include a side excursion to Namgyal Tse Monastery.
While you are acclimatizing in Yushu, we will visit several sights including Thrangu Rinpoche's monastery, which was rebuilt at a new location after the 2010 Yushu earthquake damage. Surmang is located in a vast alpine region, whose nomadic and farming community is one of the poorest in the Yushu Tibetan Autonomous Prefecture. For mountain enthusiasts and humanitarians, a visit to Surmang provides an opportunity to combine great hikes with humanitarian works in community development projects.
Trip Coordination.
Conscious Journeys will offer a trip to Surmang for the Shedra consecration from July 15th to 30th, 2018. The activities of the consecration are a huge logistical effort by themselves. Conscious Journeys is officially registered and authorized in China to receive travelers, and will coordinate travelling logistics from beginning to end. The group members will meet in Chengdu and then fly to Yushu for the drive to Surmang.
Surmang is a small Tibetan village and has very limited lodging. Conscious Journeys will be working with Trungpa Rinpoche to turn his old residence into a guesthouse, as he moves into a newly rebuilt old castle. On a first come, first-served basis, we will have limited rooms. Rooms have access to a toilet and a shower. For more information, please visit the Concious Journeys website and look for Dokham Journey.
~
Elephant Journal is honored to support the Tibetan Village Project. See you there!
~
~
~
Author: Tamdin Wangdu
Image: Google Maps
Editor: Travis May
Copy Editor: Danielle Beutell
Social Editor: Waylon Lewis