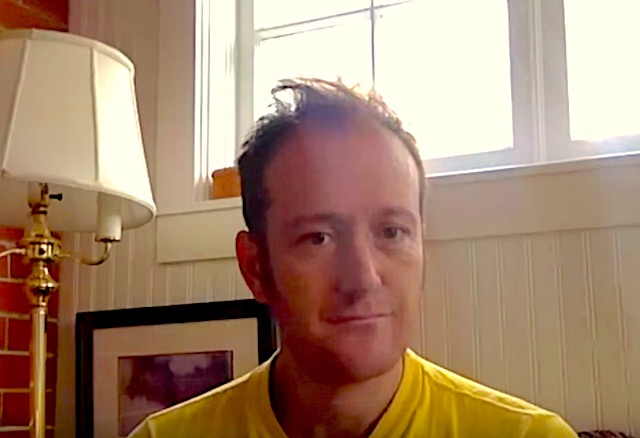 I am so grateful for the leader of the online publication Elephant Journal, Waylon Lewis, in his recent YouTube video denouncing inappropriate behavior from men in leadership, particularly the biggest Hollywood upset in history.
In his video statement, Waylon is clear and to the point while stating the obvious, "Whatever reason people don't speak up, this needs to end now." Acknowledging that as a man, it is unacceptable to use power in this way. When someone yields power over someone's career, it's not an even playing field.
Will other men in leadership use their platform to stand with women? To tell them, "I have your back. This is not acceptable behavior. We will not tolerate this in our company. You are safe here."
Most major companies have sexual harassment policies and online training in place, but in reality, it is seen as a nuisance to take and laughed at because of its obvious nature. The question arises, "Who would ever act like that?" The trainings, which highlight behavior that is so obviously inappropriate, have become merely a check mark on a company's due diligence list.
This will become a true watershed moment in history where we will look back in 25 years and say either, "Wow, we have come so far," or, "We still have so long to go."
Sadly, few men in leadership can actually write an empowering message to their employees because so many have participated in this very problem. A survey just came out last year that found that about 60% of women have been harassed in Silicon Valley alone.
Mark Hurd, former CEO of HP, now is a leader at Oracle, and you can bet he won't be sending out an email to his employees. Thankfully, Travis Kalanick was forced to step down as CEO of Uber because of brave women like Susan Fowler, a former engineer from Uber, who was among a group of women who stood up against an alleged culture of sexual harassment there.
Another brave woman, Ellen Pao, former employee of Kleiner Perkins Caufield & Byers, also spoke out about inappropriate behavior during her tenure. These women are the "Joan of Arcs" or catalysts for women to speak up everywhere. Perhaps Silicon Valley's women have given others strength to speak in other industries.
Rose McGowan became our latest "Joan of Arc" by speaking up about Harvey Weinstein and was even silenced on Twitter. A flood of women took to Twitter to support her by using the hashtag #ROSEARMY to state their dismay and disgust. In the past week, other well-known celebrities have come forward like Reese Witherspoon and Jennifer Lawrence, who both shared their own experiences of harassment. Is it really that all these women have been quiet so long because they wanted a job so badly they were willing to put up with it? It shows that the bar is still so much higher for women and there is no real equality.
The recent film, "Battle of the Sexes," is about Billie Jean King beating her male opponent Bobby Riggs in an unprecedented tennis match which took place in the early 70s. It is proof that women are still not treated equally. Riggs prodded King that men were the superior athlete and promoted the contest with a parade of misogynistic comments such as, "The best way to handle women is to keep them pregnant and barefoot."
In the largest crowd to ever watch a tennis match, with more than 30,000 fans, King eviscerated him. Because of King's victory, an anti-gender-discrimination law in athletics, Title IX, was added to the Civil Rights Act of 1964.
Fast forward to Anita Hill in 1991 when she brought to light sexual harassment in the workplace. It was a truly courageous moment bringing this to the public eye just moments before her alleged abuser Clarence Thomas' inauguration into the Supreme Court. Hill's life forever changed while she spoke in details of the harassment and was prodded about details of her personal life.
Not only did her accounts bring up gender equality and harassment in the workplace, but race as well. It was an astounding slap in the face when the House and Senate chose to dismiss her allegations, and Thomas went on to be confirmed for a lifetime seat in the Supreme Court. Anita Hill's voice did promote others to come forward and speak up in the workplace. Hill and Thomas worked together at the Equal Employment Opportunity Commission—and there was a 50 percent increase in complaints following Hill's testimony.
~
One of the most well-known questions involving sexual assault is, "What were you wearing?" A powerful art exhibit at the University of Kansas attempts to respond this question quite literally. The curators, Jen Brockman, the director of the university's Sexual Assault Prevention and Education Center, and Dr. Mary A. Wyandt-Hiebert, who oversees all programming initiatives at the its rape education center, display 18 stories of sexual violence and present the actual clothing the victims were wearing during their assault. The outfits were clothes any woman would wear: a T-shirt and jeans for a baseball game, a sexy red dress for night out on the town, and a bikini while hanging out on the beach.
This problem has been going on forever, seemingly, and is now being exposed in all its glory. It starts with each one of us teaching our boys not to over-sexualize girls at any age. We need to teach them what is appropriate when they find themselves attracted to girls. Teaching our girls from a young age to say "no" is also our responsibility.
It's about consent, not about girls not needing to be nice to everyone or being forced to hug everyone at an early age.
Although I have little sympathy for these wretched perpetrators, at the heart of the matter is ego. They are so out of touch with real manhood and trying to become better people. Real men praise and support women and are not threatened by them.
~
Relephant:
~
~
~
Author: Shelley Karpaty
Image: YouTube
Editor: Travis May
Copy Editor: Yoli Ramazzina
Social Editor: Waylon Lewis