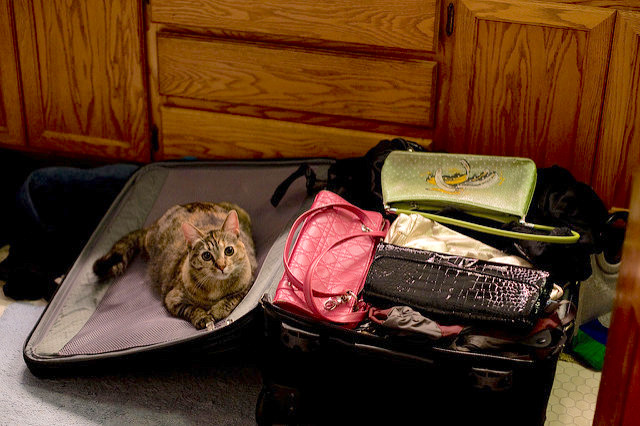 "Darling you got to let me know
Should I stay or should I go?
If you say that you are mine
I'll be here 'til the end of time
So you got to let me know
Should I stay or should I go?"
~ The Clash
~
Moving used to be so easy.
Fill up the old, trusty Toyota with a few ramshackle furniture pieces, a dusty suitcase or two, a favorite person or animal, and a tank full of 87 octane—and voila—new town or bust.
Rinse and repeat the process as desired in the quest for exciting adventures, new faces, and foreign experiences.
The rules of the road are simple—keep the load light and connections lighter. Once the dust settled and the landmarks became commonplace, it became time to hit the gas pedal and burn rubber to the next uncharted locale.
I feel fortunate that I was able to embrace this nomadic lifestyle for long swaths of time. The memories and enlightenment it provided me was sublime and soul expanding. The sweet elegance of transporting oneself to new destinations on a whim or a dart thrown on the map was transcendental bliss.
But on one unexpected day, after many moons of roaming the country in wild abandon, I stumbled upon my homeplace. The rubber met the road, and I found my Mecca. I took a deep exhale when we first met, and I knew at that instant where I was destined to live.
Homeplace is where we see our peace, dreams, and fortuity bestowed. We can discover it once or countless times in our lives.
My homeplace was immensely gracious and formative in the 15 years I resided there. It was both warm blanket-like solace and a guiding force for progression and happiness. I was gifted with the most incredible friends, a beautiful and quirky home, a burgeoning career, and endless good times.
At an unknown date less than a year ago, my homeplace challenged me as I never thought it would. Failed relationships, stalled work, and countless plateaus had compounded with the intention to warn me that my time in my sweet sanctuary had run its course. I felt betrayed by my homeplace, but I knew deep within my heart that it was time for us to break up. To stay would be to remain stagnant and unfulfilled, but to go, as painful as that might be, would allow growth opportunities and liberation.
Now moving becomes hard.
This is the moment when staying or going reveals itself as a heartbreaking fork in the road.
Deciding whether or not to move morphed into an untamed beast that sparred with me and filled me with doubt. Am I making the right choice? Will I fall flat on my face? Will I go broke? Will I hang my head in shame when I come crawling back?
After a crippling month of wavering back and forth, I pulled the trigger and made the trek to a new city late last year.
I have no regrets. I cannot say that I don't have moments of frustration, sadness, nostalgia, or bewilderment, but the gains I have realized in development and prosperity have more than compensated for the seldom low moments. I might even say that I have uncovered a new homeplace.
Moving can be relatively seamless and moving can be tough as hell. We all will most likely move at some point in our lives and my hope is for any of us pondering it to have the most ideal experience when the road ahead could be bumpy.
I've accumulated some humble nuggets that may be useful when transitioning to a new stead.
Consider a trial period. If feasible, try a new potential location on for size. Spend a few days, weeks, or months in order to get a feel for your mutual chemistry. It may come to light that you and point B don't get along as swimmingly as originally imagined. If this occurs, you can regroup and will have possibly saved gobs of time, money, and grief.
Leave your old stomping ground intact. This pertains to burning bridges. It may not be wise to set a metaphorical fire, personally or professionally, to your previous homestead in the likes that you may want to return to it one fine day. Better to see it still standing and welcoming your return than be required to muddle through the ashes upon return.
Have a nest egg. Gathering enough coin to comfortably reside for several months can be vital if you haven't obtained a straight up work relocation. That egg might need to be cracked at some point and will come in handy if a time of unpredictability presents itself.
Factor in culture. Varying differences in climate, dialect, food, traffic, and pace in a foreign area can take a toll on mind, body, and spirit in a hot minute. Advance research and preparation eases the sting and soothes the shock that a new location can infuse. Read as much as you can online about your destination before you depart.
Make connections in advance. Ask friends, friends of friends, or relatives if they know anyone in your new destination before you hit the road or jump on the plane. If you make some connections beforehand, even cyber ones, they can provide a modicum of reassurance and comfort.
Be safe. Moving can be scary—especially when embarking solo. Have a reliable loved one or emergency contact on call for check-ins and regular updates. Once you have settled, thank them by imploring them to come visit you.
Wait. If you remain uncertain or if you just don't have the resources, connections, or means to get to point B—just wait. Your new hamlet isn't going anywhere and it will be ready and waiting for you with open arms once you are sufficiently geared up.
May your wanderlust never wane, may the hint of new explorations keep you inspired, and may homeplace be there to greet you.
~
~
~
Author: Kristen Ward
Image: Flickr/Caitlin Childs
Editor: Travis May
Copy Editor: Nicole Cameron
Social Editor: Waylon Lewis