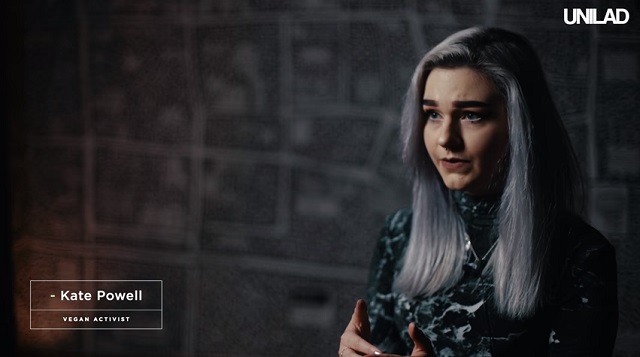 British internet sensation Unilad has teamed with Kate Louise Powell, a 21-year-old vegan artist and activist, along with many other experts and activists to create a series of short films to raise awareness about the reality of the meat industry and it's impact on the environment.
Unilad, which has a huge and highly influential social media platform, recently shared the first video in the series, "Meat the End," on YouTube and Facebook to their 33 million followers, stating, "Whether you eat meat or not, the inhumane treatment some animals suffer before making it to our plates cannot be ignored."
Powell explains in the video, "The way each individual animal struggles and fights for its life, the way in which they (the animals) are killed, the look in their eyes, and how their bodies move is hidden from us—and it is hidden for a reason; because it is horrific, and it is abusive, and it is unjust….the demand for animal liberation will not be ignored—our voices are getting louder."
During the film, Powell also describes how people walk their dogs past the slaughterhouse seemingly undisturbed by the noise, which is a chilling mixture of crying, screaming, and bellowing as the animals desperately and frantically try to escape their sealed fate. She also states how frustrating it is "because you know that it is not in our nature to hurt animals."
Every year, over 56 billion farmed animals are killed for their meat, fluids, or skin (not including fish, as figures are considered too high to count accurately, so the amount is generally measured by the ton).
However, Unilad's documentary—which has already had two million views on Facebook—states that currently approximately 2.7 trillion fish are pulled from the ocean each year, and if we continue at this rate, the oceans will be fishless by 2048. The majority of fish pulled die from either suffocation, freezing, being crushed, or live dissection once the nets have landed.
The video goes on to state: "This one (meat) industry destroys the planet more than any other and is the leading cause of global warming, water depletion, deforestation, species extinction, and ocean dead zones."
Toward the end of the documentary, it is declared that: "70 percent of deaths are largely lifestyle related and preventable. If you're a meat eater, the chances of getting cancer are one in two if you are a man, and one in three if you are a woman."
Animal rights activist James Aspey, who has given over 150 speeches across the globe and was once called an extremist for saying, "I think we all know some causes are more precious than life. Animal rights and veganism is one of those," also makes an appearance in the film.
Aspey's appearance in the "Meat The End" documentary has him questioning, "Why do we have to be vegan?"—before he explains, "Because all the ways we use them causes them harm. No living being deserves to be the slave or the property of someone else."
Aspey's plight to raise awareness about the suffering of millions of animals has included a 365-day vow of silence as well as a 3,000-mile bike ride across his home country.
We can all collectively make a dramatic difference to our health, the environment, the treatment of animals, and global poverty and hunger simply by eliminating or reducing our meat consumption, making ethical, conscious decisions, and helping to raise awareness.
Removing meat and dairy from our diet is so much simpler than we might have believed. For the sake of the 21 million cows and 56 billion farmed animals slaughtered annually, it is worth giving it a try.
It is difficult to force industries to make significant changes; however, we do not need to leave it to the industries to make the choices for us—we all have the ability to make a choice every time we eat, and eventually, industries will have no choice but to adapt and change.
We can make a difference and choose alternatives. The animals have no voice or choice—they cannot protect themselves.
Click here for a simple but comprehensive "Go Vegan" starter kit.
To order a free vegetarian starter guide please click here.
For a guide to dairy-free please click here.
For those who do not want to choose the option of vegan or vegetarian diets, they can still make a difference by reducing meat consumption and raising awareness.
"There is no fundamental difference between man and animals in their ability to feel pleasure and pain, happiness, and misery." ~ Charles Darwin
~
Relephant:
~
Author: Alex Myles
Image: screenshot
Editor: Yoli Ramazzina
Copy editor: Danielle Beutell
Social editor: Waylon Lewis