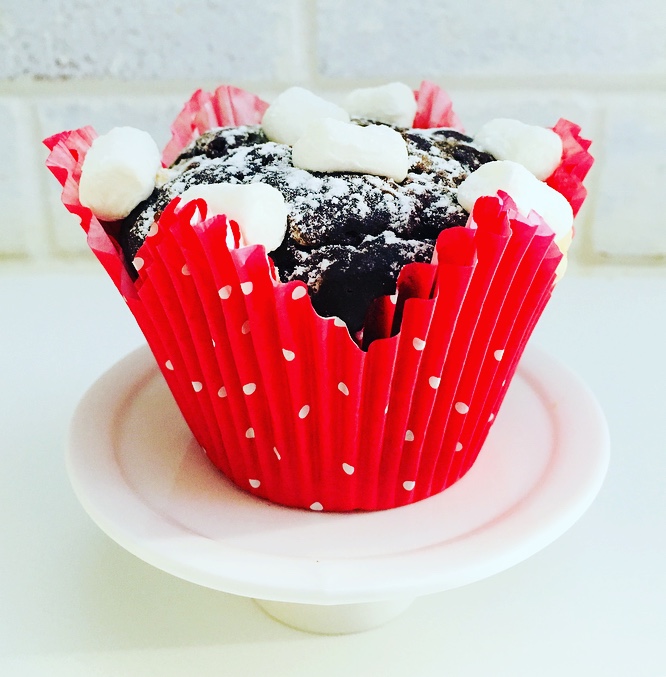 It's December, and I'm feeling festive and perhaps a little naughty.
Don't tell Santa!
Normally, my muffins are healthy, with little to no added fat and low sugar…blah blah blah.
Not this time my friends! It's Christmas, so I'm going all out. Fat, sugar, and all things yummy! No, these aren't cupcakes, they're still muffins with all their dense moist yumminess, but they are a treat, so please don't eat these every morning for breakfast—even though you may want to.
Merry Christmas everyone!
Ingredients
2 1/2 c. flour
3/4 c. hot chocolate powder (or five packets)
3 tbsp. cocoa powder
1/2 c. chocolate chips
2 tsp. baking powder
1 tsp. baking soda
1/2 tsp. salt
2 eggs
2 c. buttermilk
1 tbsp. vanilla
1/2 c. melted butter
1 c. mini marshmallows
icing sugar for garnish
You'll notice I haven't added any sugar. No, it's not a typo…I found the hot chocolate powder had just the right amount, so I decided to remove it.
Directions: 
Preheat oven to 375 degrees.
In a large bowl, combine the dry ingredients. In a separate bowl, beat the eggs until frothy, then add the remaining wet ingredients. Add the wet ingredients to the dry and stir just enough to moisten. Too much mixing makes a tough muffin. Fill lined muffin cups 3/4 full (I use a large ice cream scoop) and top each muffin with a handful of mini-marshmallows.
Bake for 20-25 minutes or until slightly golden.
Once the muffins are completely cooled, sprinkle with a dusting of icing sugar.
Tip: Sometimes the marshmallows melt completely while baking, which is fine, but if you like the look of puffy white marshmallows on your muffins, simply pop a few more onto the muffins for the last minute or two of baking.
Tip: This recipe is easily made gluten-free by swapping out the flour with a gluten-free version.
~
Relephant:
~
Author: Angela St. Cyr
Image: Author's Own
Editor: Catherine Monkman
Copy Editor: Sara Kärpänen
Social Editor: Nicole Cameron