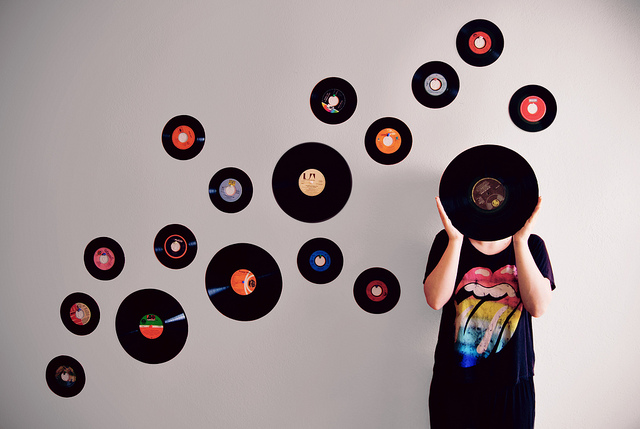 Getting accustomed to driving in my new city is a wild and sometimes wicked adventure into the beltways of the unknown.
The multi-lane highway teems with 8 to 10 thoroughfares on both sides of the median and the pace is frantic.
Navigators of cars, buses, and trucks blow their horns with frequency and passion to an angry beat.
Turn signals are rarely used—usually ignored completely—and the aggression level of people in their vehicles is alarmingly high. The autos bounce, bob, and weave with no discernible pattern, similar to the on-screen landscape in the classic video game, Frogger.
When I am required to drive on the ominous road known as I-75, I say a silent prayer in the hopes that I will increase my chances of arriving at my destination in one piece.
I am still a relative newbie in my metropolis, and I've supremely procrastinated (something I'm really good at) in finding suitable radio stations to keep me company on my rushed roadway journeys. One day, motoring around in my Subaru Outback, I shoveled around in my center console for my disheveled and beat up CDs. At the stoplight, it hit me that I still had a subscription to Sirius/FM radio. After dropping the scratched discs in my lap, I pushed the button to switch from FM to Sirius, and was greeted with a blissful sounding tune on channel 23.
The song was mid-way through, but the remaining two minutes caused my mind and posture to relax and decompress a bit, despite the sea of discontent surrounding me.
The second tune on the channel was equally satisfying to my ears, and I found my muscles unfurling into a pool of comfort.
By the end of third song, the music transformed my car into an air-tight bubble of a time machine infused with calm and harmony. The racket outside gradually melted away and I entered a meditative state; I was still aware of my environment, but felt tranquil and at ease operating my forest green wagon.
Once I returned home feeling refreshed and peaceful, I headed straight for my computer to determine what musical amalgamation delighted me so much (I know what you're thinking, but I lost the channel guide that you are supposed to leave in your car—go me). Siriusxm.com informed me that it was a limited-edition and temporary channel called Yacht Rock.
Yacht Rock is a little known gem of a music genre. Wikipedia describes it as:
"…a broad music style and aesthetic identified with soft rock. Yacht rock was one of the commercially successful genres of its era, existing between the late 1970s and early 1980s. Drawing on sources such as smooth soul, smooth jazz, R&B, funk, and disco, common stylistic traits include high-quality production, clean vocals, and a focus on light, catchy melodies. Initially used pejoratively, its name was derived from its association with the popular Southern Californian leisure activity of sailing."
Listening to Yacht Rock can be compared to floating on cloud—one becomes transported to higher grounds where the air is crisp and the world is soft and billowy. I am an avid fan of all kinds of music, but Yacht Rock is my new go to when I am seeking solace and comfort, like a hot steaming bowl of Vietnamese Pho soup doused with Sriracha sauce.
As I am hunkered over my monitor writing this piece, the soft croons of Christopher Cross provide an invitation to jet to the nearest dock, hop aboard a creamy colored sea vessel, and cruise away into the horizon through his song, "Sailing." East coast time has transformed to island time, and maritime birds are chirping behind my loosening shoulders.
Here are some avenues to enjoy and experience the musical charm of Yacht Rock:
>> Set the tone for relaxation. Listening to a few rounds of yacht rock music can lower blood pressure and ease anxiety levels—at least in my experience. Whether preparing for an exam, getting ready for a night out on the town, or dealing with a hectic commute, yacht rock can substantially mellow the trip. See below for a homespun playlist.
>> Catch a live performance. The resurgence of yacht rock popularity has inspired a collection of cover bands to take to the streets and belt out the top hits on weekends across the country. Great fun can be had watching both the new and original fans sing the classic refrains together.
>> Have a theme night. Gather your captain's hat and blender for a party that is sure to be legendary. If you don't have access to the live bands touring right now, then consider throwing a themed get-together. Layer the fun factor with frozen drink concoctions, seafood cocktail bites, and lots of fruit. Summon the fashion styles of Charlie's Angels and Magnum PI for the dress code. And, of course, don't forget the smooth tunes.
>> Roll back the clock to simpler times. You won't hear any lyrics mentioning fast paced technology, multitasking, or any other modern day heavy hitters in a yacht rock tune. Instead, saxophone infused melodies blend effortlessly with romantic vocals to recount tales of love and rapture. Give yourself a mini staycation with an hour or two of polished and fluid musical bliss.
Here is a playlist that I put together deep from the Yacht Rock vault—a set of tracks excavated outside the fray of the genre's top performers (Steely Dan, Fleetwood Mac, Doobie Brothers, and the like).
To summarize its theme in three words, these songs embody: goodwill, peace, and boogie. If you are feeling a fancy for a musical experiment and decide to give these tunes a spin, I'd love to know what you think. Perhaps the soothing sounds of the 70s and 80s will improve your day just a little bit.
"Wildfire" by Michael Martin Murphy
Wildfire is a delightful slow burn of a song that subtly builds up and crescendos to a heartfelt and high-pitched blast of an ending.
"Love is the Answer" by England Dan & John Ford Coley
England Dan and John Coley map out an idyllic world where we are redeemed from our sorrows and reminded that love conquers all.
"Dancing in the Moonlight" by King Harvest
King Harvest toasts the ethereal and natural landscape with suggestions of getting naked and grooving in the wilderness.
"Baby Come Back" by Player
"Baby Come Back" simmers with mellow nostalgia and remorse for a great love lost in a "too little, too late" scenario.
"Cool Change" by Little River Band
This song encapsulates all the tenants of Yacht Rock—easy and breezy, transcendent, sumptuous, and oh so relaxed.
"Smoke from a Distant Fire" by Sanford Townsend Band
Upbeat and uplifting, "Smoke from a Distant Fire" encourages kicking off the old loafers and twisting around 1950s style with a partner on the hardwoods in wooly socks.
"Gimme the Night" by George Benson
With a consistent and catchy disco beat in the background, "Gimme the Night" challenges us not to dance. It dares us.
"So In to You" by Atlanta Rhythm Section
If we want to get sexy, this song might be the best musical accompaniment available to set an ardent scene and create a sultry mood.
"How much I feel" by Ambrosia
"How much I feel" provides a reminiscent look back at young adulthood when all our emotions are undigested, uncontained, and just a little bit crazy.
"Eye in the Sky" by Alan Parsons Project
Alan Parsons and his project take you on a magical carpet ride where the melodies are so powerful that the equally awesome lyrics take a back step in to shadows.
Author: Kristen Ward
Image: Flickr
Editor: Emily Bartran
Copy Editor: Catherine Monkman
Social Editor: Waylon Lewis