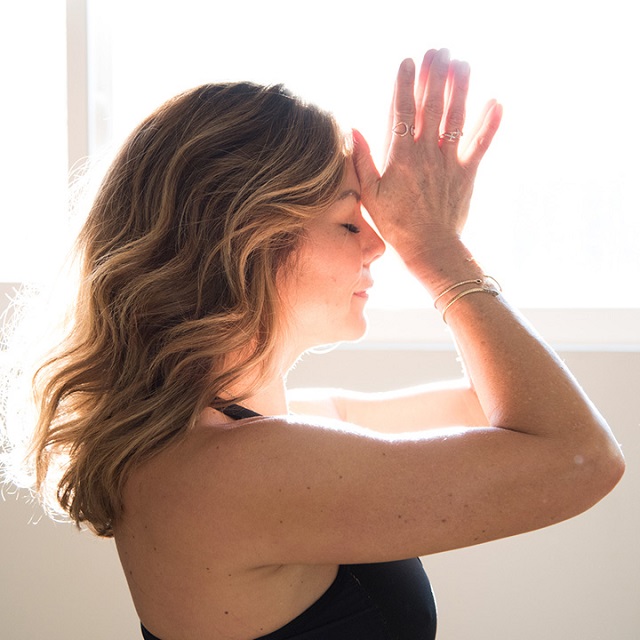 This is a post written in collaboration with MyYogaWorks—an Elephant partner. We're honored to work with anyone this dedicated to helping us rediscover our healthiest selves—physically, mentally, and emotionally. ~ Ed.
~
This year I've heard a lot about setting New Year's intentions rather than resolutions.
So, did you set any intentions for 2018?
If you're anything like me, around December 30th you were feeling fired up about the upcoming chance for a fresh start with good intentions around improving your physical, emotional, or mental health. And, if you're anything like me, you woke up on Jan 1st with all your good intentions (and the reality of turning them into action) weighing a little heavier than when they were just happy thoughts.
Now that we're getting stuck into January, it's all too easy to procrastinate or fall off the wagon early on as we barrel into the routine of the New Year.
So how do we keep ourselves accountable?
Two things: consistency and community—taking small, but consistent steps toward our intentions and leaning on a supportive community to keep us on track.
Of course, there are a lot of ways to improve our physical, emotional, and mental health, but few that tick all these boxes and recognize the interconnectedness of all three. Speaking from experience, yoga is a practice that offers countless benefits—increased flexibility, stress management, a good chance of a better night's sleep…there are many more. It truly is a total body and mind workout.
As a yoga teacher, however, I often hear from students who think these kinds of benefits need to come at a hefty price—an expensive membership, getting to the studio, and committing to an hour and a half long class with an instructor calling out Sanskrit names of poses you've never heard of and are pretty sure you'll never get into in this lifetime, in a room full of of people who are way bendier and fitter than you, pretzeling themselves into those same poses, seemingly effortlessly.
But here's the awesome news: 1. It doesn't have to cost you a thing. 2. You don't even have to leave your house or spend a packet on fancy new yoga gear to keep up with the topless tattooed dude rocking Urdhva Dhanurasana to your left. 
Here's where MyYogaWorks Online Yoga comes in. They started in 2013 with the sole purpose of making premium-quality yoga accessible to people of all levels, any time, anywhere. Consistency, check.
Still, getting started is usually the scariest part. And if you're doing it in the comfort of your own home there's the discipline and passion, or tapas (no, not the yummy Spanish kind)  you need to keep going. The good news is that the folks at MyYogaWorks have got you covered there too…
Starting January 15th, they will be hosting their seven-day Ignite Your Inner Passion yoga challenge, inviting you and readers all over to world to take part in this week-long shared journey that can help shape the rest of your year and, hopefully, your life. Community, check.

Here are some reasons the MyYogaWorks seven-day yoga challenge rocks:
You get to practice in the comfort of your own home

You can keep yourself accountable in building healthier habits

You join a community of others seeking a way to better themselves

You get an entire month of access to MyYogaWorks.com

You stand a chance to win daily prizes

You get that feeling of accomplishment after completing the challenge

Participation is completely free, no strings attached
Here's how it works:
For seven days, MyYogaWorks will send daily emails reminding you to do your practice of the day by delivering carefully curated classes for all levels from beginner, intermediate, to advanced. Also, be sure to check and see if you're the winner of that day's prize.
If you're not a fan of the class selection, you can explore their library of 1,000+ online classes taught by world-renowned instructors and choose your own. The focus is not which class you end up taking, but that you show up on your mat and take a class at all. This isn't a competition. The goal of this challenge is to help you set your intentions, meet your own goals and aspirations, and leave no room for excuses.

You can sign up for the challenge now through January 14th. Give it a try and even invite your own friends and family to do it with you. (More points on the community score—strength in numbers.)
May this be the start of a long and healthy habit of improving your physical and mental strength.
See you there!
~
Editor: Khara-Jade Warren