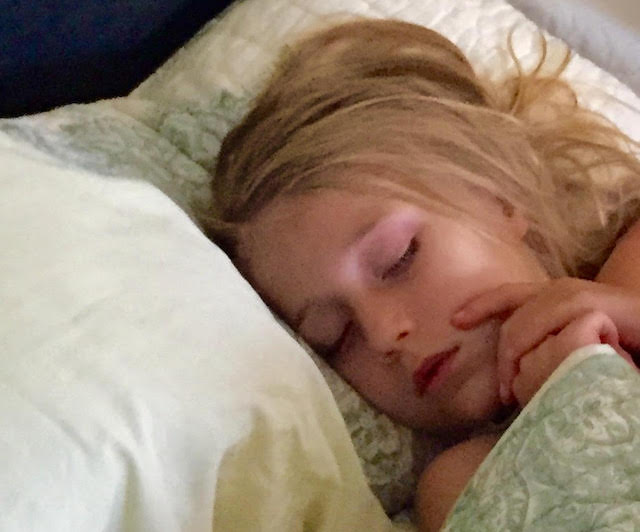 My daughter, who is eight, likes to have heart talks with me before bedtime.
It is the time when she feels safe and her desire to connect and be heard is strong. It is almost as if she can't say goodbye to the day and hello to the world of dreams without processing her emotions.
I treasure these times. Don't get me wrong, they are often challenging. It is late. Everyone is tired. She had ample time to share throughout the day. Emotions are vibrating at a high level. And sometimes, I just want to sleep! But what I have found, time and time again, is that if I hold space for her to be vulnerable and heard, she will find some sort of peace and let herself sleep.
Last night was a particularly hard session (I've internally dubbed these times our "night sessions"). You see, our family has gone through a difficult break-up this year, and all of us are tending to broken hearts.
My daughter cried to me, "Mom, this year has been hard. Harder than anyone will know. I am so sad. So, so sad. My heart hurts. My head hurts. The whole left side of my body feels hot. I don't want another year like this. I can't start a new year with this much sadness."
She shared things about our family's break-up. The things that she tries to reconcile in her sweet heart and smart head.
Now, my girl is a dramatic one. (I have no idea where she gets it.) So, I try to hold things lightly with her. I try to steer her into moments where she can be more centered and as Erich Schiffmann says, "Figure out—what is the truth here, really?"
But last night I saw her pure pain. Her struggle. Her complete and utter confusion being an eight-year-old girl in a world that doesn't make sense.
I tried to tell her we would make a vision board the next day. That we could work together to create a life that we want. We could dream of the things that brought us joy, people we wanted to help, things we could do that made us happy. I offered suggestions, like horseback riding and writing stories.
She said, "Mom, riding a horse and writing stories aren't going to take away this sadness."
Her beautiful eyes stared at me, filled to the brim with tears ready to spill out, and I stopped trying to help her and offer her suggestions. I just gazed right back at her. I looked into her vibrant and unapologetic soul, and just let myself feel her.
I become very still and let all of my guards fall away.
All of the walls that I have built up around my feelings to shield my kids from seeing any more pain came tumbling down.
I stared back at her and I let my own sadness leak out of my eyes.
I held her and we cried together.
"Sweet girl, the human heart can hold all of our sadness and happiness, at the same time. We can feel all of it. We will probably always have part of this this sadness, but that doesn't mean we won't also be happy. I promise you, you can feel all of it. You can let it wash through you and come out on the other side. You can land in a space that is light and peaceful and true."
And, here is the thing. This little creature, far beyond her years, understands this. She held me tight and talked a bit more, and then fell asleep.
I too, fell asleep.
~
~
Author: Michele Bickley
Image: Author's own
Editor: Callie Rushton
Copy Editor: Nicole Cameron